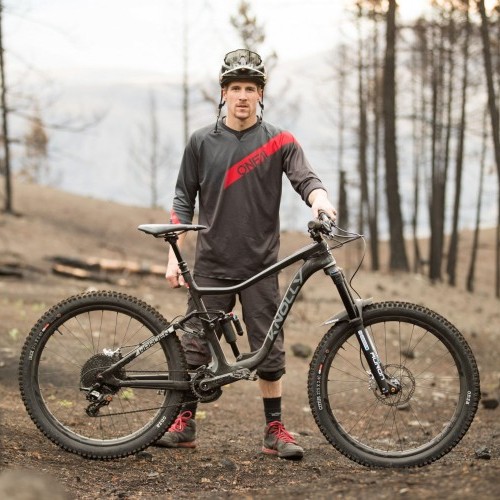 Rider on the Storm – James Doerfling Introduces 2018 O'Neal Stormrider Gear
Sat 25th Nov, 2017 @ 9:30 am
Win a Peaty's Complete Bicycle Cleaning Kit this issue in our FREE subscriber prize draw.
Everyone loves new threads day! Almost as much as new bike day – get yourself kitted out with the latest release from O'Neal.
The 2018 O'Neal Stormrider gear, versatility reinvented. The new Stormrider gear is a relaunch of a riders' favourite from a few seasons ago. Completely redesigned, but the essence of the gear remains the same – maximum versatility.
The mid-weight jersey and shorts offer the perfect blend of freedom-of-movement, breathability and fast-wicking, quick-drying fabrics with enough durability to go on-and-on, no matter what type of riding you're doing.
At home as much sessioning the bike park as on an epic multi-day back-country trip, the Stormrider gear is destined to become many riders' go-to kit for all occasions.
The Stormrider Jersey offers the option to run it long-sleeved or 3/4 with a neat second hem allowing the sleeves to be tucked up for more airflow, then dropping back down for warmth and lower-arm protection when needed.
The jersey also offers:
A handy goggle-wipe and key/ coin stash pocket
Lazer-welded seams
Fast-wicking, quick-drying breathable fabric
The Stormrider Shorts are cut to sit permanently over pads when riding and are pre-bent to offer maximum comfort when riding.
The mid-weight shorts also offer:
– Intake and exhaust laser-cut holes for added cooling
– 4-way stretch fabric for maximum freedom-of-movement
– 5 strategically-placed pockets for maximum storage, positioned to distribute the weight of the contents to prevent any hinderance in pedalling
Visit http://www.oneal.eu/stormrider to check out the gear in full.
Featured in this Post
Comments