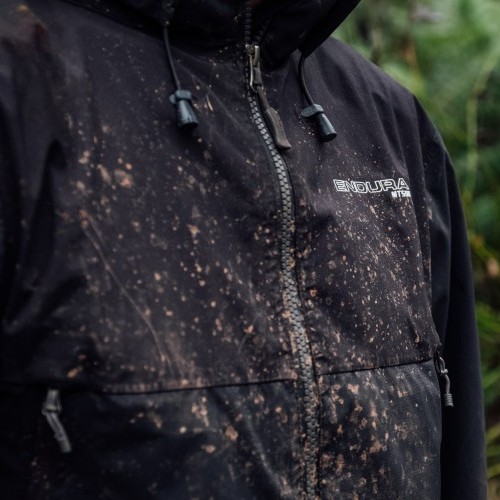 Danny MacAskill Gets #DownrightDirty in Endura MT500
Tue 9th Oct, 2018 @ 3:33 pm
Win a Hassle'Off Multi Tool this issue in our FREE subscriber prize draw.
There are times in a MTBer's year where the weather is so bad it's good. Teeming with rain and blowing a hoolie. Is that a bit of driving sleet? Stuff your dusty trails and tan lines. We're heading out anyway, just like Danny and Stu…
The unique, split front construction has a sealed rear connection with an independent trouser waist and jacket hem at the front, providing support and comfort with full mud protection security where you need it most. This also means that the suits looks like a 2 piece from the front and accommodates a wider range of body shapes, plus it is really easy to put on and off even when wearing shoes.
Constructed from ExoShell60TM three-layer fabric, fully seam-sealed, and featuring a water-repellent VISLON® front zip with storm flap, the suit combines great waterproof properties with monster breathability (64.000gsm/m2/24hrs). Ventilation is offered via large underarm 2 way zipped vents extending onto the back and compatible with wearing a back pack. The large, zipped front pockets double as vents, too, and together with the zipped lower hand pockets in the legs and the sleeve pocket for a lift pass there is more than ample storage.
The upper section of the suit follows the design of the multi award-winning MT500 Waterproof Jacket with its 3D foldable hood with collar retention system and the durable shoulders with silicone grip. The zip off lower legs extend the suits use to milder conditions while the ergonomically positioned stretch upper and leg panels ensure a great fit and full freedom of movement for all day riding comfort. Endura's confidence is so strong in the MT500 Collection that the MT500 Waterproof Suit like all MT500 products is supported by Endura's 90 Day Satisfaction Guarantee.
For you kids out there that just love to get #DownrightDirty!
Shop Danny's waterproof onesie: https://www.endurasport.com/mountain
Featured in this Post
Comments