Oxford Chile racers Kike Genova and Florencia Espineira took top honours in Saturday's main event of the Inca Avalanche – protected by Bell, motion by Kenda. The format rewarded the rider that was fast and stayed out of trouble, with combined run times deciding the overall positions.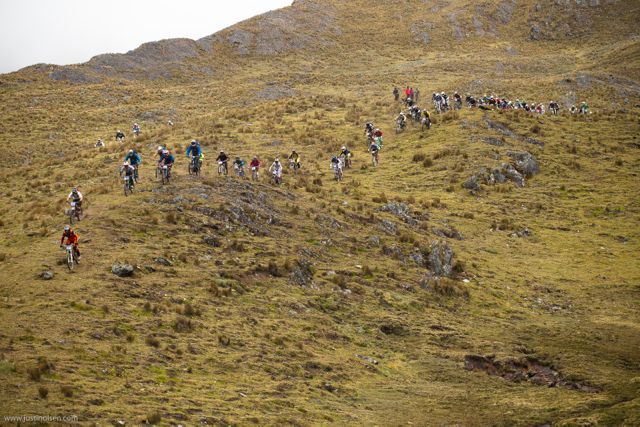 2012 winner, Yannic Wende (Gravity Global -Tigo) was on his way to sweeping the weekend after winning the qualifier and the first run of Saturday's main event, but a flat on stage two saw him lose time and Kike Genova (Oxford Chile) took the stage win, the points advantage and the overall title. Alejando Paz (Santa Cruz – 4X – Ciclon) slotted into 2nd and Aaron Chase (Cannondale – Red Bull) put together two great runs to take the 3rd step on the podium. Trevor Martin (Guide Pro) and Eric Porter (Diamondback – Kenda) rounded out the top five.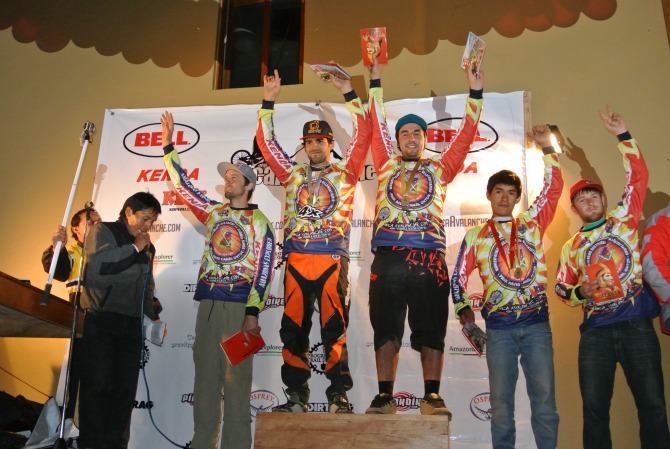 Florencia Espineira (Oxford Chile) took control from the start of the women's event, leaving Daniela Rojas (Oxford Chile) and Sienna Jensen (Guide Pro) to pick up the scraps. Katie Holden (Giant – SRAM) had qualified second on Saturday but a mishap on Sunday left her out of contention.
The 5000ft descent bought racers rock gardens, bogs and even hail but they were all greeted with food and Peru's own beer, Cusquena Cerveza, to celebrate their race down the mountain.
The awards ceremony was held in the town square and presented by Ollantaytabo's mayor, David Canal Onton. Tons of prizes were given out from Bell, Kenda, KBperu.com, Progressive Trail Design, PinkBike, Osprey Packs and Dirt Rag. The crowd was treated to a jump jam featuring Will White and Chris Van Dine, despite White crashing out of the race and snapping his frame.
For more information visit http://www.IncaAvalanche.com or like on Facebook.
Featured in this Post

62,791

68,971

14,425
Comments