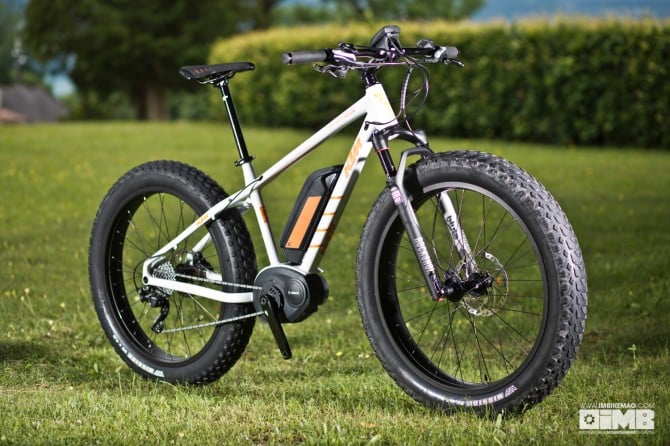 KTM 2015
Fat bikes, road bikes, mountain bikes and lederhosen, (yes seriously, they were wearing lederhosen), this could mean only one thing, the 2015 KTM product launch!
2015 marks the 50th anniversary of the first bike KTM Bike Industries produced, the beach cruiser style Fleetwing, made exclusively for America. With this landmark, KTM is really embracing their Austrian roots (hence the lederhosen) and thanks to some government audits, can now proudly display "Made in Austria" on their 2015 range.
To say the bikes were being unwrapped for the first time would be an understatement; this was the first time many had seen these bikes, including the KTM staff! Being that new meant that not everything was trail ready, in fact not everything was even real! KTM's CX offering, the Canic CXC Disc, was actually a full size 3D printed model (I thought it was rather light!).
With an immense range covering every conceivable area of 2 wheeled cycling, as well as clothing, accessories and a new range of wheels developed with DT Swiss, there could be enough to keep you reading for days. I'm guessing you should be getting back to something else soon, so here's a selection of what stood out in the Austrian countryside.
Myroon 29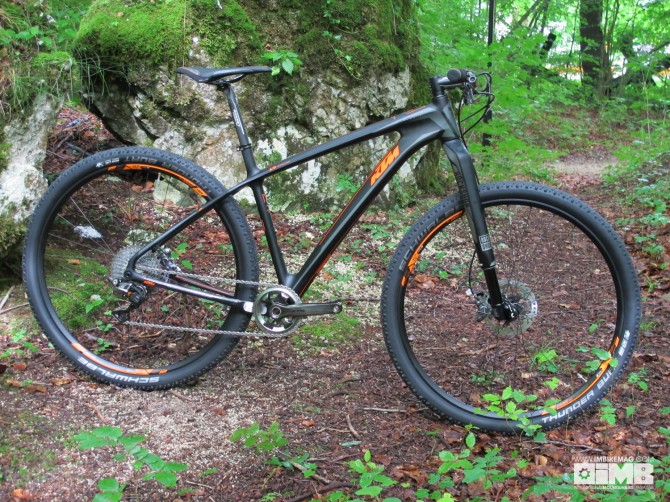 The RockShox RS-1 and XTR shod Myroon 29er caught everyone's attention, downhillers and road riders alike. This world cup level XC carbon race bike has a frame coming in at just 1240g, with subtle branding and stealth looks has a 142x12mm rear axle, a press fit BB and a tapered head tube.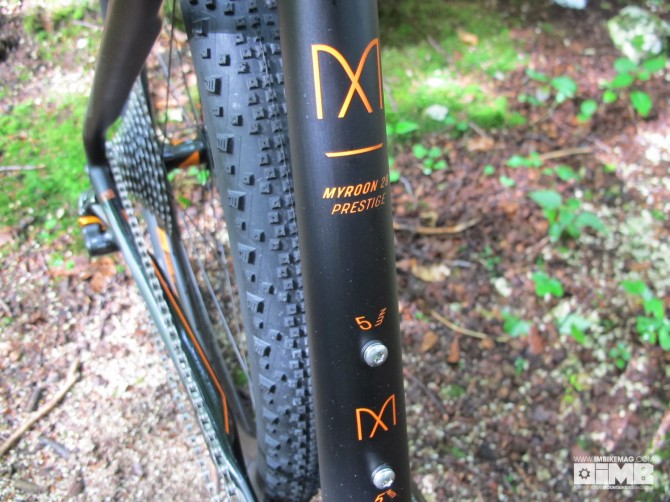 For 2015 the top of the range Prestige and Master models have been updated for direct pull front derailleurs making them Di2 compatible, with both Di2 and 1 x 11 versions available in the range.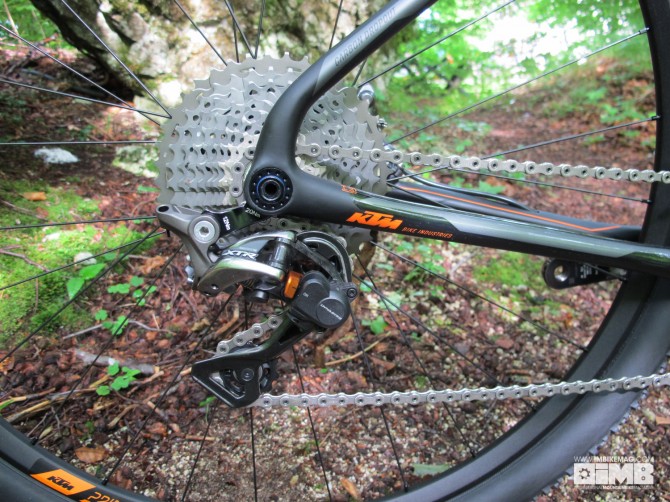 Unfortunately the Myroon wasn't available to ride during the press event due to a few missing parts, but the lightweight and subtle styling is sure to make it a hit when it launches to the public.
Lycan LT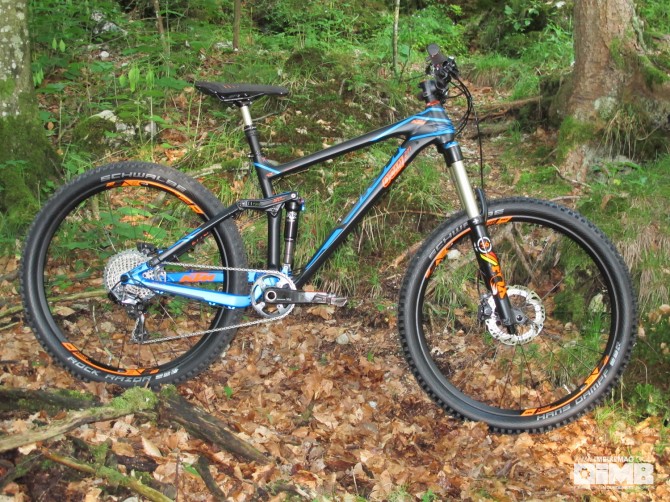 The Lycan LT is KTM's enduro offering, featuring 650b wheels and 160mm of rear wheel travel, across three different models, with the top end 271 featuring a 1 x 11 SRAM drivetrain, Fox 36's and a dropper post.
For 2015 the Lycan LT has gone on a diet, loosing 400 grams thanks to a new carbon rear end. I was lucky enough to hit the trails with the Lycan LT 271, so keep an eye out for a review soon.
Scarp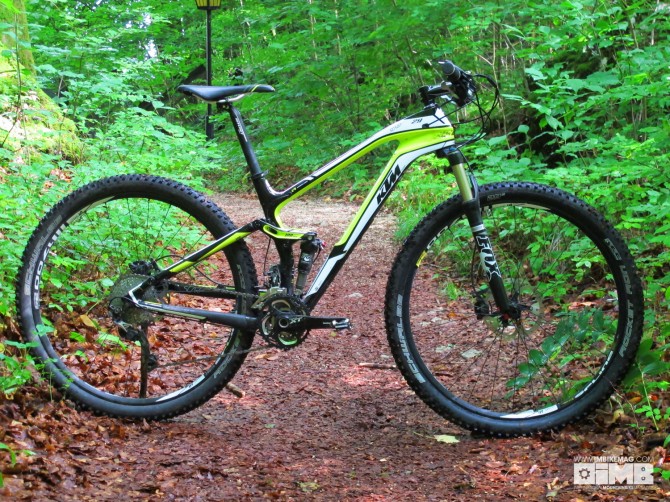 The Scarp is KTM's 100mm travel XC trail bike. With KTM claiming to have invented the floating shock, it is no surprise to find their Pro Damping System (PDS) on this and their Lycan's. With it's industrial looking front end, it is going to have the marmite effect on some people, but there's no denying it's distinctive and stiff!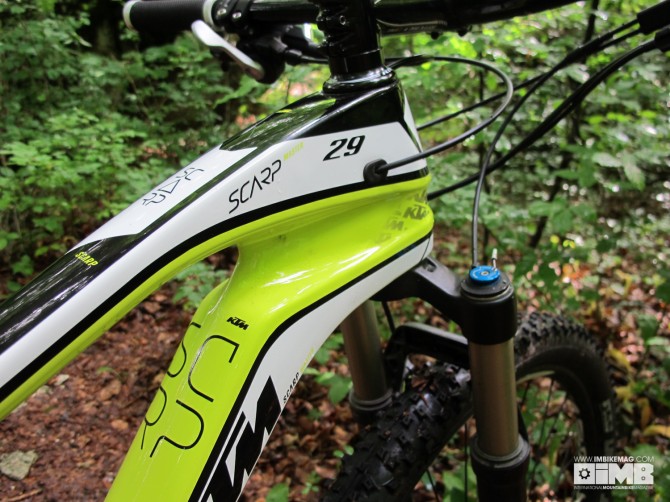 Like the Myroon, the Scarp has been updated to be full Di2 compatible with tidy battery and cable integration.
E bikes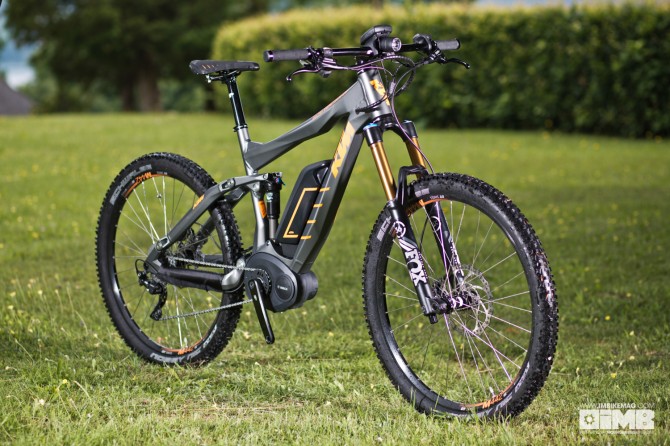 E bikes, who are they for and why would you buy one? Well a certain Nicolas Vouilloz recently showed that you didn't need to be overweight, old, or own a yacht (although he probably does!) to ride one. With a history of e bikes going back to 1994, for 2015 KTM are making a big push with their range, putting a pedal assist electric motor in hard tails, trail bikes, an adapted version of their Lycan LT and even a fat bike! Pacing a road journalist up a climb at 45kph on a Fox 36 equipped full sus bike with ease, before dropping into the woods opened my eyes (not to mention said road cycling journalist) as to what these bikes could do.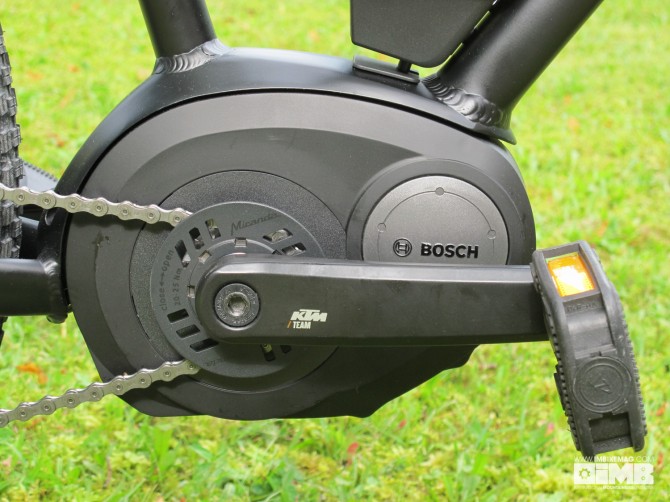 Comments