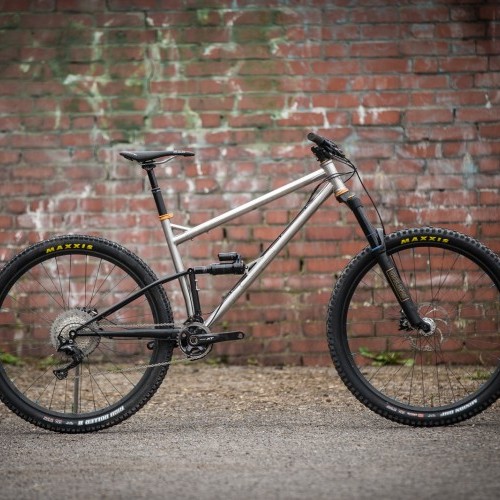 Starling Cycles Launch Limited Edition Stainless Murmur Frame
Wed 12th May, 2021 @ 9:30 am
The most requested frame in Starling's history, the limited edition frame is made with a high-quality stainless steel front triangle for a superb ride feel and that unmistakable raw style. It will be available in Large and Extra large only, with just 15 frames on sale.
Built to the same spec and geometry as the Murmur Enduro, the Stainless is built around 29″ wheels, 140mm rear travel, and a recommended 160mm fork. It has room for big tyres, big rotors, and big water bottles and is available as a frame-only, frame plus shock or with various build kits.
Standards are made to be straightforward and future-proof, with compatibility for boost and non-boost wheels, no-hassle externally routed cables and a zero-fuss 73mm threaded BB.
The Murmur's geometry treads that fine line between confidence and nimbleness, offering riders a bike that's as fun at their local hill as it is crushing bike park laps in big mountain terrain. A 64° head angle, 76.6° seat angle and 485mm reach (size large) all add up to bags of confidence deep in the rough stuff.
Front triangle constructed from top-quality stainless steel.
Rear triangle in heat-treated Chromoly.
Maximum 140mm rear travel.
Maximum 160mm front travel.
29″ wheels.
2.6″ tyre clearance.
Why stainless? That raw look is the obvious thing. Riders just love a bare-metal frame and stainless makes it possible without the issue of corrosion, which affects all unpainted 'normal' steel frames.
It's not all about the good looks though. The Murmur Stainless takes that 'magic' feel of steel to the nth degree with a brutally fast, beautifully supple ride feel. After extensive testing, our test riders and the media agree that the bike has a unique and 'lively' feel that's rarely found in other bikes and translates perfectly into a super-fast and incredibly confidence-inspiring ride.
As an extra piece of good news, the new Starling Cycles website and Tech Journal are both now live. The new site presents a complete new Starling range with all bikes now available in 'Trail' and 'Enduro' versions to provide riders with even more options to build their dream bike.
The new Tech Journal is a series of short articles discussing the thinking behind why Starling's bikes are how they are, examples include:
What Difference Does Wheel Size Really Make?
Does Bike Weight Matter?
Why Flex is Good for your Frame
Is Long, Low and Slack Geometry Right for You?
More information on the Starling Cycles Murmur Stainless (and that new Tech Journal) is available on the Starling Cycles Website.
Comments