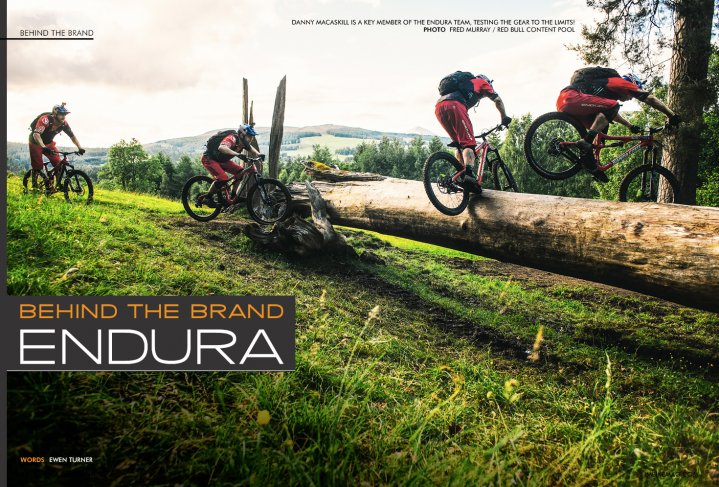 Behind the Brand - Endura
Issue 44 / Thu 20th Oct, 2016
As the Internet still reels from the most recent Danny Macaskill dropping, we catch up with Ian Young from Scottish brand Endura to find out more about the work they do and the kit they make. If it's good enough for Danny Mac...
This Issue we head north of the border and chat with Ian Young, Brand Manager for Endura. With the latest Danny Mac video already reaching millions of viewers and once again trying to break the internet, we find out more about the brand that keeps him warm and dry.
In my head, I still think of Endura as a small Scottish company, but I feel these days that is doing you a disservice. How did it start and where are you now?
Jim McFarlane started Endura over 20 years ago, frustrated with the selection of cycling apparel available when looking to buy some replacement kit for himself. Jim is still heavily involved in all aspects of the business and leads many of the new technology programs.
Now in 2016 Endura is now firmly established as a global brand, selling more product overseas than in our UK home market. Germany is Endura's biggest single market outside the UK with strong sales in the US, France, Italy, Spain and Scandinavia. Throughout Europe, our favoured model of an exclusive sales force, rather than agents, means that we can guarantee the highest levels of customer service for our dealers and also provides us with direct and reliable feedback on our products and market trends. We also see strong growth through distributors in China, Canada and Australia.
The Movistar team and road cycling is, of course, a huge part of the business, how important is mountain biking to the Endura brand?
Mountain biking is where the brand became established in the UK and many of Endura's key products which originated in those days have become instant classics in new territories, where the levels of function and durability have not been seen before. An excellent example of this is the MT500 Spray Baggy Short which now sells massive volumes globally having originally been conceived to take on the challenge of the year round wet Scottish trails.
A serious road offering was critical to establish the brand in Europe and working with the world's number one ranked pro team drives the levels of R&D, quality and innovation required to produce constantly evolving exceptional products.
How would you describe the ethos and culture at Endura? Who are your products for?
At Endura, there is a real commitment to advancing the performance and function of cycle apparel for all. We want to produce novel and exciting products that reset the benchmark, challenging the market, not following others.
What is the process by which new products are developed or improved? Is it led by sponsored riders, staff or new technological advancements?
We have an incredibly rich and varied pool of riders providing regular feedback, which goes into the product development cycle. Between the office and production staff here in Livingston and the global sales team working closely with their dealer network, there is a massive variety of 'real' riders across all categories with everyone in the company encouraged to have a voice and provide regular feedback. Pro athletes of course also provide an invaluable insight into how we can improve our apparel, and we actively encourage all the riders we work with to provide open and honest feedback.
Your products are designed and tested and some even manufactured in Scotland yes? What are the benefits and challenges of keeping it local?
All of our products are designed, tested and often sampled in Scotland, but our in-house production is predominately for our custom clothing, team kit and some special lines such as our Whiskey Jerseys.
Having a large onsite production facility gives us the ability to test new technologies and concepts, learning how these can be deployed to achieve a certain garment function or fit. We can also produce truly custom garments for our sponsored riders to the highest quality standards with very short lead times. The Jersey which Danny MacAskill is wearing in his latest edit, "Wee Day Out", was produced on our line in under a week following a last minute change to the colour of bike he was riding!
With Scottish manufacturing able to respond rapidly and produce custom lines, is the bulk manufactured abroad?
Yes, the majority of our stock lines are produced overseas simply down to the economies of scale involved with the volume of product we sell. We work with a selection of trusted specialist factories who we've developed strong relationships with over the years and have a team working out in the Far East to ensure our tight quality control procedures are always met.
Who are your core sponsored mountain bike riders and what do they do?
On the mountain bike side, we obviously work with Scottish legend Danny MacAskill, UK freerider Chris Smith and also supply kit to the Whyte Enduro team. We support a range of other teams and riders outside the UK to various levels.
With the very recent release of 'Wee Day Out', what effect has Danny Macaskill had on the Brand? When did he first come on board?
We partnered with Danny just over a year ago and our shared passion for Scotland and all things MTB provided an excellent starting point. Danny's incredible riding skills and imaginative, progressive approach always impress, but his humble nature and genuine interest in his fans are truly inspirational. As a strong advocate of riding in all weathers and enjoying getting muddy he's already putting a lot of our kit through its paces.
What are the benefits to having these riders other than for marketing and promotion?
We get a load of feedback from our staff, but our pro riders spend a lot more time in the saddle meaning we can get high mileage testing done in relatively short periods of time. We can send a prototype set of pads out to Chris Smith and he'll be able to put 40 hours of serious riding into them in a week, something anyone with a full-time job will struggle to do.
What are your most recent product developments?
We love waterproofs and our newest halo piece in MTB; the MT500 is starting to gather force. We developed a new waterproof fabric, ExoSHell60™, specifically for this piece, looking for the perfect balance between weight, durability, breathability and comfort and we are confident we have found a sweet spot!
The MT500 Helmet is another exciting development for 2017, having worked with Koroyd to create a new product, which not only looks fantastic, fits incredibly well but more importantly provides protection levels well above the current standards other bike helmets are designed to meet.
At Eurobike, we saw the MT500 helmet and some further developments of the Koroyd protection system. What are the advantages of the material and how we might see it used in 2017?
We're keen to extend our use of Koroyd where it can provide tangible benefits in protection levels as we've done in the MT500 helmet. The extremely lightweight, open construction provides a significant advantage in many applications. Like us, the guys at Koroyd are committed to providing functional product, which provides real benefits to the end user, not creating marketing stories to sell a pseudo-technology.
More on Koroyd can be found here… http://www.koroyd.com
I know you best for waterproof clothing that actually works, what are your best-selling mountain bike products?
Our Baggy shorts range continues to go from strength to strength. The MT500 spray, mentioned earlier, is one of the top sellers alongside our iconic Hummvee, one of the original pieces from the Endura early days, with a significant update coming for 2017.
Is there much technology overlap between the road and mountain bike products?
There are opportunities for technologies cross over in places; a great example being the SingleTrack Bib Liner which features our new 500 series pad. The pad was developed for our Hyperon range, aimed at hot weather road riding, with a focus on wicking and heat dissipation which also makes it ideal for wearing under a pair of baggies where overheating often causes comfort issues with basic pads. Our experience with bib short fit and panel design also came into play when we developed this piece, tweaking proven designs for the more upright MTB riding position.
Environmental and social responsibility are now becoming more and more critical to a company's success, but you have been incorporating these responsibilities into the business for some time, haven't you? What areas are you focused on at the moment?
This is a constant work in progress covering a wide variety of processes. One area of focus is the dying process at mills that can damage the environment. The majority of products in our range have been dyed in mills located in pollution-controlled environments which are OEKO-TEX® certified. These products will be identified to the consumer with a small recycled hang tag.
Our shipping policy is very clear; that all stock ships by sea unless there is an urgent requirement. We have updated our inventory planning approach and improved our accuracy of prediction considerably, and the amount that we ship by air has reduced by 32% in the in the past three years.
Our packaging and recycling policy are already well established; our header cards/hang tags are now recyclable or are switching to being recyclable and we use non-coated materials that can be recycled as a matter of course for all new developments.
At head office, Endura has an Environmental Work Group who monitor our waste and currently recycle cardboard, polyethene, plastics, paper and our surplus fabrics are sent to childcare organisations who use them for craft play.
The Lifecycle Barn Project sounds great, tell us more about the project and what it does…
We recently announced an investment of £600,000 in the new Endura Lifecycle Barn project, which is aimed at offering disadvantaged children in the region a hands-on cycling experience.
Pam Barclay, Product Director, tells us a bit more:
"Our ambition is for the Endura Lifecycle Barn to be a hub which will allow underprivileged kids to engage with cycling and all its positive aspects. It should, we hope, allow children from difficult backgrounds to experience the freedom and exhilaration of cycling in some of the most beautiful countryside in Scotland, help develop their bike skills, and encourage them to be active.'
"We also plan to run bike mechanic workshops at the centre to help develop young people's sense of logic and mechanical understanding in a world where children are too often surrounded solely by computer technology that is impenetrable to them."
2017 will no doubt be an exciting year for Endura, with an impressive array of new technologies, products and projects. With incredible riders, great people and fantastic kit, Endura manage to develop cutting edge equipment while keeping an eye on their distinct heritage for making reliable kit for when the weather is, well...a bit Scottish!
Thanks again to Ian Young and the guys at Endura for taking the time to chat to us.
Videos
Ewen Turner is a self-confessed bike geek from Kendal in the Lake District of England. He runs a coaching and guiding business up there and has a plethora of knowledge about bikes with an analytical approach to testing. His passion for bicycles is infectious, and he's a ripper on the trails who prefers to fit his working life around his time on the bike.
Comments