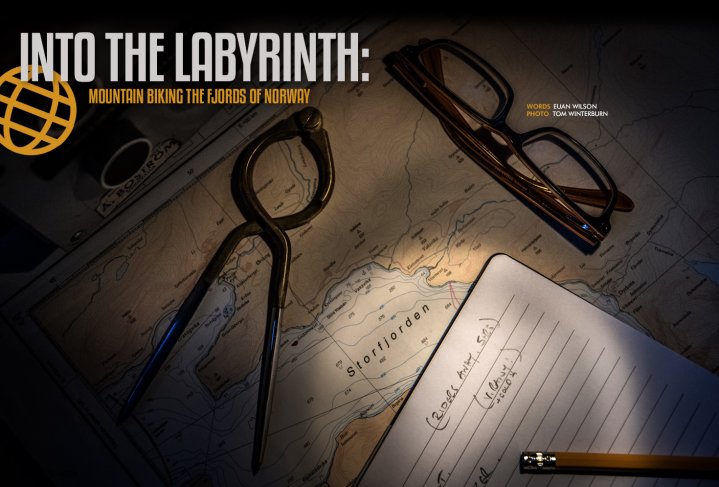 Into The Labyrinth
Issue 44 / Thu 20th Oct, 2016
Euan Wilson takes us on a trip of a lifetime deep into the Fjords of Norway. Armed with bikes, maps and boat named Gåssten; they travelled along the coast looking for the best trails in uncharted territory.
It's late summer, and the sun is shining high in the sky as we leave the warm air of Edinburgh and disappear into the doldrums of the airport, ready to embark on our next adventure. Check-in goes smoothly, thankfully, since we're not travelling light on this expedition: seven bags between two riders; everything we need for a two-week exploration of the Norwegian fjords.
The flight goes as expected and the weather holds as we fly over snow-capped mountains, glaciers and a rugged west coast that cuts deep into the inland mountains and steep-sided fjords. There's no doubt that we're coming into land in Norway, for what was to become an unrivalled mountain bike expedition.
Why are we embarking on this expedition in Norway? During our research into new and exciting destinations for mountain biking, we learned that the Norwegian fjords are relatively under-explored by mountain bike, largely because of the steep and difficult-to-access terrain, which is more suited to hiking in the summer and ski touring in the winter.
In tandem with all of this, we were intrigued by the deep-rooted culture of using boats to navigate the rugged landscape and labyrinth of fjords in Norway. So we decided, like generations before us, we had to work with the landscape, rather than against it. We searched around for a vessel that could get us deep into the smaller bays, nooks and crannies in the heart of the fjords, and came across Gåssten, an old Scandinavian wooden-hulled minesweeper, lovingly converted into the perfect boat for a Norwegian mountain bike adventure.
Molde Airport is a small affair, our plane's passengers fill the baggage area, and our luggage takes up most of the floor space. We quickly arrange all of our bags and navigate our way (all ten metres) to our waiting host, Sven, the captain of the vessel that will deliver us to the gems hidden deep within the fjords.
Sven drives us the short distance from the airport to the harbour where we're met by our second in charge Tash, and our chef for the week Isabelle. As they show us aboard Gåssten, our unique accommodation, adventure hub, and gourmet restaurant, we smell coffee wafting through the air from the galley, where Isabelle is preparing lunch and a welcome drink. Quickly we set about loading all of our gear, building bikes on the ship's deck and settling down to lunch, coffee and a briefing and map perusing session. While we discuss the possibilities of this rugged landscape and set a plan, the ship's crew buzzes around, setting us free from our moorings at the harbour, letting us depart unhindered on our adventure.
We arrive at our first nights' anchorage after dark, pulling up close to a village that is clinging to the foot of a massive rock wall, only visible by the flickering evening lights shining out of the windows. The village looks like it has just enough room to squeeze a handful of houses and a local shop in before the waters of the fjord plunge to the depths of 400 metres. It's a mesmerising place, and we are all looking forward to assessing our new playground over a coffee in the morning light.
Sure enough, as we rise from our slumber and meet over breakfast, we marvel at the walls of rock that surround us on three sides, the very pronounced V shape of the fjord and our playground for the day. Breakfast is a noisy and even slightly jittery affair. We're all keen to hit dry land and explore this region and get underway. Soon after breakfast, the engine of the small landing craft that will take us ashore sparks into life as everyone is busying themselves packing kit, final checks on bikes and saying their goodbyes to the crew.
As we speed to the shore, our thoughts turn to what lies ahead. We know there is a trail, we know people use it, what we don't know is, will it ride, will it be fun and will it work the way we've planned it, dropping us back down to the boat which will be waiting in another fjord?
This is an expedition; everyone has to get involved to make things run smoothly, so as the landing craft comes towards dry land, someone is climbing ashore to secure the rope, while another is lifting bikes off the boat and offloading bags, while Tash is controlling the rear of the boat. There's always a job to be done during this part of the day, so it is literally 'all hands on deck'. When we're all offloaded, and the landing craft is getting quieter and quieter as it returns to the main boat, we clip in and set off out of this small village.
Our day starts with a long climb; we are at sea level, and we top out today at 1000m on the peak of a towering, grey, pyramid-shaped mountain that dominates the skyline high above us, so we need to dig in for the hard part of the day. The first half of this climb is a mix of surfaced road and forest track until we leave the tree line on a trail that spills us out onto an alpine meadow with views down to the fjord below. As we look down we can see Sven and the crew steaming through the fjord en-route to our meeting point - let's hope that part of the plan comes together.
When we reach the far end of the meadow, the double trail comes to a close, and the singletrack takes a more direct route straight up the ridge aiming directly for the top of the peak, only weaving occasionally to avoid jumbled piles of rock that dot the ridgeline. It takes another hour of hike-a-biking before we top out at the summit cairn, which is a liberating and cathartic experience when you let it absorb your world, and work in tandem with, instead of fighting with your breathtaking surroundings.
Hike-a-bike is a big part of this adventure, being the only way that you can access some of the ridgelines and mountaintops in this region of Norway. When paths were first created for hunting, farming or postal routes, there was no reason to ever consider recreational activities, never mind bikes, so we find that the paths take the shortest (and therefore, steepest) route to the top!
However, as mountain biking is growing in popularity and adventurous types are venturing further out from the tried-and-tested trails, these paths are becoming more of a topic with landowners, local government and local riders. They are all trying to figure out the best way for the sport to move forward in Norway, and how to make it as sustainable as possible. It's a very exciting time for mountain biking, and we feel privileged to be involved in pioneering new routes and adventures in the fjords. Also to offer our experience from Scotland and other destinations around the world, to assist our Norwegian friends in avoiding all the pitfalls that come with trying to develop mountain biking as a sport and tourism product.
Back on the summit cairn, we have some lunch, take a multitude of pictures and soak up our hard earned vista, before donning our knee and elbow pads, buckling up our bags and clipping into our pedals for the 1000m descent laid out before us. One thing to remember when you drop into a trail from the summit of a mountain, is that you need to switch-on fast, there is very little warm up, so you need to take a quick moment inside your head to tell yourself 'I am a mountain biker, I can ride!' before pushing off from the top. Slowly building yourself up to the more technical trails is a luxury we don't have here. This is a mental game and one that you need to learn to play very quickly!
Once we are over the initial technical rocky ridge from the cairn, things smooth out a bit and open up to a fast ridgeline that sees us drop around 200m vertical in a very short space of time. All the time looking down into the fjord far below us, keeping one eye out for our boat steaming in to pick us up. As the gradient backs off, we swing right into a natural bowl with its vast headwall that skirts around relatively unhindered before the gradient picks up again on to a natural pump track situated up here in the high alpine.
We blast out of the natural pump track on to a slow technical section that ultimately takes us back into the tree line. To catch our breath and take stock, we pull up near what resembles a world cup downhill track from the 90's: rocky, rooty and steep. Smiles all round, as we push off following our mates down what was to be the most memorable ride of the whole trip.
From the summit cairn we've ridden, rocky technical, fast alpine, technical forest, and 90's downhill track that delivers us directly to the shores of the fjords and our waiting boat. Laughing, smiling and instantly reliving the trail moments with your friends and the awaiting team on the boat. That's ultimately what it's all about, exploring the wilderness on your bike with your mates, new or old, that is what unites us as mountain bikers and what drives us to create the world's most unique mountain bike adventures.
Life is about experiences; that is what makes us, as humans, tick and enrich all the other aspects of our lives. On returning from Norway, I can assure you that living on a boat and riding to and from the fjords is 'an experience' and one you're not likely to forget in a hurry.
This world-first mountain bike expedition through the Norwegian fjords has been created by H+I Adventures. They specialise in the art of hand-crafted mountain bike adventures around the world, and the Fjords of Norway is their latest exciting offering.
Website - http://www.mountainbikeworldwide.com
Tour web page - http://www.mountainbikeworldwide.com/bike-tours/norway
Phone - 0044 (0) 1463 231441 or Toll-free from the USA and Canada 1-888-228-50-35
Dates: Tours running from June to October 2017
Price: $5,440USD / £3,400GBP per person, max 8 people (two per cabin)
Videos

Comments