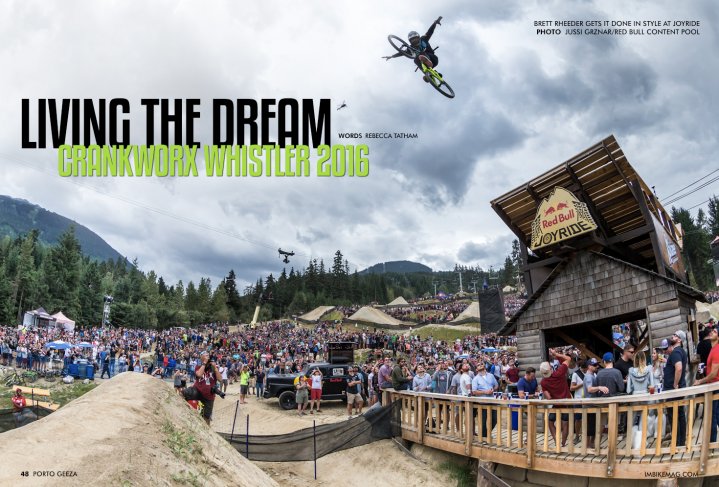 Living The Dream - Crankworx
Issue 44 / Thu 20th Oct, 2016
It's that time of year where all eyes turn to Whistler for the mountain bike event of the summer. British ex-pat Bex Tatham takes us on tour during her first Crankworx and finds out why Whistler is the epicentre of the mountain bike universe.
Eighteen months ago I applied for a working holiday visa for Canada, fed up with the daily grind, a very routine life, I toiled away earning pennies for when I would finally be able to export myself to Whistler. My primary goal was to ride bikes and develop my skill set on and around bikes; I'm unashamedly bike mad!
When I informed my boss in the UK that I was leaving and therefore didn't need a new personal development plan, he said he wasn't even the slightest bit surprised. I'd heard about the gnarly lines to be had in and around the Sea to Sky Corridor, which suited my love for technical riding in the UK.
What I'd seen in the bike media, fuelled my appetite to be out there. The rock rolls looked super dreamy and don't even get me started on how much loam shredding there appeared to be. I'd heard about Crankworx from various friends who had been to festivals in years gone by and thought that would be awesome to be a part of it. I just couldn't believe their stories of how packed out this festival was, and how so many people would congregate to this one small town in Canada, like one big bike pilgrimage.
As the months rapidly flashed through towards August, I tried to keep calm. This was going to be my dream life, hanging around all the mountain bike fanatics and superstars of the cycling industry, eagerly anticipating my first Crankworx in Whistler. This was to be the end of season banger before thoughts turned to a wet fall and a snowy winter.
Living and breathing the mountain bike life I had gained work in a local bike shop close to the famous Whistler Bike Park, so when Crankworx came round, I watched. The crowds swelled through the two weeks and with this, there was a steady influx of friends arriving in the Village. Can you show us the trails? Shall we get coffee? Drinks? Dinner? I've never been so busy in such a short space of time.
It made me realise how much I love the mountain biking community here. Tents with all the latest bike gear started popping up around the village squashing the already large crowds into even smaller walkways. So many demos, freebies, athlete signings and competitions at every turn. I'd watched the Bone Yard construction with fascination from the chair lift on days off from work, and suddenly there it was, imposing on the plaza below where thousands of people would watch the final event of Crankworx.
Kids looked up in awe as their heroes and heroines of the sport walked by or even better if they managed somehow to end up sharing a chairlift with them. Looking inside the restaurants, bars and clubs you realise you're partying with world champions. Summers are growing in popularity here; it was so slammed for such a small place and these two weeks made the place unreal, surreal even. This is what I watched, lived and experienced as a Yorkshire mountain biking lass living in one of the biggest mountain bike towns in the world.
The Fast and the Furious
The first event I got to was the CLIF Bar Dual Speed and Style where competitors race one another in a duel against the clock while showing off their best tricks in the process. I was out riding the bike park with a friend and hadn't even realised it was all kicking off, all under my feet. We watched competitors from above on the chair lift and wondered how as a rider you even get to that point? How does one progress to that level of riding in a lifetime? These are truly inspiring guys.
We headed down from the bike park and got a sweet slope side spot to spectate from. What was great about this competition was realising you just had to watch, put the camera phone away, don't remember this for what you saw through a screen. This may be a cliché, but to say it gave me goosebumps would be an understatement.
The Enduro World Series was up next, an event that I closely follow having raced the format last year in the UK. There's just something so dramatic about stage racing and pitting super talented riders against one another in a real test of what it is to be a mountain biker. The World Series is also perfect for amateur racers to get involved in too.
There was a challenger enduro the day before the main EWS, where competitors can race a selection of the trails used for the enduro, as well as entries available for non-professional riders on the day. I'd planned to see junior racer Martha Gill set off, alas too many beers the night before rendered me late and I rescheduled to meet with her after work. I tracked her progress via live tracking for the entire day, a great little feature to follow all the athletes you want to keep tabs on.
Martha walks into the shop looking frustrated and confused, had she done it had she not? It turns out that she'd lost first place by only two seconds. Having finished work we went and got some cold drinks and chilled and waited for the pro women field to come through. We watched all the ladies throwing some style off the famous GLC drop, the last one they had to do before the finish.
Pedal Pump and Plummet
The racing continued with the Garbanzo Downhill race, which saw racers compete on a track that is 7km long and has a vertical descent of 3,400 metres! A true test through some of Whistler Bike Park's most technical terrain. What was great to see was a number of my colleagues and friends from the town practising, discussing tactics, and inevitably fixing bikes before the main day. It was a fully inclusive event and one of the locals' favourites. In addition to the Garbanzo, the Fox Air DH race saw 400 people race the iconic A-Line in Whistler. It's a race against time over a course full of massive berms and tabletops, which was sure to leave racers grinning from ear to ear.
What's great about Crankworx is that it's not just one big bike park show. There's something for everyone, even the lycra types. Welcome to the Canadian Open Cross Country race which is the final round of the Canadian Cup cycling series and a UCI sanctioned race. There was only going to be one of my friends that entered this race, and it had to be the one guy who is always super fit on a bike.
Being a true athlete in many people's eyes, Justin Homewood came away with second in his category. Nothing to be ashamed of, considering the amount of talented and fit cross-country guys who frequent the area. You don't get good without the sort of gradient and height gain to be found in this place. It's just inspiring to watch a guy who usually races road bikes to then cross disciplines and be successful at this too.
It gives me hope that with a healthy mindset there is a chance I too could pursue a different cycling discipline and feel as successful at riding it as I do with all mountain riding.
Next up was an invite to watch the GMC ultimate pump track challenge. This event saw competitors racing against the clock side by side in a proper duel, rider against rider. What was interesting was that this was an unconventional course design, no circuits here, just berms and tables rolling down the gradual hill at Blackcomb Base 2. Riders were also required to remove chains for this event, meaning that no pedalling could take place.
What was great about this event was that you could see it all from above, with the venue in a dip in the mountainside so spectators had a prime view of the entire track, as well as a big screen to catch all that close up action lower down. Whistler Blackcomb also opened up the gondola to allow free access up to the venue, which made the whole event super accessible to all. I headed up with a few friends, heckled, laughed, ate sweets and began to dream about owning my own little jump bike one day.
Audio Visual Entertainment
A couple of evening events that really caught my attention were Dirt Diaries and the Deep Summer Photo Competition. Dirt Diaries saw six athletes invited to assemble a team of riders and videographers and get them to capture stories of mountain biking from the local area. You can imagine the shock and horror when I realised I might have been caught in the background of Eddie Master's film, The Hangover, as I instantly recalled having walked through one of the scenes they were filming in the village. Thankfully no one resembling Bex was visible during the screening.
The Deep Summer Photo Competition saw photographers invited to capture some of Whistler's most iconic scenes in a new and innovative way and also tell stories of their chosen subjects. What's great about Deep Summer is that there is one wild card entry where the public selects one photographer to compete with some of the best in the industry. This inspired me to try my chances for next year.
One event I, unfortunately, didn't get to check out due to work commitments was the Whip Off World Championships, where competitors compete for King and Queen of steeze. Who can get most sideways with the most style? This event is memorable to me as in the build up; the locals can throw down their moves for a chance to compete in the main event. One of the lads I work with was one of these locals, and I remember him coming in stoked off qualifying and again after the main event coming off the hill and claiming it was one of the best experiences of his life.
Joy To The World!
Then we get to the festival finale, the Redbull Joyride. Steeped in 13 years of tradition it takes place in the Bone Yard which looks out onto the plaza below. Athletes are invited to throw down the best tricks of their careers while the crowds below go wild. I've never observed mountain biking be such a spectator sport, even comparing to the crowds at the DH world cup in Fort William, but how can anyone ignore this spectacle going on in this mountain town?
At times the crashes were terrifying to watch, including Semenuk's fall from the bridge and there was a certain tension at times as many of the athletes were falling in the same place. The one thing that stuck in my mind was how much I was in awe of all these guys, competing, playing and putting on a show for all those fans of all ages, all for the joy of riding bikes.
The Crankworx Effect
So, what's the point in all these events? Well, Crankworx Whistler is one part of three other Crankworx events, the two other festivals were held in Rotorua, NZ and Les Gets, France. Athletes attending the festivals compete in as many events through the calendar year to gain points to be named King or Queen of Crankworx. This is a staggering 21 men's events and 15 women's events. But with a $25,000 prize pot who wouldn't give it a shot? With the festivals next year becoming four in total, the amount of events is going to become even more gruelling.
Crankworx was special in many ways, not only was it inspiring to me but it's doing great things inspiring the next mountain bike generation. Not just in terms of the riding but also the creative fields you could get yourself into, giving one the opportunity to dream.
Given a chance to experience Crankworx again, I would definitely make an effort to be more involved, and I want to race. A season worth of missing out on races due to a lack of organisation has made me miss it terribly, and the ease of access to the downhill races has made me especially motivated. I also see an opportunity to get in as a wild card for the Deep Summer Photo Competition, I just know I could compete with the best up there and seeing what was being shown, I'm feeling inspired to show mountain biking through my own personal take.
This is what is great about the festival, two weeks filled with every kind of bike related thing you can imagine, and the inspiration it brings to the worldwide bike community. Thank you.
Videos

Comments