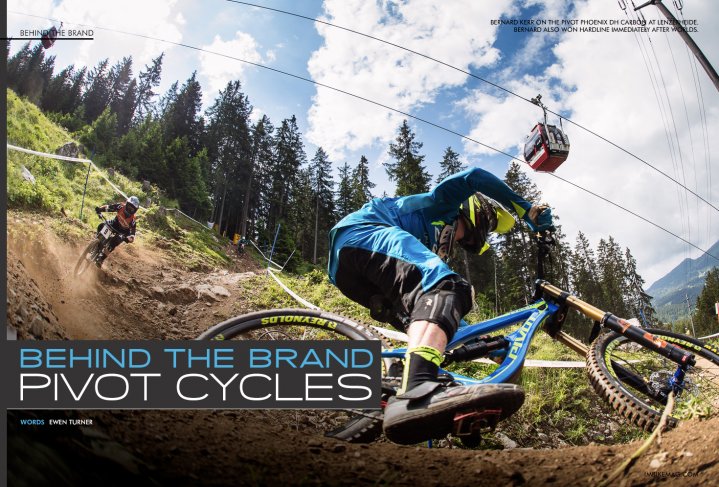 Behind the Brand - Pivot Cycles
Issue 45 / Fri 16th Dec, 2016
Boutique brand Pivot have been supplying the bike world with top-end desirable machines since 1997, but what is it about these bikes that gets riders so excited? And what does it take to make the ultimate bike and the perfect riding experience, we chat to the man behind Pivot, Chris Cocalis.
In a very short space of time, Pivot Cycles have stamped their authority on the bike industry and have mobilised an army of fans around the world. Some of their steeds have achieved legendary status on the trails, and the pro riders have a string of impressive results between them. Ewen Turner chats to Chris Cocalis, the driving force behind the brand about their roots, ethos and where they are headed in the future!
You started in 2007, what was missing from the bike industry that you thought Pivot could bring to the market?
We had a lot of ideas of where we could take the next generation of mountain bike. At the time, the bike was a frame and a bunch of parts, but the whole package seemed a bit compromised. We (all bike manufacturers) had this parts list of components that could bolt onto the bike, and we all had to design around what was presented to us.
I felt we could do more to make the entire bike a more integrated product and have the parts manufacturers work with us more closely to allow us to design a better chassis and then have the shifting components, drivetrain, suspension, etc. adapted to make a better complete bike.
In the case of the first generation of Pivot frames, we set new standards for manufacturing, suspension and how it integrates and interacts with the components. We still have our first Mach 4 prototype hanging on the wall in our machine shop area.
It looks a little bit dated in some ways, but it's also representative of many of the standards that are used today and even how high-end suspension bikes are manufactured. We worked more closely with the component manufacturers and changed the way everyone looked at bike frame design and how things were being done.
What's driving this evolution in your bikes?
Our customers, our racers, technology, and our own personal goals. We need to build products that riders want and continually provide a better riding experience. We conduct demo events all over the world where we get to interact directly with our customers. We talk with our dealers, distributors and the press in just about every country where Pivot's are available.
This customer input is the most important for us. The input from our riders is valuable as well, and competing at the highest levels allows us to test the limits of new products. New technology also provides for new opportunities. We are total gear geeks at heart and get just as excited if not more so for the new stuff than just about anyone.
What we see on the horizon fuels where we need to go next. All this combined with our personal drive to take our riding to the next level keeps us going. We love testing new ideas. Sometimes they work and sometimes they don't, but you never know where the limits are unless you push past them.
Carbon Vs. Aluminium, you are known for your smooth lines and use of carbon. What are the advantages of designing and building in carbon over more traditional aluminium?
When we first started Pivot, I had been working on a full carbon full suspensions frame project at Titus, and it was challenging and not on par with what we could do in aluminium. That is why the first Pivot bikes were aluminium at a time when there were other carbon full suspension bikes in the market. However, with the introduction of the Mach 5.7 carbon, we were finally able to achieve a design that was lighter, stiffer and stronger than the alloy version.
They were close, but the carbon was better. It wasn't long before the carbon bikes were superior in every way to the alloy version, so we backed off on aluminium development until the new alloy Mach 6. With the introduction of the Mach 6 aluminium, we took a lot of the ideas from what we learned in carbon and applied them to the tube design and construction of the alloy bike. This enabled us to build a frame that was equal in strength and stiffness and only a about a 275-gram weight gain but with an $1100 USD price advantage.
It allows us to reach customers that otherwise might not be able to afford a Pivot or customers that just don't want carbon. It's exciting because the actual performance is the same and most customers on a budget are happy to accept a small weight gain in order to get the same performance in a much more budget friendly package.
Making bikes for riders on both sides of the pond can be pretty tricky, with both sides sometimes having very different ideas about what makes a good bike. How do you design a bike to keep everyone happy, when a trail bike can mean very different things to different folks?
If I were asked this question 2 or 3 years ago, I would have probably told you how tough it is, but that's not as much the case anymore. There is a ton of influence going in both directions. We recently conducted a survey of all our distributors. A couple of items we were asking about were stem length and bar width per model.
It was the first time that the majority of Europe, US, Canada, and Australia were basically aligned. There will always be some slight differences, and then there's that thing where most of us run our brakes on the wrong side of the bars. However, in terms of geometry, I think we have and will continue to have a wide enough line of products to cover the spectrum of preferences in each category and market moving forward. Pivot was not nearly the global company a few years ago that it is today.
You still have capabilities for front shifting on your new bikes; do you feel the front derailleur is nearing the end of its life?
Well, it's definitely on life support. Last year complete bikes with 2X were still over 45% of our sales. Now that Shimano has a wide range option, and SRAM has the Eagle groups, it's hard to argue, but it is ultimately up to the customer to decide. With an 11-42 cassette, it did not work all that well in big mountain areas where we have a lot of customers.
It was a suffer fest on the climbs and then when you geared low enough, riders would just run out of gear on the descents. We had customers putting a 26 on the front to get the gearing low enough. That's just not right, but fortunately, that's changing quickly. I still like the gear range and the tight jumps that 2X offers me on my XC bikes, but I think we are pretty close to where we need to be with the 1X now.
A few more cassette gearing options would take away any remaining advantage that a 2X system would have had. In the meantime, we will continue to support both, but the writing is on the wall.
Let's talk hub spacing for a moment. While the mountain bike community was still struggling to get its head around the idea of a wider hub and bemoaning the latest 'standard' you guys drop the excellently named 'Super Boost Plus'. What was driving the development of Super Boost, and what advantages does it have for riders?
Super Boost Plus name was really meant to poke fun at ourselves a little bit but also to help describe what's going on with the concept and what we were trying to achieve. You cannot say the name without smiling. When BOOST 148 debuted, it really got everyone pretty revved up regarding standards and but it's what was needed to take mountain bike frame design to the next level of performance.
Moving the chain line 3mm outboard doesn't seem like a lot, but in the world of bike design, it is. It took a lot of planning with the biggest players in cycling to make is happen. There was suddenly more clearance for larger tires, and shorter chainstays, wider pivots and more gearing combinations as well as a stiffer rear wheel. However, when we get to 27.5+ and longer travel 29er's with the new wide trail (2.5") tires, all that extra space afforded by BOOST 148 is gone and then some.
Going to 157 on the back end takes care of that by moving the chain line outboard an additional 3 mm beyond BOOST 148. It was equally important that we held Q factor and BB widths to current designs. We did not want manufacturers to have to develop new cranks (new chain rings and sometimes new spindles), but not new cranks. We also wanted to build on the idea of a stiffer rear wheel.
DT Swiss ran testing for us on this. We started with a 142mm hub and a 25mm inner alloy 29er rim with DT competition spokes as the baseline. The same wheel with the 148mm hub is 16% stiffer at the rim. With the 157mm Super Boost hub, the same wheel is 48% stiffer at the rim, so it's quite an improvement.
What have been the most important steps in the development of Pivot over the years? Any stand out technological developments or bikes that have been critical to the story?
That's a big question. Obviously, there's the DW-Link. That's been core to our designs since day one and a big driver behind the overall versatility of Pivot bikes. Beyond that, the Phoenix DH really influenced the entire line of Pivot trail bikes. We wanted to make a 27.5" DH bike without shortening the travel, lengthening the chainstays or compromising the geometry.
The development of that bike resulted in the new clevis and linkage design that led to the Mach 6, Switchblade and Firebird designs. From a success standpoint, the original Mach 4 put us on the map, The Mach 5.7 Carbon was our first carbon bike and took us to the next level, but the Mach 6 and Mach 429 have been our most recognised and successful products. Even the LES Fat and LES models with our patented Swinger dropout system have some real standout features that we are really proud of.
I get the feeling that people are buying into more than just a bike with Pivot. Brand loyalty seems to run deep with Pivot owners. Do you agree? And why do you think this is?
I agree. My philosophy is that the customer service and overall experience is more important than the bike itself. There are a lot of great bikes out there, and we like to think that ours are better but it needs to be more than that. We really strive to make sure the customer's experience exceeds even the quality of our products and that we deliver on our promises.
Our customers also expect that when a new Pivot model comes out, that we build on what they loved about their current one. We don't make a new bike just to build a new bike. It has to be better. We make sure that all our products ups the riding experience and our customers have come to trust that we will continually deliver on this.
Every bike brand has to be based around great trails. What's the local riding like for those who work at Pivot HQ? Do you test your bikes locally? What makes the ideal location for testing new products?
We do a lot of our bike testing locally. We have awesome riding right across the street from Pivot. South Mountain Park is the largest city park in the United States. It is approximately 17,000 acres in size and at least 250 Km of trails. All of which is legal and the majority of it is single track. Most of it is also brutally rocky and technical (in a fun way).
It's a perfect place to test bikes and develop suspension. I like to combine that with testing in different types of terrain as well. FOX is located in the Santa Cruz area, and their trails are a lot more buff and flowy, but also steeper. We also spend a lot of time in Moab which has rides that combine everything from slick roots, mud and wet rocks to the type of terrain we have in Phoenix with a bit of everything in between.
It's important that we get the bikes working well in a wide variety of terrain and conditions and the South Western US offers a wide range of riding conditions without having to travel too far. For anyone who has the opportunity to experience Phoenix area riding in the fall or winter, you will not be disappointed.
How important is it for you to be supporting a range of athletes, how do you choose who to support? Is it the race result or the character?
Our riders are like our family. We love to see great race results, but that's secondary to character. We are very selective about who we work with. Pivot riders need to be the kind of people that our customers would want to hang out with. We want any rider (whether on a Pivot or not) to be able to approach any of our athletes and feel like they had a great experience meeting them and getting to know them. They are an extension of our company and all the people that represent Pivot.
Women are pretty well represented at Pivot, which makes for a refreshing change in the industry, has this happened naturally or is this intentional?
It's a bit of both. We always look for the best people, and a lot of those are women! We also have a lot of female customers, and I want our company to reflect what we do, why we do it and who we are. It's also an excellent balance. It's pretty easy for a bike company to turn into a frat house and that's just not our style.
How do you feel about the way mountain biking is marketed to women? You're not a 'shrink and pink' brand are you?
It's cool when it's done right, and I am all for anything that brings more women into the sport. However, when the product is not bringing something to the rider, but it's marketed as if it's women's specific, it kind of gets under my skin.
Do you feel the need to make women's specific bikes? Pivots are known for low standover, making them ideal for smaller riders regardless of gender. Do women need 'their own' bikes, or just access to smaller sized great bikes?
We work really hard on our smaller bikes and also on the leverage ratios and shock valving on all our models to accommodate a wide range of rider sizes and abilities. We probably need to do a better job reaching out directly to female riders to let them know that we have unique and special products that do make a difference and will help them take their riding to the next level.
That said, our female customers are fiercely loyal and have grown Pivot's reputation as a performance brand for female riders. We make bikes that fit the entire range of riders both male and female so I don't really see the need to make women's specific bikes, but it's definitely our goal to highlight what we do better and why a Pivot is the best choice for women riders.
What is your favourite bike that Pivot has ever produced?
My favourite bike is always the next one. I get really excited about the new stuff. However, if I were forced to pick among the past and present, the Mach 6 would be my favourite bike. That's the bike that actually took my technical riding to a new level. The Mach 6 enabled me to ride things that I was not willing to even consider previously.
What's next for Pivot, any hints on future projects, teams and racers?
Regarding Enduro, we support several riders through several of our distributors but then also have the Pivot Factory Enduro Team. Our main rider, Adam Snyder hurt himself pretty badly at the 1st EWS round last year but is back on the bike now. We also have Mason Bond and Brice Shirbach returning and will be adding Antoine Caron to the team as well.
Regarding future products, we have plans for some of those as well, but I need to keep pretty tight-lipped about it at this point. All I can say is that we are always working towards the future and the future looks really exciting.
Cheers Chris thanks for taking the time!
Videos
Ewen Turner is a self-confessed bike geek from Kendal in the Lake District of England. He runs a coaching and guiding business up there and has a plethora of knowledge about bikes with an analytical approach to testing. His passion for bicycles is infectious, and he's a ripper on the trails who prefers to fit his working life around his time on the bike.
Comments