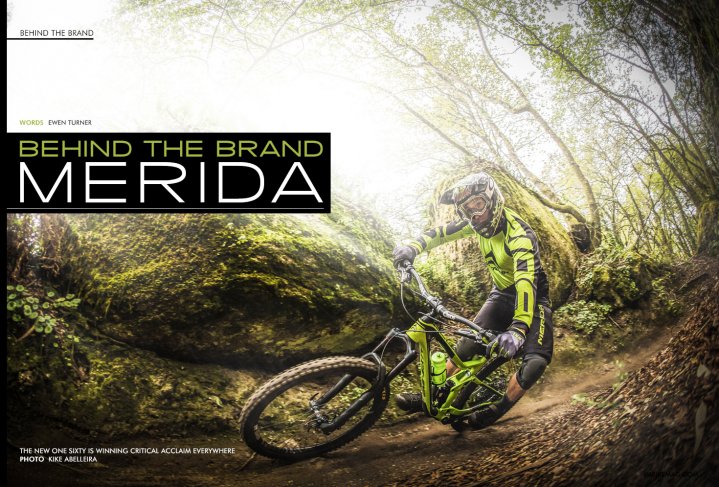 Behind The Brand - Merida
Issue 48 / Wed 28th Jun, 2017
Merida are one of the most respected bike builders in the business, with a huge following in Europe they are creating some critically acclaimed machines. With a definite move away from their XC heritage Ewen Turner finds out why the winds are changing in Taiwan and Germany.
Merida is the brainchild of Ike Tseng, a man with vision and, a man on a mission. The story goes that on a trip to the US in the early '70s he found that bike shops over there refused to take in Taiwanese bikes for repair due to their poor quality. These days a bicycle shop refusing products from Taiwan would be a rather poor business decision indeed.
Annoyed, Ike returned to Taiwan to start his own company, and in September 1972 Merida Industry Co. was born, and the first production plant opened in Yuanlin. His motto in life (it's always good to have a motto!) was to 'move with passion and courage' which translated into a company whose motivation was to create beautiful and high-quality products, enabling anyone to reach their destination as pleasantly as possible.
In 1988 Ike took things up a notch and launched the independent brand MERIDA, combining his company with a German R&D centre. This combination of engineering research and high-quality manufacturing would take the brand to the next level in quality bikes and satisfy the demand across all disciplines of cycling.
Merida has continued to grow and develop every year, but 2017 sees another step-change in their mountain bike range. Suddenly their profile is on the up, certainly in the UK, producing hard-hitting bikes and e-bikes to compliment their race-proven XC line-up. It was time to catch up with the good folks at Merida and see what's been happening.
You have been around a long time, but how big is Merida now and who are the key people involved in the brand?
MERIDA now has distributors in over 80 countries and supports these from our R&D / Marketing office in Germany as well as from our factory in Taiwan. We have a dedicated and highly skilled team of engineers on both sides. Our Germany R&D team (headed by Jürgen Falke) focuses very much on the initial idea and the concept of the bike while our engineers in Taiwan work closely with them to guarantee the feasibility of the new project and keep a close eye on our often praised quality control mechanisms. The two teams are in constant communication to maximise the benefits of the two location approach. Designed and engineered in Germany. Made in Taiwan.
Your research and development process is in Germany, so is this where all the magic happens? Is Taiwan now solely for the manufacturing process?
In Germany, we develop the complete international MERIDA line-up. That means from the idea, via the appearance of the frame in 3D all the way to the decal design, it is all done here, in Magstadt. However, good ideas which can't be produced don't have any real value. So we work very closely with MERIDA Taiwan. Our R&D team flies several times a year to Taiwan, and our Taiwan colleagues come to Germany. Furthermore, they have an enormous amount of video conferences every month and write hundreds of emails to each other. It's a significant advantage for MERIDA that we have our own factories where we produce our own bikes.
It's also worth noting that Magstadt is a small town near Stuttgart; which is one of the technology hot spots in Germany. So finding highly skilled people who are passionate about design is rather straightforward. It is a real advantage if you want to stay fresh, as well as keep your outstanding product quality levels.
Where does your testing happen, is it mostly done in Germany? Do you have a good set of local trails?
Lots of it happens in Germany, and luckily we have some great riding on our doorstep. Quite a few of the leading German MTB and Road mags test on the same roads and trails. As mentioned previously we have a fleet of MERIDA athletes who test our products all over the world. Our R&D centre in Germany and our engineers in Taiwan use the latest testing technologies in their in-house testing labs.
How are your products developed? Does it come from demands of the pro riders? Or is it led by technological advancement in materials and other factors?
It always depends on the category. For example, the MULTIVAN MERIDA BIKING TEAM had a significant influence on our race cross country hardtail and dual suspension bike. But of course, we also have our own expertise and interest in pushing things forward. All employees at MERIDA's R&D centre have a strong cycling background. From road racing, daily commute to downhill racing we have all kinds of cyclists here. On the technical side, we have the advantage of our own factories and engineers in Taiwan. They always keep us informed about the latest material and production technologies.
With such a diverse range of products, is there much technology overlap between the road, mountain bike and e-bike products?
Yes. Because from the production side the methods are very similar. The differences are the loads involved and how the product is used. So the challenge is to adapt the materials and processes for each category and achieve the perfect balance between weight, durability and appearance.
My image of Merida used to be one of XC hardtails and Lycra. 2017 has seen a big shift in how Merida is perceived and your new bikes have broken the mould, was this a planned change or has it happen organically?
We very much came from a mountain bike background and probably focused more on cross country due to the popularity of the sport in the markets where we operate. However, things are changing globally, and we are discovering new sectors which, we have lots fun with, such as trail and e-bikes. Also, our R&D team has seen a shift in what they enjoy riding, etc. We had successful attempts in those areas before but we are now more focused, and we have also invested heavily in finding the right people to support that direction.
This year also you have received great acclaim for your e-bike models, am I right in thinking these are your first e-MTBs? What is the secret of your success?
We have been in e-bikes for a while but more on the commuting and leisure side as they have been big for many years in certain markets. But 2017 is certainly a real push into the 'performance' side of e-bikes.
The success (so we believe) is based on using a great motor system (small/light etc.), also the fact that we could bring across lots of geometry elements from our proven 'non-powered' range and that our R&D team is e-bike mad. Our concept is very much based on the perfect integration of the motor in an already successful bike concept - rather than just adding a motor - the system has to work as a whole. Our award winning eONE-SIXTY, for example, shows how important the perfect geometry and specification is, even if you have a motor to help you along. Without a doubt, the highly acclaimed Shimano STEPS system has given us not just a great power unit which is quiet, super smooth and straightforward to operate but also allows us to keep the chainstays short, the centre of gravity low and position the motor perfectly within the bike.
You also brought out the BIG.TRAIL, a hardtail which would perhaps be more at home in the UK or Canada. This is a very different type of hardtail for Merida, what was the idea behind such a new direction?
You are right; people know us more from our more 'racy' hardtails like our BIG.NINE or BIG.SEVEN but the idea of a more trail orientated hardtail has been a subject for quite some time at MERIDA. Some markets had a bike called MATTS TRAIL in the range, which in particular in the UK was quite successful. Recently the whole concept of trail hardtails has progressed, and 2017 was our first step back into that segment with the much loved BIG.TRAIL.
We believe that there are lots of people out there who like certain elements of trail full suspension but might not want the hassle etc. of looking after it. The BIG.TRAIL combines lots of great trail bike features (geometry, handling, long travel fork, dropper post), offers massive grip and some cushioning through the 650B+ tyre/wheel concept and brings all this together in a hassle free and fun packed concept. The BIG.TRAIL is super capable and great fun to ride – the more demanding the trail, the better it gets.
You have a solid set of riders who you support and also the famous MULTIVAN team. Tell us about your sponsored riders for 2017 and why they are important to the brand. How successful has the team been over the years?
The MULTIVAN MERIDA BIKING TEAM has been one of the most successful XC teams of all times, but after 13 years it was time to move onto other things. The team had a huge impact on many important product innovations and has helped to make MERIDA known around the globe.
Now we have a broad range of athletes we are supporting who cover varies types of riding and racing as well as travel the world in search for the best riding locations out there. For example, we have been working with dirt jumper and freerider Clemens Kaudela for a few years as well as support trials specialist Dominik Raab. Furthermore, we have adventurers and freeriders Hannes Klausner and Alban Aubert as part of our MERIDA athletes who are always on the go working on some great photo stories and videos from some of the most breathtaking riding locations imaginable.
And last but not least we are still working with former MULTIVAN MERIDA BIKING TEAM riders José Antonio Hermida and Gunn-Rita Dahle Flesjå. Gunn-Rita remains in full racing mode, concentrating on UCI World Cups and selected marathon races while José still does a fair amount of racing but in all kind of disciplines as well as doing some testing and development work for MERIDA. All in all, you can say that nowadays the experience is more important than the results.
What are the benefits to having these riders other than the obvious marketing and promotion?
We have been working with most of our riders for a number of years, and besides spreading the MERIDA name, they get heavily involved in our testing and product development. Our R&D team is very dedicated and experienced when it comes to testing our own product, but our athletes ride their bikes 24/7 and take them to places (geographically as well as pushing them) where regular riders would not be able to go.
The ONE-SIXTY is a very capable enduro bike, will we see a downhill bike in the future? Maybe even a world cup team?
That is not the plan at the moment – but 'never say never'.
How would you describe the riding culture at Merida? Is there still a focus on lycra-clad, super-fit racers, or are things changing?
We have racing in our blood – but you will see more and more baggy shorts in our catalogue and in our changing rooms. As we said before, we have a very varied rider base at MERIDA, from XC and enduro racer, via e-bike explorer and off-road tourer all the way to weight obsessed road racer and iron man triathlete.
What does the future hold for Merida?
Lots of new and exciting products and more and more stuff, which you would not expect from a more conservative brand like MERIDA. There is a strong focus on improving important details on our bikes, which might not jump into your face but have a real impact on improving the riding experience and the performance of the bike. But don't worry there will be some real surprises further down the line too! We are also getting more and more into the accessory side of our business by investing in new and exciting lines as well as supporting it through some hugely experienced specialists. Watch this space.
Videos
Ewen Turner is a self-confessed bike geek from Kendal in the Lake District of England. He runs a coaching and guiding business up there and has a plethora of knowledge about bikes with an analytical approach to testing. His passion for bicycles is infectious, and he's a ripper on the trails who prefers to fit his working life around his time on the bike.
Comments