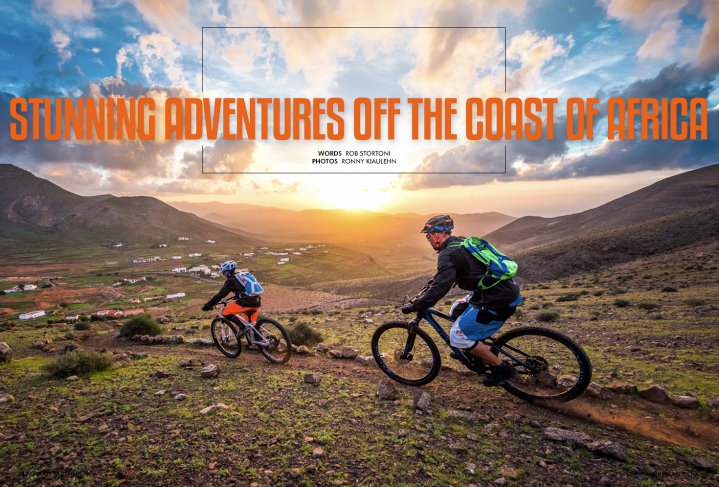 Stunning Adventures Off The Coast Of Africa
Issue 48 / Wed 28th Jun, 2017
Ronny Kiaulehn and Rob Stortoni make magic off the coast of Africa as they take you for a guided tour around some of the incredible trails on the island of Fuerteventura!
Rob Stortoni, Ronny Kiaulehn and his son Pietro have been blazing in trails in Fuerteventura for years, their film, Surfing Majorero Trails, was a finalist at the Peugeot Drone Festival and the incredible scenery the island harbours is something to behold.
You may have heard of this paradise in southern Europe, or maybe not, Fuerteventura is one of the Canary Islands and the one which chose me. My passion for kitesurfing led me to travel to this mecca of water sports, but I would soon discover that this place has much more to offer.
Five years ago I went back on a mountain bike to strengthen my knees, and I could not have imagined the beauty hidden in the heart of the island. Since then a force inside me has been ignited that pushes me to the mountain and that force, day by day, has grown.
I do not believe in coincidences. I do not think that having crossed paths with Ronny and Pietro, a father and son, photographer and BMXer, was a matter of chance. There are certain things that are meant to happen. Ronny's connection with Fuerte comes from long ago.
More than 30 years ago he visited the island for the first time as a professional windsurfer and later as a windsurf and surf photographer. Since then he has not stopped returning, for almost a lifetime, to this enclave to feel again the magnetism of this land and the human quality of friends and the whole family of life here.
Sometimes it's hard to know how a great friendship arises. Maybe it's an attitude? Perhaps a frequency? Maybe a vital sensibility? No doubt our love for sport has a lot to do with our connection. For me, friendship is one of the most important values in the world and is almost a religion and a purpose in life. Friends are the family we choose.
I will never forget the satisfaction of showing Fuerte's treasures to my two new friends, especially the new trails that appeared as we explored the farthest corners of the island.
If something has characterised our relationship, it is motivation. There has always been a "Sure!" In every response. Very naturally we decided to start "playing" at producing a video describing Fuerte's potential for the bike. We decided to record a video with only a drone. It was an unforgettable experience. "Surfing Majorero Trails", to our surprise, entered the final of the "Peugeot Drone Festival" and national media covered our first story.
We looked forward to more and Ronny called me to come up with a new adventure. This time it would be a bike story to publish in specialised media. "Suuure!" A month later I had my friends back on the island, and this is the result.
Planning was essential to get the most out of every day of the shoot. They say that the old devil knows more than the devil. I already feel a little old, and like a little devil on this island. I selected the first routes for their panoramic value and for the bike experience.
Consideration has to be made here for the wind, which is very variable in terms of direction and intensity during the winter, as well as the weather. It's usually quite stable but when it rains it really rains here. We would plan our rides depending on the forecast, trying to keep the wind on our backs where possible or head out before it picked up when we could. It is a gift that the island is so versatile and has so many possibilities for riding.
After the previous experience with Ronny and Pietro, it was increasingly difficult to surprise them. I had the feeling that I would be able to awaken unique sensations in my dear friends again.
As a rule, we decided to focus on the north-central area of the island to avoid long car journeys, and spend as much time as possible on our bikes.
The first day we combed the volcanoes that surround the northern area where I live: El Roque, the Villaverde volcano at dawn, and just after a light rain. The cosmic kitchen gave us an epic ride with a crucible of colours that left us speechless. I think the photos speak for themselves.
A pause to eat something in the La Oliva market, and then continue pedalling, including ups and downs with the volcanoes near to Lajares to complete this spectacular day.
This area of the island has a huge variety of routes and panoramas. We came back on a couple of occasions in search of the best moment for light in some places that we had located. There is nothing better than knowing your island to take advantage of a future mountain bike undertaking and an incredible photographer.
Once we finished the northern zone, we decided to take a couple of days off. A bit of surfing, a little beach time, and still catching snapshots that were worthy of any magazine. The truth is that the first few days were intense and we were somewhat tired. However, after a fantastic day at the beach, we could not resist a return trip at sunset to another nearby mountain: Tindaya. They say that luck favours the brave. To us, overcoming the laziness gave us one of the most incredible sunsets that I remember in many years here. It was one of those situations where silence conquers the moment, and the beauty leaves you dumb for a few minutes.
It was time to approach the central area of the island. In the area of Betancuria (a town with a lot of charm and the first capital of the Canaries), there is a chain of spectacular mountains. You can join several circular routes or focus on more Enduro and Downhill riding. To avoid mistakes, we did both.
We started the day in the statues of the Guanches (Canary aborigines), climbed and descended a series of ridges on a single trail with views of both coasts (east and west), until reaching a valley with a forest of Canary pines. Fuerteventura is known for its beaches and its desert areas, but there is much more.
My friends were amazed to see such a green area on a supposedly arid island, which especially in winter, shows how fertile it can be.
From the pine forest, another single trail to the main road, and back to Betancuria by asphalt. In general, there is very little traffic on the island which, added to the special respect for cyclists, filling you with confidence when you do have to hit the asphalt.
A pause to rest a bit and eat something in a typical Canarian restaurant, and again up a relatively steep valley, somewhat tiring, but certainly worth it. From the summit starts an exciting descent to the town of Antigua. Nearly reaching the last part of the path, Pietro had a puncture. Here you always find stretches of stones and punctures are something that can happen; it is essential to carry spare tubes on each venture. We fixed the tyre quickly and continued to our van, closing another beautiful day.
After two days, we decided to return to the same area (this time a little further south of Betancuria) to the mountains that are above the village of Pájara. The landscape there is impressive, the mountains are very rocky and steep, and there is a path that goes down a valley to the beach of Ajuy, passing by the Church of the Virgin of the Rock. In this area, part of the film Exodus was recorded. Hollywood loves Fuerte. Last summer, for example, part of Star Wars was filmed in the southern dunes. There is no better proof that we have some filmworthy landscapes.
After a few intense days, and with just a few days until the departure of my friends, we decided to close the photo sessions with a few panoramic snapshots near the beach...and some action. And what better area than the trail behind my house that I affectionately call The Backyard. I spent a lot of time there, and in spite of it, I never tire of the place. There is something mystical about it.
And there I was, one more day, this time in the company of my two great friends, helmets, protective gear, and photo bag on Ronny's shoulder. As you can imagine at this point I know the layout to perfection. We enjoyed it immensely, between skidding, curves and jumps. Adrenaline poured in. Overconfidence and anxiety to capture a perfect image in one of my favourite "jumps" triggered in a freak accident.
I crashed and hit my head hard; I was disoriented and confused. I had to ask Ronny the same thing about fifty times. After a few moments of tension and great concern, everything seemed to return to normal. Once we knew I was OK and just a bit shaken, it was time to laugh properly at what happened. If you are going to come to Fuerte with the intention of going fast, do not forget protective gear...the rocks can be savage.
Only one session near the Backyard beach was pending. There is a trail that runs along the entire coast from Cotillo to Esquinzo. Again the perfect conditions. Offshore wind, clear sky and good wavelets in the background. Ronny was super happy with the stage; he took photos from all angles. The wind began to blow hard, and he decided that it was time to land his drone. First, we did a series of photos, and just after saying, "come on, this is the last", we could see that the drone took on a life of its own and decided to go offshore at full speed.
Pietro and I looked confused as we did not understand what was happening...After a minute, again we saw it return to our area, and then it landed safely. Ronny's face showed a marked sense of relief. Due to the strong wind, the motors overheated. To cool them, the drone automatically takes power off, and the wind dragged it out to sea. Once cooled, it was able to return, but the display showed only 1% of the battery. Luck was also with us during this last session.
This ended a month of "bike in the veins", archiving another number of moments that always remain in our minds and documented by the photos that accompany this story.
I already feel like having my friends here again. There is an island to explore, and adventure is guaranteed. I have made the decision for this sport to also become my trade. I hope you can hear about my project soon. And whoever wants to target this unforgettable experience, you know where we are. There is always space for new friends.
Videos

Comments