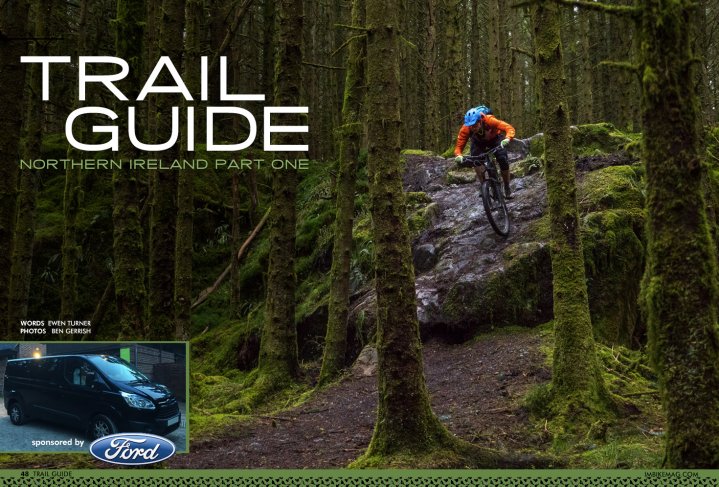 Trail Guide - Ireland Part One
Issue 48 / Wed 28th Jun, 2017
Ewen Turner and the IMB crew head off to Ireland to sample some of the delights and craic on offer. With three trail centres to visit they discover a vibrant riding scene and a plethora of action to be had!
Sometimes it's easy to forget that there are places very close to home that are missed in our desire to travel and explore the exotic or the far-from-home. For me, Northern Ireland represented somewhere geographically close, just a short stretch of water away, but distant in terms of my understanding or knowledge of the place or the people.
The chance to go and explore came about as an invitation from Mountainbike Northern Ireland, but there was more motivation than this. I felt there was growing momentum in the scene and rumours of modern trail centres, a thriving racing vibe, excellent hospitality and awesome scenery meant a trip was inevitable.
Driving off the ferry, my idea of Northern Ireland being close to home felt inaccurate, but this was more due to the Scottish roads than the efficient ferry service from Stranraer. Those travelling from further afield would no doubt take advantage of the flights into Dublin or Belfast, but for those in mainland UK, the ferries from the west coast make the most sense.
Travelling through the country, I was struck by how many place names I recognised. As a child of the 80s, I grew up with the news being punctuated with headlines from these areas, all for the wrong reasons. 'The Troubles' have long ended, and the region has bounced back, and tourism is now a huge part of the economy.
Our journey takes us away from Belfast and out west into more and more rural landscapes that have us questioning the sat nav. The scenery is very familiar but somehow foreign, a mix of the English countryside and Scottish ruggedness. For a small country, the scale of the land feels huge.
Davagh Forest
In what feels like the middle of nowhere a familiar trailhead sign points us further into the back of beyond. It's mid-week, and there are no signs of other bikers on the roads or surrounding areas, the usual sight of trucks, campers and cars with bikes worth more than the vehicles strung to the back were nowhere to be seen.
The wide open landscape mixes forest and farmland for as far as the eye can see suggests land that has changed little in the last few hundred years. The trees that used to carpet the entire area have gone, like the majority of Europe, but the traditional farming landscape remains.
Despite the rural feel, we pull into a modern car park with fresh looking tarmac, changing facilities, toilets, and even a free bike wash. Just a hose and a tap, no shop or hire centre, nothing overly sophisticated, just help yourself. The biggest feature is a brand new playground that sits next to the car park tempting riders to have a go on the swings rather than the trails, providing another angle to this new centre.
We meet some guys from the council who are out prepping the trails for some closures for forestry work. The Council and Forestry collaborations have been crucial for the trail developments. With limited access to the hills, the development of MTB-specific venues has been one of the only ways to get more people on bikes.
We've been introduced to local Nial Convery to take us off for a tour of the trails, his enormous calves of steel warning us that they might breed 'em strong in these parts. Having had a long journey, it's time for a leg stretch and just passed the shiny playground is a pump track, again suitable for all, and a great way to get warmed up for a spin.
Further beyond this is a short skills loop that takes you up switchbacks, down berms, drops and rocks. An ideal spot for a bit of skill fine tuning, and far better than your average skills area which is usually tagged on as an afterthought.
The initial climb takes us up and out into the moorland on a mix of single-track and forest roads, some of these not just gravel track but old tarmac gradually being reclaimed by the woodland like a long forgotten highway.
As with many modern trail centres, the latest designs have come a long way since they started in the 90s. Corners upon corners give all the flow you need to keep smiling, and more than that, the underlying shape and geology are used to great effect creating rock slabs and cheeky lines everywhere.
Chain Reaction Cycles, the enormous global bike shop has played a part here as well as the council and forestry. Trail names are sponsored by Ragley such as 'Run Ragley Run' and 'The Big Wig Jig'. One of the most striking features in the trails is the density of the trees and the depth of colour, giving an overwhelming green glow to the whole forest.
The two main red descents provide everything you could want from a trail centre run, fast and flowing, but with enough rocky features thrown in to keep you on your toes. Never dumping too much height, you spend it well, pumping, jumping and railing berms to the bitter end.
Not always hidden in the trees, the vistas across the vast landscape give a great sense of place, and a wide-open feel, usually absent from man-made trails.
Throughout the trails, the underlying rock pokes through, hinting that ancient geology hides beneath. Eventually, we get up close are personal as the trail opens up with a few options, some of which give some very spicy rock rollers and slabs. It's refreshing to see large natural features, and these are pretty full on, yet by no means compulsory.
Towards the end of the trail, through a sea of green lurks what appears to be an enormous moss-clad boulder emerging from the depths of the forest. We pedal on only to find ourselves atop this behemoth trying to spy a line down it that we might survive. This is part of an optional black section and has to be one of the most challenging features I've seen on a trail centre in a long time. Slippery, greasy and with an awkward drop, it's full on, but Davagh is all about the rugged and the raw, nothing is overly manicured.
As a final touch, we head up to ride something in high contrast to the rocks. A new section shows a different side of trail building as we get a bit more of a bike park feel, with high speeds and rollers to pump and jump, it's all the right stuff thrown in together. Smooth, fast, fun and over too soon.
Combining all these trail options gives a great day exploring the forest, and with the simple facilities on offer to change and wash bikes, it feels welcoming and fresh.
Blessingbourne
Moving on again from Davagh we head to a trail that sounds pretty curious. Blessingbourne is the result of a local council and a private estate getting together to create bike trails. Think Downton Abbey meets Whistler Bike Park...well perhaps not quite Whistler, but the estate is pretty grand.
Rocking up in the dark, driving through a small farmyard, we arrive at the Manor but find our accommodation is lesser in scale, but not in quality. A quick feed in the pub and a reasonable number of Guinness's later and we settle into our rather fine accommodation, which feels above our pay grade for travelling journos. High-quality self-catering apartments are run by the guys at Blessingbourne, and although it feels unworthy to fill them with dirtbag mountain bikers, needs must I suppose!
Unlike most trailheads, here is a great big house, gardens, a lake, and hidden around it all are a bunch of red and blue mountain bike trails. What it does lack in terms of height and gradient, it certainly makes up for in creative trail building as we were to find out.
Our approach was to go with an open mind, a small, new, trail centre with no real hills, let alone mountains, set up for novices, families, or anyone who rides. Our assumptions that it could be a bit sedentary and only suitable for kids and families were immediately blown out of the water as we drift and hop our way around the first few kilometres.
Praise must go to the builders here, as we had smiles on our faces all the way round. I had predicted a day photographing steady shots of pleasant backgrounds. I didn't think we'd be climbing trees for pan shots or trying to double up every set of rollers.
These excellent flowing trails, coupled with the mix of vegetation cover only found in gardens of stately homes gave a unique feel to the riding as we brushed past ancient trees, rhododendrons and bamboo. Sure, it's not the biggest or longest set of trails in the world, but for a small estate this place rocks. For kids or for adults that know how to find fun on a bike this place is a great spot to spend some time. It may never draw crowds from far and wide, but the rest of the world could learn a thing or too about creating accessible mountain bike trails for everyone.
Returning to the accommodation and a quick lap of the pump track a peacock saunters past to greet us, and we add a further thing to our list of unusual occurrences for an MTB ride. Meeting the owners, it's clear how passionate they are about the developments, and it seems the outdoor scene, especially now the biking scene is really on the move in Northern Ireland.
Castlewellan
Our journey takes us east, back across the country to better known destinations such as Rostrevor, but Castlewellan is the plan for the day. Northern Ireland must have a thing for trail centres in stately homes, with this, an even grander version of the small but perfectly formed Blessingbourne.
The clue is in the name, and the Castle dominates proceedings at this grand venue. But while the castle may be old the bike and outdoor centre at the trail head; Life Adventure Centre is a friendly, modern, slick operation, with kit and equipment for whatever outdoor activity you fancy. It's clear the outdoor industry is on the up, and keen to promote not just the services they provide, but the whole area as a destination.
The setup is a familiar, UK style trail centre, with a blue, red and black trail, alongside a pump track. A family friendly green route and lakeside cruising also add to the full range of visitors the centre caters for.
We meet with up and coming Vitus Enduro racer Jack Devlin to show us around, and act as photo fodder. Given the modern nature of all the trail centres in Northern Ireland, we are treated to the latest and greatest in machine built trails. Whereas many trails now show their age, these are not only fresh but have subtle nuances that make them awesome. For instance, as soon as the trail flattens or goes slightly uphill you are gifted some topography to pump, saving you getting on the pedals and preserving the flow. This sense of flow continues through the trails here, and every change in angle or direction has been so well thought-out to give the maximum return.
The views offered across the lake to the Mourne Mountains are magnificent, and they command the landscape. As we pedal around, we keep catching glimpses of these huge mountains while the Castle backdrop is certainly a different view from the usual mountain bike hangouts.
The fun continues, and we move onto the black for a bit more bite, and fortunately, we don't see the traditional 'let's just make it awkward' style of trail building. Instead, the terrain is rougher, tighter, and more imaginative lines can be rewarded. Jumps and gaps feature, as does more of the bedrock, but without losing the all-important flow.
Jack shows us some crazy and imaginative lines, spotting gaps between natural lips on the trail, launching between super tight trees with only a hair's breadth to spare. He is clearly a racer, always fast, always committed, surely a product of the fantastic facilities cropping up in the area and one to watch on the Enduro World Series this year.
With 19km of red loop and black options, there is plenty to keep you busy, and the 5km of blue is fun and flowing. Those with a keen eye will surely spot other trails hidden in the woods, as this has been a venue for enduro racing over the years and the hills look prime for trail development. The 4km of green trails gives something for family and further instils a sense that the developments here are for everyone, not just the experienced riders.
The experience of these three areas was one of modern and inclusive mountain biking. The outdoor industry is in full force here, and the people, hospitality and natural resources combine to give a fantastic mix. Northern Ireland is definitely now on the map as a destination for riders.
Next on our list to visit was the biggest of them all, Rostrevor, probably the best-known area in the country, but that's for the next trail guide.
Thanks to Ethan Loughrey, Jack Devlin, Nial Convery, Colleen and Nicholas Lowry
Getting to Northern Ireland
For all the information about the mountain bike trail centres in Northern Ireland visit – mountainbikeni.com
P&O run regular ferry services, up to 4 per day, between Cairnryan and Larne and Liverpool and Dublin. For sailing times and services visit the P&O website.
Discovering Northern Ireland
From chic, city boutique hotels to rustic rural retreats and from self-catering apartments to outdoor glamping, Northern Ireland has a wonderful variety of accommodation for all tastes & budgets. To book a short break or to find out about Northern Ireland's visitor attractions, accommodation and things to do, visit discovernorthernireland.com.
Links
Blessingbourne Estate - http://mountainbikeni.com/blessingbourne/
Davagh Forest - http://mountainbikeni.com/davagh-forest/
Castlewellan - http://mountainbikeni.com/castlewellan/
Videos
Ewen Turner is a self-confessed bike geek from Kendal in the Lake District of England. He runs a coaching and guiding business up there and has a plethora of knowledge about bikes with an analytical approach to testing. His passion for bicycles is infectious, and he's a ripper on the trails who prefers to fit his working life around his time on the bike.
Comments