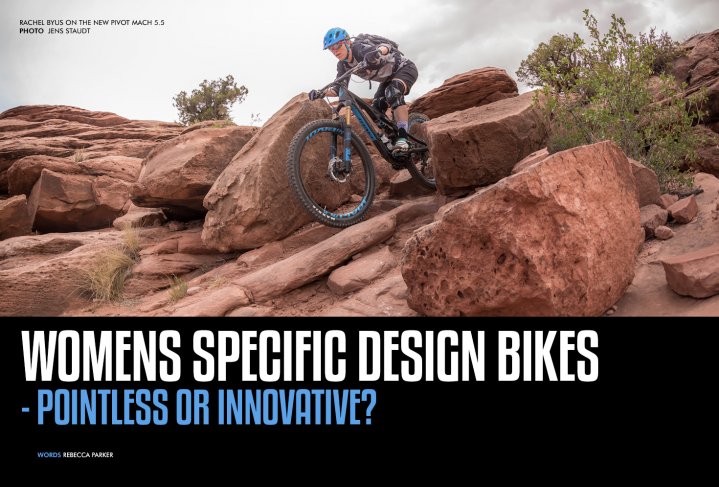 Women's Specific Design bikes – Pointless or Innovative?
Issue 48 / Wed 28th Jun, 2017
Rebecca Parker investigates the various approaches different brands are taking regarding bikes for women. Pink and shrink it is thankfully long gone, but do women really need a specially designed bike?
The question of whether women's specific bikes are a necessity or a marketing scam seems to be a hotly debated one in the mountain bike world. Some poor soul only has to mention the subject in a Facebook group or forum, and the subject is awash with people arguing passionately for each side.
There are often many complaints about the inequality in our sport so why, when bike manufacturers try to build something specifically for us, is it viewed so negatively?
Maybe it has something to do with how this has been approached in the past. First came the 'pink it and shrink it' ethos, then the mostly unfounded concept that all women have shorter torsos and longer legs leading to women's bikes having poor geometry and rubbish handling. While the rest of the industry made bikes longer and slacker for better handling, women's bikes became shorter and taller out of some weird misconception that women liked that. Cramped cockpits with twitchy handling? Yes please! NO.
Thankfully the days of butterfly graphics and insulting name choices seem to be coming to an end. Elite riders such as Anka Martin of Juliana and Rae Morrison of Liv are now hitting the EWS aboard WSD bikes. Does this mean they are now a valid choice for even the most aggressive riders? Have they finally made a range of women's specific bikes that can appeal to ALL lady riders and do we even need them at all?
What is the Difference?
Firstly, we need to take a look at why they say we need a different bike from our male counterparts. Anatomically there are a few differences other than the obvious. While the shorter torso and longer legs theory is, in the most part, a myth, it is undeniable that on the whole, ladies do tend to have narrower shoulders, smaller hands, wider hips and are in general shorter in height and lighter. We have less muscle mass, and our weight distribution tends to be around the hips and chest as opposed to the arms. This means our centre of gravity is altered and our power comes from the legs, not the arms.
In terms of bike design brands have taken three different approaches to what they think this means we need.
Approach One
Bike brands who place higher belief in the majority of women fitting the above stereotype and redesign their bikes from the ground up with these specifications in mind. Their bikes will have shorter top tubes, stems and cranks. They then need a steeper seat tube angle to prevent the toe rubbing on the front wheel due to the shorter frame.
They also sometimes have taller head tubes set on a steeper head angle. An example of a brand that follows this design process would be Liv. They believe that women benefit from a steeper head angle as it makes it easier for them to lift the front end despite having less upper body strength. Rae Morrison races the EWS aboard the Liv Hail, we spoke to her to see if the brand had really achieved their aim of building a women's bike as good as the Reign.
"Liv bikes have the design, research and passion behind them, they have engineered these bikes for women without compromising any of the bikes performance and specs. I found the Reign a great bike, but it always felt a bit big and would only feel amazing when I was riding very aggressively. The Hail has been in development for a long time, it's a product of a tonne of research and testing, and they got it right. The Hail has the same amount of travel, but by having women's specific geometry, it makes the bike fit and feel incredible. This means it is super aggressive and capable of standing up to the serious demands of Enduro racing, while also being very playful, stable and easy to handle. It's the best performance and all-round bike I have ever ridden."
Approach Two
The second set of WSD bikes, for example, Juliana, Trek and Specialized are made with the same frame as their unisex equivalent but finished with female specific contact points i.e. saddle, narrower bars and grips and shorter cranks. They will also have a different paint job fashioned to appeal to female tastes. We spoke to Anka Martin about Juliana.
"What I love about the Juliana Bicycles line-up is that the bikes are the same bikes Santa Cruz Bicycles offer. The women who buy these models are like-minded women who can all identify with this Juliana Brand. They can still choose a badass bike, but in their own colour so they look different to the guys out there, but without compromising anything relating to the working of the bike. In my opinion, I don't see the need to change the bikes for women, we ride bikes with the same geometry, with the same dimensions, angles, etc., as we ride the same way as guys do, I love that Juliana offers this with their badass bikes. They accommodate the broadest range of riders by keeping the stand over heights minimal across all the sizes; they offer suspension that is tuned for a typically lighter rider, some different colours but all under the Juliana brand name."
Approach Three
The final approach is for brands to simply provide their unisex bikes in sizes small enough to cater for the shorter, petite women that would be more likely to gravitate towards female specific bikes. Pivot is a brand that seems to have got this just right, CEO Chris Cocalis explains:
"We have not branded particular models as women specific and prefer to refer to all our bikes as 'rider size specific'. All angles are not the same across the range. The smallest sizes generally have geometry and design adjustments that are appropriate to the size of bike and the size and weight of rider that rides the bike. With the Mach 4, we actually run a shorter stroke rear shock at a higher leverage rate so that the lightest riders can run similar pressures to a heavier rider on a larger bike and thus benefit from the same damping performance that the shock was meant to have.
With the new Mach 5.5, the small and X-small sizes use a different lay-up in the rear triangle that is lighter but is also not as rigid. Ride tuning the frame to the size and weight of rider is important so that everyone gets the optimum performance out of the chassis regardless of their size. Set up of the suspension and being comfortable with your fit on the bike is as important as the bike you pick.
We give female riders the tools they need to make us guys look bad on the climbs and descents. I'm more than ok with that."
Despite my best Internet searching I am yet to come across any modern day female specific Downhill or Freeride bikes. In fairness, the likes of Rachel Atherton seem to be doing pretty darn well without one! I spoke to another hard shredding lady rider, Katy Curd to see whether she saw this as a problem or not.
"To be honest I don't think there is that much need for them, downhill bikes these days are going longer and longer to try and keep up with the tracks and speed people are riding, even I am riding a large downhill bike, and I'm 5ft2"! Women specific bikes seem just to be smaller versions of the male bikes which aren't needed in downhill as it makes the bikes feel unstable at speed which knocks a rider's confidence."
"Companies spend a huge amount developing bikes to make them as good as they can be year on year. If this design works for males, then why would it not be good for us females too! I think most people are worried about stand over height when choosing female specific bikes, but I don't think this becomes a problem when riding downhill."
It seems this is an opinion shared by many of the elite riders. Tracy Moseley sat a little more on the fence when asked her opinion though her reasons for the WSD bikes revolved more around the annoyance of having to change parts after purchase.
"In general, I find that most Trek MTB bikes are quite short in the top tube length compared to some of the other brands, so their normal shape and sizing works great for me. However, for some women, a narrower handlebar and shorter stem are things you may need to change if you are shorter and have less upper body length. Sometimes the colour schemes can be great too, to have other options than just black and grey!
Often WSD bikes will spec lesser components to save the price from becoming too high, and if the volume of sales on a high-end spec women's bikes aren't huge the brands can't justify making a top spec bike for the women's market…it's a catch 22 really, but in general, I think women can fit a standard MTB in a small size. Not every woman is shorter or smaller than average so as long as there are good size options available in standard bikes we all have a choice and can find something that fits and works for us all."
This brings me back to the question of are WSD bikes merely a marketing gimmick or is this just a sceptic's outlook? Should we not embrace the fact that women are being recognised as a quantifiable enough market segment to warrant manufacturers trying to build bikes specifically for us.
The marketing efforts that go into promoting these bikes are, I believe, an excellent way to encourage new lady shredders into the sport by providing bikes that will make them feel personally thought of and welcomed. The colours can be more aesthetically attractive, and the overall appearance at this level is less intimidating. For a nervous new rider, the upright build can also be more confidence inspiring.
This, in essence, is part of the problem. Manufacturers are too often aiming at this entry level market segment which offends more experienced aggressive lady riders by pigeon holing them into this nervous, cautious, 'likes pink' category. Luckily it does seem like brands such as Juliana are doing their best to dispel this stigma with their high-performance WSD bikes. Anka Martin explains:
"That is exactly the reason why the bikes in the Juliana line-up are the same as the Santa Cruz Bicycles line-up. We have our own brand to identify with, our own paint colours, but the actual bikes are just as sick as the "boys" bikes. They come with the same high-end specs, the same options & price points, but they target women with their own ads, their own marketing campaigns, etc., so they have a dedicated team who focus on women and what they are looking for, but underneath the different paint job is the same bike. Juliana started off by offering a few different models at more of an affordable price point, thinking that those would be the big sellers, but as it turns out, the women wanted to buy the high end, high specced models and so that is now what Juliana decided to focus on their high-end models.
"There are other companies who are also doing great with what they are offering women, and hopefully more will follow suit. Certain brands fit certain people differently whether they are a man or a woman, we all have such different body types, but that doesn't mean they have to change the geometry of the bike, you just have to find a brand that fits your body type or riding style best."
It seems to me that there is no clear-cut definitive answer to this question. Juliana have undeniably got something good going on with their brand. Anything that makes more women feel welcome, included and enthusiastic about their place in the sport can only be a good thing. Liv have also clearly put a lot of time and effort into creating bikes they feel are specifically better suited to women. The Hail caused quite a stir as the first long travel enduro bike designed from the ground up for women. Having converted Rae who was a self-confessed 'anti WSD' to begin with to saying things such as -
"Finally a women's specific bike that can be playful, confidence inspiring and competitively raced at the highest level of Enduro."
When Rae backs up her words by racing said bike in the EWS, it has to be, at the very least, worth considering. At the same time Pivot also have a good approach, and it would be good to see more brands offering a wider range of sizes to provide the more petite riders with a better choice.
With the school of thought now being that longer is better, could a valid solution not be for all new bikes to be offered with custom sized contact points. If a woman can happily fit a medium frame why should she always have to pay more to change the finishing kit after purchase?
For the time being the best approach is to keep an open mind, shop around and try all types and sizes. Personally, I am 5ft 6, and I'm comfortably racing a large Orbea Rallon that I have, in fact, made no changes to at changes to at all.
At the end of the day, there is no rule as to what is right, only what's right for you…
Videos

Comments