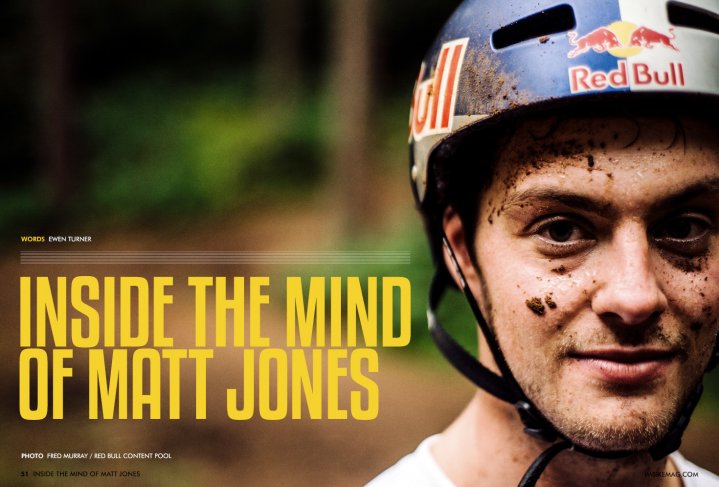 Inside The Mind - Matt Jones
Issue 51 / Thu 21st Dec, 2017
As the dust settles from the release of one of this years hottest films, Ewen Turner catches up with Matt Jones to get the low down on the incredible work that went into his new film Frames of Mind. We find out how the mind of Jones works, and how the film all came together.
Rob Warner is on stage; its Bike Night at the Kendal Mountain Festival, he's introduced Matt, we've watched the film on the big screen and then announces, 'I didn't know you were that good Matt'. As usual, Rob gets straight to the point, but amongst the laughter, there is some truth, and his sentiment could be echoed by many who were aware, but not up to speed with where Matt is at with his riding. Watch the film, and no one is in any doubt.
I first met Matt earlier this year and had my preconceptions of dirt jumpers and freestyle riders, quickly knocked aside. There is a bright, focused intensity to Matt, always smiling, but always considered in his thoughts and with an intelligence which many would doubt could co-exist with the terrifying exploits of one of the best freestyle riders in the world.
The life of a Red Bull athlete from the outside can look like a constant stream of helicopters, sugary drinks and exotic trips to far-flung places. Travelling on your own to a cold corner of England is hardly rock and roll, but meeting Matt, it's clear he's a pro, and although it's been a busy week of premieres and interviews, he still has time for everyone and is generous with it.
Origins
Milton Keynes may not be on many bucket lists for many riders, but as the UK proves over and over again, the country can churn out top class riders from the most unlikely patches of the English countryside.
Hailing from Milton Keynes, a place, for those without an in-depth knowledge of UK geography is known more for its predilection for roundabouts and shopping centres than mountain bikes and dirt jumps. Woburn trails are probably the most locally know biking set up and this was on the doorstep for Matt growing up and was his introduction to riding bikes. 'The place has been the main pivotal part of my progression in getting to where I am' he says, that and having a doorstep location and twin brother to ride with was a solid start into the world of bikes.
'I'm just a lad from Woburn' he says, so either Matt sees himself as a normal guy, or there are some serious bike handlers in the area. The scene was obviously there to develop young riders and the elders to dish out advice. 'There was a core scene led by a guy called Sam Johnson who I idolised. He gave me an insight into trail etiquette and digging'. For Matt, digging and riding are linked if you want to get better at riding, 'it's something I still stress to people' he says. The project has highlighted plenty, not least about the way Matt operates, 'something in this project that became clear is that I've got a pretty good understanding of visualising how jumps need to be to do what I need to do on them, due to spending a lot of years digging' he explains.
Parents always have a part to play, but they weren't bikers, 'they were just supportive of anything we wanted to do' Matt tells me, and what he and his brother Jono wanted, was to ride bikes. 'It was pretty easy for mum or dad to take us up the woods and sit on a tree stump reading the paper when we were really young' he explains, adding, 'I'm sure they're happy we didn't want to get into horseriding of motocross!'
At some point, there has to be a change, maybe not in an instant but from a kid who's pretty good to something more. He was getting into it all around the time that social media was just getting going, but as he says; 'there was still a lack of info about it being a career' with no knowledge of how to bridge the gap to being a professional the landscape was confusing.
For Matt, it was clear however that it was about expression, not shaving seconds. Even before bikes, it was all sports that had a freestyle element, like skateboarding and watersports. Jono was into monoskiing and wanting speed while Matt just wanted to be a wakeboarder and do 360s. The twin-element has clearly been useful for progression and having someone to ride with from the start. It can have its issues too, including at the Red Bull premiere where a photographer followed his brother around for a large proportion of the night getting photos of the wrong brother.
His first competitions were the King of Dirt series, a couple of them when he was twelve, which he described causally as, 'a laugh'. The first international was Vienna Air King in Austria in 2012, but alongside all this he was racing four cross and downhill as well, describing himself as 'a jack of all trades'. It wasn't until later in his teens that he focused on one discipline.
It's a firm no when asked if he was any good at downhill, 'I was ok at four cross and won some stuff' he tells me, 'but I raced one and a half seasons of British Downhill Series and never made it to the end of a race run'. Matt puts it simply; 'I've always been into it for the right reasons, and I'm still riding bikes for the core reasons I started'.
Work Ethics
'It's definitely hard work' he explains, referring to how he has got to where he is now. 'Not hard work in a foam pit or on a trick jump, but hard work finding the right place to ride, make it work, building the right jumps and doing the right stuff in the background.'
Matt did plenty of gymnastics as a youth, and he cites these little parts of the story as pivotal to his success and saved him so much time figuring out how to go upside down and all the associated spatial awareness.
'I don't think anyone is born to be a professional mountain bike rider, you just need to have all those ingredients, and if they don't come to you naturally you just work for them, all the stories of those getting to the top if you look hard enough there is a story there'. 'I can really break it down to just hours and hours of failure, and this becomes muscle memory when it works'.
Something keeps these athletes banging their heads against the figurative brick wall or the literally in the dirt. 'I see crashing sometimes as a step in the right direction rather than a massive problem or something I'm scared of', explaining that teaching yourself what not to do and crashing is part of progression, it's here that the mindset helps. 'Now, a backflip is now just a thought whereas before it was hundreds of parts and sections' says Matt.
The new film showcases clearly what Matt is now capable of on a bike, and he thinks so too; 'I think I've finally shown myself what I can do, a lot of the tricks I do in the video are ideas that have been floating around for a while and the project as a whole is effectively an opportunity to bring everything together under one umbrella and do all those tricks in one video. I'm pleased with the outcome and really surprised myself.'
The Frame of Mind
The Red Bull relationship started in 2014, and he was about 18 when they picked him up. At the start, he was definitely sponsored as a competition rider and still is, but in a creative sport, there are always opportunities. The hook for the film is clear, driven partly by rotoscoping from the production team, then Stu Thompson and Matt who then brought that to the bike world. Rotoscoping involves cutting round Matt and his bike on every frame of footage to create the 'ghost' image. This can mean thousands of frames to cut out. Fortunately, they had a man known only as Gav, the legendary cutter outer who spent hundreds of hours in the editing studio. All this tied in with what he wanted to do, and all of the riding has come from the imaginative mind of Jones.
The techniques in the filming are important says Matt, 'it transcends out to people outside the industry due to the level of creativity, if I did all those tricks back to back on a slopestyle course I don't feel it would have been as well received.'
The traces of himself in the film reference the key points in the air where it is most critical to be in the right positions. When shooting, Matt and Stu worked together in deciding where those points should be and how it would all fit together. With Matt so able to articulate his thoughts it's clear how the film came together so well in the end.
'I have a lot of time for people who can just send it' says Matt when questioned about his approach, but he has a more structured and focused way of coming up with new tricks. There is an honesty from Matt, it's not smoke and mirrors, despite the polished final film, and he works hard to understand and practice every aspect of a trick before it gets done.
A riders view of their own film can unearth a different way of watching a piece, and sometimes it's the relatively smaller parts in a film that are the hardest or the most rewarding. Some bits get missed he says, 'the 180 hip to riding down the tree both tyres on the bark, I think as it follows the flip to the log people are still amazed by the first, but that was so hard'. Listening to Matt describe the tricks it's clear that no move, corner or shot in the film was easy won.
Style For Miles
I challenge Matt on whether he thinks this is a true representation of him on a bike. 'Yeah I think it does' explaining that having had all this stuff built is lucky, but his roots are in digging in the woods, so why wouldn't he do the same but on a bigger scale? They planned for a shot a day, a trick a day and some took more than that, a world removed from competition riding, but Matt argues that the level of focus and motivation is the common ground between the two.
Then there is the shout, for there is only really one in the whole film. After the insane flip to hitching post shenanigans, there is a shout on landing, amid a film of magical, quiet perfection. 'Yeah that was me' he says with a grin, as soon as he landed he shouted, which apparently isn't ideal for the production crew. Hesitation and apprehension were the hallmarks of that trick, waiting, trying changing. 'There is only one way in which that trick can work' Matt tells me, changing the roll in and ramp and the log all happened to create the perfect landing and height. You can forgive him a shout or two after that much pressure. The initial draft film removed the holler, but on Matt's request, it went back into the final cut, a little glimpse into the pressures and difficulties of the project in one sound bite.
Devil in The Detail
The attention to detail is clear, and some bold decisions were made, 'on pretty much every run we patched up the take off and landing so I was riding with fresh tracks which few people have picked up on, but that was such a time-consuming decision' says Matt. As a viewer, it seems like a great idea, but when I'm told it can take over fifty or a hundred attempts on a jump, it starts to sound less appealing. 'At the end of the day it's just jumping in the woods, and for it to look just a little bit more special and a little bit more tailored is really cool'said Matt, and I have to agree.
The fresh track approach is evident every time he lands a jump, but the most challenging trick was the backflip superman to no hander. 'That took me over a hundred goes to get that right over two days' says Matt, explaining that its all 'legs then arms' but it was much harder than he thought. It also turns out that no one has actually ever done that before either, so it's got to be pretty hard. Matt is great at explaining the difficulties. Apparently, it's all about getting your feet back on the pedals and tucking the bars into your lap! I smile and nod, but I'm not going to rush out and try. 'I wanted a good extension on both my arms and legs, so it took 100 attempts with poor guys raking the landing as I'm pushing up' says Matt.
Learning about himself throughout, it turns out he's a perfectionist, striving for the best result, but we could probably guess that. I'd heard rumoured that Stu Thompson said that he's easier to work with than Danny Macaskill. 'The number of times I was told that' exclaims Matt, 'even after 100 goes Stu would tell him it's plenty less than Danny!'
As suspected from our chats his favourite shot from the film is not the biggest trick. 'It's me scrubbing over a roller, the sound dims, and there is roost from the back and front tyre and perfect light' states Matt, and after all that, it's the small things that keep us happy.
Not Just Dirt Jumps
He rides other bikes too, and Marin has a stable of bikes for every occasion so he's not short of choice. 'Yeah I love my Wolf Ridge', says Matt about his bikes, but I'm surprised he's chosen a long travel 29er as his trail bike of choice. 'I took the Wolf Ridge to Whistler, and that was the tipping point, I don't actually need another wheel size other than 29er, it's such an impressive bike and all I like to do is be in the air, regardless of size, it has this cool way of popping, they've nailed it'. Product placement aside, I would not have thought we'd see a dirt jumper on a 29er... times are certainly changing. Plans for edits on other bikes sound like they're on the cards, but he has set the bar pretty high for himself!
YouTube is where you can see most of Matt, enjoying making vlogs and creating his own content. Fans can directly link to him and comment, but YouTube gets so much more engagement for him. Instagram is quick and ephemeral he explains but YouTube holds attention, its back to that real true version of himself and says, 'people want to see the out of focus homemade style footage and feel like they're as close as possible to the person and the action.'
The Future's Bright
Matt is still a comp rider at heart, and next year will be no different, but perhaps expectations will be even higher now! The biggest learning process for Matt may well be that if he wants to learn a new trick, he can, and has proven himself a quick learner.
The courses he has created versus the ones he competes on are very different. I ask him whether the competition tracks are imaginative enough for a rider like him? 'I think they could do a better job of making it a lot more quirky or creative, why aren't we jumping in and out of pirate ships?' His point is valid in trying to engage a wider audience that the recent video will attract and I'm all for wacky freestyle courses! 'We should do an event in London jumping over double-decker buses' which as he explains is 'the universal standard for how big a jump is'.
Next year will see Matt compete as much as possible, raring to go after this year punctuated with injuries and blowing tyres off rims. Next year is full commitment back to the comps, but with added YouTube content and more enduro bike fun. With this year's project video, he had to go into hiding for weeks at a time. Next year is more open with 'freedom to head off to Wales, go to a skatepark, just a freedom to get back to progressing each day' Matt tells me.
Although I'm sure we haven't seen the peak of Matt's competition career yet, the future looks varied and exciting for him. Having just got back from Israel, he's keen to explore and travel off the beaten track. I get the impression his future is brighter than ever and will only get more exciting and more diverse.
Thanks to Matt Jones, Kendal Mountain Festival, Red Bull, and Marin
Videos
Ewen Turner is a self-confessed bike geek from Kendal in the Lake District of England. He runs a coaching and guiding business up there and has a plethora of knowledge about bikes with an analytical approach to testing. His passion for bicycles is infectious, and he's a ripper on the trails who prefers to fit his working life around his time on the bike.
Comments