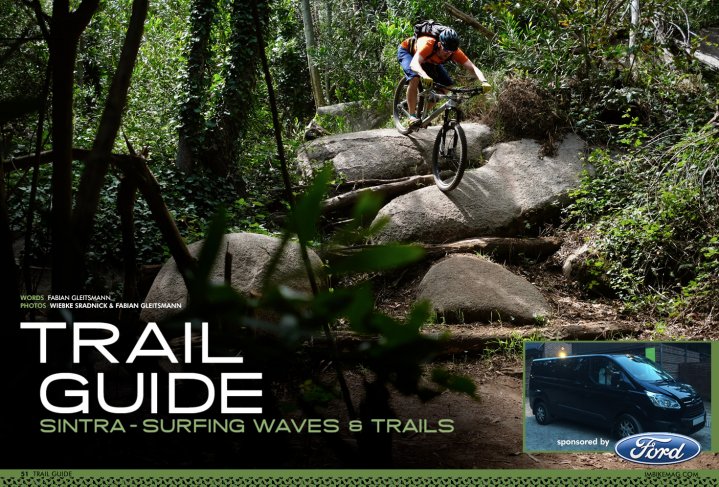 Trail Guide - Sintra
Issue 51 / Thu 21st Dec, 2017
Sun, Sea and Surf. That's a pretty good combination, but throw in some amazing mountain bike trails and you have the potential for the ultimate destination. Fabian Gleitsmann reports back from sunny Sintra on the Portuguese coast and proves you don't need massive mountains for stunning riding.
528 meters above sea level. In words, five hundred and twenty-eight meters above sea level. For mountain biking? Seriously? Just to compare, our place of residence lies at more than seven hundred meters above sea level, so home should be suited way better for chasing bikes over trails. OK, fine, but surfing waves is something that we can't really do around here, but you can't have everything I suppose! Which is also fine, well, unless that special someone in your life really wants to catch some waves. 'OK, OK, I get it!' I say, after all, most (that means all) of our holidays are somewhat bike related...
So the decision comes easy. With flights and a place in a cool surf camp booked, bikes are packed, and off we go. Less than a three-hour flight west of Munich, we trade late winter into early summer and touch down in Lisbon at 9 pm and a balmy 22 degrees. The down jackets stay in the pack. Nice. The air smells of ocean and eucalyptus. With a bit of imagination, we can even spot some hills not too far away. Even better. Perhaps there is biking in those hills after all...
Sintra is one of those picturesque Portuguese towns that sit in the pine-covered hills of the Serra de Sintra. The area was popular with the Portuguese elite who built plenty of palaces and extravagant homes and gardens in the area. The variety of buildings and architecture is what brings the hoards of tourists to the town, rather than adventurous activities.
Sintra is situated within the beautiful scenery of the Parque Natural de Sintra-Cascais. This national park incorporates the steep hills of Sintra and the lush forests that lead down to the dramatic coastline, located 12km to the west. These hills are the basis for many of the activities of the region and promise great riding, but they are only small after all.
However, I'm still sceptical. A quick reminder is needed to myself that we're still talking about 528 meters above sea level! My after-work-ride around the house covers almost twice as many vertical meters! Starting directly from sea level, however, we make the most of it. So we take our time, riding up over little-frequented roads, straight into the Sintra national park.
Contrary to what we expected, lush forests cover the flanks of the hill, and our research has shown that in these woods lie countless trails, making the area the hotspot for all serious riders in the Lisbon area. During our climb, however, we see nothing of that. Instead, we see hikers, and road bikers, dozens of them.
Suddenly, the GPS on my wrist starts to vibrate: turn right, now it says and indeed, through the dense vegetation leads a trail. Only as wide as a tire, and leading through the thorny undergrowth. Whatever, let's go and indeed, It turns out to be quite fun! For about 50 vertical meters, or 40 seconds. Then, again, we find ourselves on a road, riding upwards. Reaching the "peak", we're surprised; the views are definitely worth the effort. Over picturesque hills, we can spot the ocean in the backdrop and, in between, a trail. Fast, bumpy, even technical in places, but the closer we get to the ocean, the smoother it becomes. Pure flow. Really good. So good, that it's hard to stop and take some pictures. But even without the occasional break, our ride to the beach takes longer than expected: the trail is never too steep, flows nicely and always with a gentle gradient that makes us forget about touching our brakes or putting pressure on the pedals.
The trail spits us out not too far away from Cabo da Roca, the most western point on mainland Europe. Scenic, but windy, so we quickly make our way on to Cascais. Some years ago, that special someone (see above) came here to take part in windsurfing contests. The big advantage for us is that she knows the way to the town's best ice cream parlour. For reference, you ride into the city, turn left at the huge intersection, continue uphill for about 200 meters, and look to your right – when you spot the long queue, you've found it.
Fueling up on calories is especially necessary because to get back to our base, we need to tackle the climb to our little summit from the other direction. Another 528 vertical meters, but this time combined with a strong headwind, that makes the climb feel twice as long. No big problem, however, because after our first experience on Portuguese trails, we can't wait to discover the next one!
Again, we're surprised; the trail is man-made, we see tire tracks and crazy lines, reminiscent of the last enduro race. This trail does get some traffic! But there's good reason to it, after a bunch of braking bumps in the first corners, the trail becomes smoother. Berms. Rocks. Kickers and gaps. Steep rollers. What more can you ask for? We take it easy at first, but the further we make our way down the trail, the more courage we find. That's the cool thing about man-made trails: you always know that everything can be done, that no roller is too steep, that there's a solid landing after every jump. But it's still far away from the typical wide, artificial tracks that you can find in a bike park. More like something you find at an Enduro World Series race. Forget the after-work-trail at home; this is clearly the new benchmark!
And there's no end to it. More than a dozen trails make their way down from that little hill, and we're doing our best to leave our tracks on each of them. Which proves to be quite a challenge with 2 or 3 runs per day, each with some short, punchy climbs during the downhill really demand everything from us. And trails are not the only thing worth checking out here as Sintra is the area's unofficial capital. Beautiful and kitschy, with endless numbers of tourists, but pretty parks, old houses and castles. And fantastic food – we learn that a ride without tapas is only half the fun.
Of course, there's also Lisbon: During my last visit, almost ten years ago, I had the feeling that time was standing still in Portugal's capital, but how has it changed! While the Pastéis de Belém are as tasty as they've ever been, new creative quarters emerge, stylish buildings and shops pop up in every street, the city really smartens up. But the laid-back atmosphere remains, at 5 pm, everybody has maximized the distance to their workplace, parties happen at every corner, and people are dancing on the streets – no surprise, when there's Caipirinhas for three Euros!
And surfing? Oh yes, absolutely! While it's not Hawaii, and the water rarely gets warmer than 17°, the waves are solid, and prove to be quite the challenge – at least for beginners like me. Fortunately, our home spot is perfectly suited to the first tries on a board: it features a sandbank, a little out from the beach, that makes the whole learning experience a lot easier. No need to paddle out, just grab your board, walk towards the break and wait for the best wave. Hop on your board, paddle, stand up – and fall down. Again. And again. And again. But somehow, it's addictive, especially the longer the time between the "standing up" and the "falling down" becomes. I'm hooked!
And it's a good workout: surfing in the morning, riding bikes for the rest of the day turns our vacation into a full-day-outdoor-gym. Intense, but relaxing at the same time.
Our trip into summer is over way too quickly, and we feel sad as we board the plane back home. The bottom line: Quality and quantity of trails are only roughly connected to the height of the mountains. Plus, you can ride your bike all year round. Yes, there are other, easier-to-reach spots, but sometimes it's worth replacing the pizza & wine with tapas & sangria. We'll be back!
Travel
Flights to Lisbon are possible from most of Europe and further afield. There is a regular and inexpensive train service that connects Lisbon to Sintra which is 25km to the west of Lisbon. The journey takes about forty minutes and departs from the Rossio train station in central Lisbon and runs all day and into the night costing only €4.30. Taxi and private transfers are also available.
The tourist board strongly recommend not hiring a car stating, particularly for visitors from the USA, that 'Lisbon is notoriously challenging for driving; with crowded roads, erratic drivers and virtually no parking and this lack of parking extends to the hills of Sintra. For a holiday to Lisbon, we strongly recommend not hiring a car'. Strong but wise words perhaps.

Comments