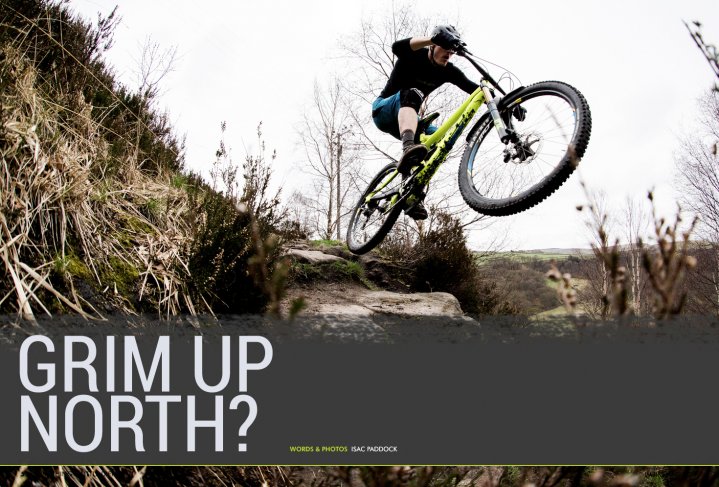 Grim Up North
Issue 53 / Thu 19th Apr, 2018
The north south divide is a curiously British institution, with strong stereotypes and vast variations in weather. Isac Paddock takes a trip deep into the north lands and explores what makes the area so special for mountain bikers despite the rainfall and unforgiving gradients.
'The North', purely geographical or merely the divide in economic class? Well a bit of both really, the North of England extends from the Scottish border in the north to near the River Trent in the south. It is 14,414 sq miles of varied terrain, from rolling green hills, wide open moorland, to immense forests and the mountains and fells of the Lake District. For contrast, in the South of England (boo!), you will find a larger population and less elevation, definitely no mountains… This obviously as an impact on how good (or bad) the trails are.
The North of England was once renowned thanks to the Industrial Revolution, the transition to new manufacturing processes in the period from about 1760 to sometime between 1820 and 1840. This transition included going from handmade methods to machines with new chemical manufacturing and iron production processes. The increasing use of steam-powered the development of machine tools and the rise of the factory system.
As a country, we wanted to manufacture everything we possibly could using raw materials from our incredible landscape. Some of this engineering, although now developed and refined is very much present and at the heart of some mountain biking companies like Hope & Orange Bikes. To say British manufacturing is thriving would be great, but with the rise of carbon, it's often too expensive to manufacture in the UK. Hope always like to buck a trend, and it's inspiring to see them produce their HB11 (carbon frame) in-house.
Northerners are typically supportive and proud of their territory, and with that in mind, you won't be surprised when they rock up on their Orange, or handcrafted steel bike decked out with Hope components. After riding some of the trails up here its easy to understand why so much mountain bike talent hail from the North. Athletes such as Steve Peat, Danny Hart, Adam Brayton are just some of the top guys you could bump into while riding in the North of England; it's an excellent training ground.
I can hear yourself asking 'But why is the North referred to as grim?'. Well, many assumptions can lead you to believe it's the weather, but there are various factors. The average 'class' of people up North was, in the past, generally considered (by the South) lower due to the nature of work that the Industrial Revolution created. The weather is also an issue, but with all the factories and pollution, the North had industrial cities which were often hidden by smog.
However, in more recent times with less engineering/manufacturing being done in the North, it's provided a whole host of new jobs, meaning that, quite literally, the atmosphere has changed. A familiar site in 2018 in Northern towns is artisan cafes, expensive coffees, cool art, and vintage attire…Very hipster indeed. The smog thankfully is long gone.
The North of England is inundated with bridleways that descend forests and moorlands, providing you plenty of variation in terrain. However, with the British reputation for bad weather, you wouldn't want to visit without some spare mud tyres. Pick your dates wisely, and you'll be blessed with views for miles and trails that will leave you planning your next trip before you can see the bottom of your pint because every ride up North finishes with a pub.
Hebden Bridge is no exception to your stereotypical Northern town, cobbled streets, hipster coffee shops and craft ale bars, oh and 75% of the year it rains. It's also home to the infamous road climb 'The Buttress', with a 24% gradient is indeed one to try. Situated in the Upper Calder Valley, between Leeds & Manchester, Hebden is the perfect commuting distance for those city people looking to escape the hustle and bustle for a post-work shred.
Having lived up North all my life and living only twenty miles from Hebden Bridge, I'm amazed to say I've only discovered this new area of trails in the last year. Unsurprisingly its one of my favourite spots in the UK and I don't see that changing in the near feature. The steep and punchy climbs start almost instantly, its like no other, the gradient is tough but short, and the town centre seems to get no further away, which is saddening but similarly unique.
There are not many rides that commence in the hustle and bustle of normal life, but within five minutes you're out on your own wishing the climb would be over… For some people, mountain biking is escapism of real-life happenings, and for me, it helps to be completely off the grid and away from civilisation. I'm very much a fan of rides were phone signal is scarce, I get my buzz from riding epic trails and being able to socialise away from Instagram and social media as a whole. With that said, sometimes life provides us time constraints that don't allow us to drive to the middle of no-where to then pedal all day.
Hebden and many northern towns like it are perfect for those times, you can easily complete a gruelling thirty-kilometre loop without missing your afternoon plans, and at times it feels like your miles from civilisation, but in reality, you're only a descent away from the local amenities.
The descents, well, this is what makes the North superior in my opinion. Every downhill run is vastly different with some starting on moorland terrain, natural blind hucks and wide-open ruts, although the one-minute tracks seem short, they're sure to provide a massive grin on your face, some even making you want to re-live the uphill to do just one more run.
Look beyond the next section of single-track and you'll have unbelievable views of the Calder Valley. On to the forest trails, some feature man-made creations that have evolved over the years, as your sending the small jumps through the trees you'll notice the stone crafted houses getting ever closer. Most of the descents around Hebden and up North in general drop you back into town, making it easier to session that same trail or give you options to ride others.
With mining a big part of the industrial history up North, you will often find yourself riding in-between quarries, down mining paths or if you're brave enough down excess mounds of mined loose rock (rampage style). While you're taking in the epic views, sit in your saddle and appreciate the history of this part of the country, or even world.
Riding back through the picturesque town centre after you've ridden the muddiest trail of winter doesn't leave the flocks of tourists in great spirits, you sure to get some funny looks, but the locals are more than supportive of the bikers and walkers who contribute to the local economy.
Moorland single-track or steep forest trails, whatever your ability you can make a ride that will make you want to come back for more. In addition to the natural off the beaten track rides that we have sampled there are many trail centres that provide a different perspective on riding in the North of England, with routes suitable for all. Gisburn, Grizedale & Hamsterley to name a few of our favourites.
It could well be grim up North, but the trails are worth shredding! Fewer people, more mountains and more trails, it's certainly home to some fine mountain biking terrain. With strong biking communities and the ability to churn out world-class riders, there is definitely something special about heading northwards.

Comments