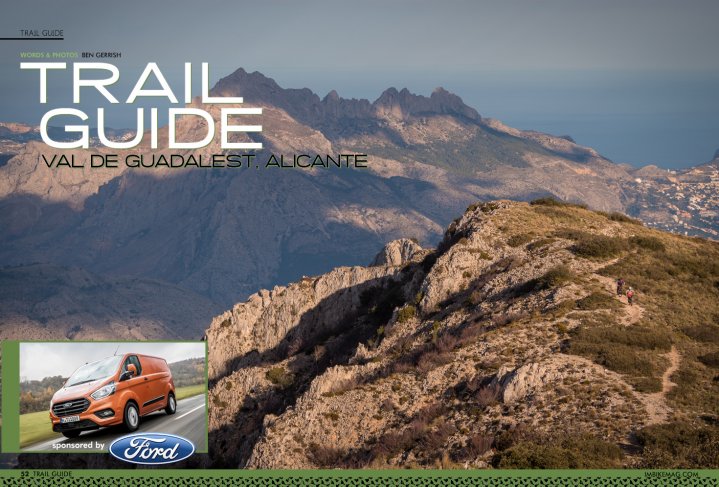 Trail Guide - Alicante
Issue 53 / Thu 19th Apr, 2018
When the weather gets too bad to ride what do you do? Head south and find the sun sea and sand of southern Spain. Best known for drunken British holiday makers, Ben Gerrish discovers another side to the tourist mecca and finds trail gold hidden in the hills.
The Val de Guadalest is a stunning valley within the Alicante Mountains, on the Costa Blanca, Spain. It sits equidistance from Barcelona and Malaga, two areas most definitely, more commonly associated with biking trips. The Alicante region has a more, how can I put this gracefully, 'cowboy hats and breakfast sambuca vibe' than your average bike trip destination. The Guadelest valley itself heads inland from the (in)famous holiday resort of Benidorm. But please, don't let that taint you your judgement before I've even begun to describe pure wilderness and adventure there is to be discovered here.
As you cruise straight past Benidorm on the AP-7 highway, a short hour from Alicante airport, you quickly find yourself on some quintessentially Spanish feeling roads. Surrounded by olive and orange groves, there is fruit for sale on every other corner, and what feels like an infinite number of promising looking dusty trails as your snap your head from left to right trying to memorise every trail location.
At this point, we've not even reached the start of the valley, but as we pull into Polop, our home for the trip, the excitement grows exponentially. At the head of our street, the skyline is dominated by the 1000m tall face of Monte Ponoig and winding to the bottom we have a small bar, complete with plastic chairs perched in the blazing Spanish (winter) sun and ice cold beer. Could this be heaven?
Coming from the UK, and away from what could possibly have been the longest winter on record, booking flights to Alicante, although a bit of a punt on the riding, was based heavily on the idea of much more agreeable weather. We were promised (by the weatherman) highs of 18 degrees and little chance of rain and coming from the North of England, this was better than we were promised for most of last summer.
I say the riding was a punt, prior to the trip we had done our research, we'd bought the map, spent hours scouring it, exhausted all the usual online trail finding networks, and we felt there was most definitely enough to go at. Whilst the Alicante mountains have a handful of guides, a bike park with uplift available, as well as hundreds of low-level XC style routes, we were looking for more high altitude, technical and exciting riding in the wilderness.
The maps had given us great hope, with all the right numbers with a huge selection of peaks over 1000m covered in tightly packed contours. With the majority of them dropping back down close to sea level, we were surely onto a winner. The Alicante mountain range is huge, layer upon layer of enticing mountains, this is why we decided to focus on one manageable sized area, trying to take it all in was going to end up in tired bodies and way too short a time in any one area. With some local intel and a positive vibe we decided get started with the Guadalest Valley. The area is better known for its climbing and hiking or, for the truly adventurous; the nightlife down the road in Benidorm. We were hoping we could firmly add bikes to that list.
Turning our two-dimensional expectation into reality was a truly mind-blowing experience, and I don't use that phrase lightly. Starting from just about sea level in our small apartment in Polop, turning away from the sea the first wall of mountains stood in front of us, bold, almost white limestone staggered by dark woodland and baron bushland.
Driving up the valley, things only got more impressive, the hills continued to rise as the snaking pass climbed into the hills. The majority of the mountains in the area are over 1000m and they are all fully accessible to bikes apart from the military base on the 1500m Aitana ridge.
Whilst we are not averse to pedalling, carrying or hauling our bikes by any means necessary, we quickly became aware and accustomed to using the "Camino Rural" which often allow you to drive to close to 1000m. This allows you to get yourself on top of some high peaks in quick-sharp time and with some shuffling and sharing, can allow some very efficient self-shuttle systems to be set up. This is where opting for the rental van, over rental car really came into its own.
Whether we decided to pedal, hike or shuttle, time after time we found stunning trails to ride on the deceptively grippy limestone. Baked by the scorching sun it remains clean, lichen-free and even in its often loose shale form offers confidence-inspiring purchase. Twisting singletrack climbs, technical traverses that sharpened the focus next to cliffs that plummeted hundreds of metres to the steep scree below and endless tight corners threading their way down hanging valleys became order of the day.
Day after day the discovery was exciting and fast paced along with the riding. One morning we spent threading through a cluttered boulder field in a deep basin surrounded by giant cliffs and by afternoon we were at the top of a knife edged ridge with crisp views for miles and a half hour descent laid ahead of us.
We quickly learned the way of the valley and what was possible with a combination of driving and self-powered climbing to assure every day finished on a satisfyingly long and whoop inducing descent, leaving everyone with that warm glow that only a big day in the saddle can give you.
The only negative we managed to muster in our time there was the vast array of plants that most definitely want to hurt you. On a couple of the less rocky and more overgrown trails, the brambles and thistles did leave you feeling like a human pin cushion, have we finally found a legitimate reason for the "enduro" handguard!
The valley opened out, facing the sea, and although we had by no means exhausted what the upper valley had to offer we spent a day on Bernia which is the final lump of rock before you get wet. An interesting loop, a classic amongst the hiking fanatics, which included, amongst the miles of flowing single track and shale descents a link up through a tiny cave that involved the partial dismantling of bikes to fit through.
In our time there, we clearly only scratched the surface of what was available, in just that one valley, let alone the region and whilst we're not naive to think we're by any means the first to ride those trails, there was often little or no evidence of tyres passing there before us. We guess this is just down to the vast choice of trails, routes and mountains on offer, just not enough hours in the day to enjoy it all. Sometimes the distance covered would be deceptively short, only to be firmly reconciled with our tired legs when we checked the huge metres climbed and descended on the route.
On our off days, we set out to discover some more low-level trails. We'd seen a few riders cruising about looking a bit more set up for some XC style riding and true to form, we found some fast-paced, undulating trails in and around the village. We were also lucky enough to bump into a friendly local who's was cruising up a particularly savage Camino Rural in his truck, whilst we were grinding it out. He hinted that there may be some enduro trails, somewhere in the vicinity, and there were. Combined with a perfect shuttle link we rolled home on our final day there, taking it in turns to rail dusty fast corners and navigate bold rock gardens.
The Barony de Polop, where we were based, sits at the mouth of the Guadalest valley close to the sea, near enough to get stunning vistas of both the abrupt mountain range pulling into the sky and the appealing clear blue waters of the Balearic Sea. Sitting only an hour from Alicante airport, a well-planned outwards journey means a short flight from the UK or anywhere in Europe. A seamless trip through the huge, well-equipped airport to pick up your rental and you're at your destination in time for lunch. In our case, in time to build bikes, have a local cerveza and some late afternoon trail exploration from the doorstep, to get us in the mood for the week.
Whilst the list of European destinations flying into Alicante is more than comprehensive, probably owing to its huge desirability for those wishing to holiday by the pool sipping cocktails, international flights are a minority and unfortunately, those travelling from further afield will most likely need to get a connecting flight. We rented a car on arrival, the best choice really, even though there are efficient public transport links to the area, the ability to drive between locations once you're there really opens up the possibilities. With a bit of shopping about you can get some incredibly cheap rentals. We went for a van, but we could have rented a small car for less than €10 for the week, I don't even know how that's possible.
The food in the area was, in our experience good quality and as with everything else, more than fairly priced. We spent every day on the trail, so lunch was the bike trip staple of fresh bread, cheese and salami, washed down with a local cerveza. Supermarkets are easy to find, and each town has at least one bakery for amazing fresh bread and if the mood takes you a couple of pastries to go with your morning coffee.
The local restaurants didn't disappoint either, the standout spot we discovered in Polop village square that had a questionably large menu, turned out to have an impressively efficient chef, who cooked everything from scratch. The local people were incredibly hospitable, and although due to the nature of the area there is a high proportion of Brits living or visiting over there, it still has an authentic Spanish feel and a great sense of community. Giving you the ability to embrace the Spanish culture on your trip or if you so desire you can hit up the "British" bars, and grab a quick bite to eat from all the fast food restaurants you could hope to find, just a little closer to Benidorm.
The Guadalest Valley and the Alicante Mountains have most definitely caught our attention, and we have barely scratched the surface. Flights for the next trip are booked, the perfect retreat from the UK once the summer has closed up shop.
Videos
Ben Gerrish is a passionate photographer and videographer with a profound love of all things two wheeled. Whether it is riding a BMX around town or rallying an enduro bike down a steep chute in the Lake District he'll always have a smile on his face!
Comments