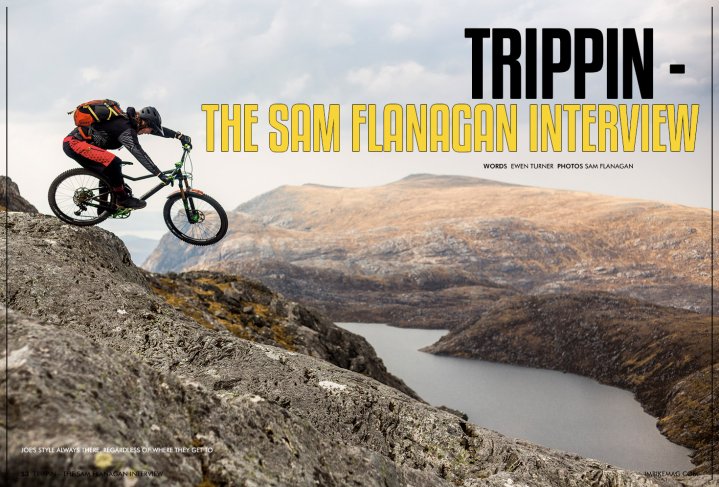 Trippin' With Sam Flanagan
Issue 53 / Thu 19th Apr, 2018
Ewen Turner catches up with Sam Flanagan of Trippin' fame and talks about the crazy biking adventures the team are famous for. Rock climbing with bikes, inflatable rafts and general craziness are all in a days work for the globe trotting, film making team.
It's all gone a bit Wuthering Heights. Driving over the hills in the sideways rain it's not one of my more glamorous locations for work. I'm not in fact far from home and I know the drive pretty well as it leads to some great trails, but I usually save them for warmer, or at least drier conditions. The instructions are to use Google maps to get to a postcode then call him as finding the place is apparently; 'a bit of a f****r'.
I've tracked down Sam Flanagan, the globe-trotting brains behind 'Trippin'. I say tracked down as it's been some time since we agreed to chat, and finally, we're meeting up for a brew and a catch-up. Down a farm track lies a cluster of houses hunkered down against the wild Yorkshire weather like sheep huddled together for warmth. Inside, however, I'm greeted by modern comforts and all thoughts of Uncle Monty's house from Withnail and I are safely banished. A huge TV balances the equally huge stove that heats the house and the water. It's a meeting of modern and traditional, authentic and eccentric, wild yet comfortable. Perhaps this bests describes the Trippin' approach, mixing up modern mountain biking with traditional adventure ethics.
Bikes and adventure have always been a part of Sam's life and when he hooked up with Mark Scott on the race circuit they started filming each other between races and on the trips they had organised. These days they'd be called Vloggers, but back then it was just video, not proper VHS video though, he's still pretty young, it's always been digital.
A trip and a video from the Roc d'Azur bike festival got them going and started the idea of non-race focused videos. They were still racing, but filming in between. A trip to Madiera with Jacob Gibbins got them into working with Epic TV and all their Facebook content led to the Epic TV series that started it all.
Those of you who have seen the original film will know the style in which it started, Sam explains, 'I wasn't really filming back then, just kinda pointing the camera, Mark would hold the camera, I'd hold the camera, do a bit of riding take a quick picture and if it were good it'd go on Instagram'.
It took a while for Sam to get behind the camera, 'That first year it was Milky (Jacob Gibbins) holding the camera for Trippin' Worldwide'. They ended up visiting Ibiza, Slovenia, Israel, amongst others to create seven episodes in total.
'It Snowballed from there,' Sam explains, 'Still racing, then trips in between all on the tightest budget in the world. Each episode was £500 to pay Milky, flights and all food'. This tight budget meant they went for a pretty basic approach and relied on people putting them up throughout their travels.
Mark Scott has obviously gone on to do some serious damage on the EWS circuit, but racing wasn't the future for Trippin'. 'Mark loves racing always will' says Sam, 'I was a bit disillusioned with going to the same places and worrying about race results, It was more that I just loved riding my bike, it was good at the time but I was just a little bit over the racing thing'.
The approach shifted from racing to media and the Trippin' concept was put to Scott and Hope to create more video and photo stuff rather than racing. Joe (Sam's younger brother) gradually replaced Mark as he focussed more on racing and Trippin' focused on, as Sam describes it 'Just making weird content'.
This shift meant that Sam took a trip to the other side of the camera. This left the stage clear for Joe to get into performance mode, 'Point a camera at him and absolute rubbish, comes out of his mouth' Sam explains, but I'm pretty sure he means this in an affectionate way. With Joe in focus, Sam could get on with employing skills from a Media and Graphic design degree to good effect.
I ask him if he missed being centre stage and it's clear he too is a performer, but the passion is clearly for producing and being creative, either side of the lens.
Trippin' as we know it has an additional member in the form of Ali Parkin. 'We knew Ali from racing SDAs (Scottish Downhill) back in the day. He fell out of racing but was really fast back in the day and won quite a few SDAs'. With Mark off to race full-time Joe 'needed someone to bounce off and Ali is a sick rider'. It's not just riding though, 'Ali is really good at filming as well and can take a good photo, a lot better than Joe can!'
This film and ride combination is important to Sam, being inspired by the Coastal Crew as he says 'the three of them all film and all ride, its the dream set up'. I ask if Trippin' really is the dream set up but I'm told they're nearly there and 'eventually Joe might pull is finger out and learn a little bit more...' Are they the Yorkshire Coastal crew? 'more like the Yorkshire coastal w*****s!' says Sam, self-deprecating to the core.
The discussion moves onto when things got more professional, like the more recent films. They've certainly maintained a jovial approach to filmmaking which is part of the charm, but when did things get more pro? 'The first Climb Ride was when I first got a bit more project-minded as opposed to just pointing cameras at each other in cool places' explains Sam.
This film certainly drew a lot of attention to the team as Joe takes his bike rock climbing before descending back to the valley. It turns out that it was definitely Joe's idea. 'Joe had the idea for ages and we do have some massive arguments, this one about how I thought it was a really shit idea and climbing is rubbish and how no one wants to watch climbing' Sam freely admits he can be stubborn.
When they started getting more involved with Altura that was the catalyst as Altura were keen and wanted to give it a go. So climbing seems to be Joe's thing at the moment? 'Yeah Joe loves it, sometimes I think if it wasn't for the Trippin' stuff I don't think he'd ride a bike, just be a dirtbag climber and live in his van' The love of climbing, however, doesn't extend to the whole Trippin' team, 'I'm terrified' says Sam simply, but he's getting better...
So what creates a pair of Flanagans? Born just over the hill to where we are sat with outdoor parents who were teachers and outdoor instructors. Their parents dragged them around all manner of outdoor activities in all weathers. Sam's first taste of mountain bikes was characteristically unusual as he explains 'I went into the toilets at the local primary (where his mum taught) and there were magazines in there and I had a flick through that and saw a Saracen and really wanted one!'
From there they did what so many kids do with bikes and built kickers and competed with siblings; 'we'd each do a jump getting bigger and bigger'. They had their own little playgrounds digging and playing every day after school, honing the skills. The climbing trips and general adventurous upbringing surely laid some foundations for later exploits on bikes.
To begin with, Trippin was all about what they could afford, even if they did manage to get to Philippines Jamaica on a shoestring. Sam seems to be pretty clear about what they are doing these days explaining 'we're not competing with the 50:1 boys, as we're not quite as shreddy...' Blowing corners up isn't really their focus and their skills lead to adventures of riding and filming in places where people don't really go.
Sam takes further influence from Joey Schusler and his trips, especially to Mongolia and also all the Sherpa Cinema films, which suggest the direction that Trippin is heading. So trips like Nepal and their Fisherfield trip make a lot of sense, making an edit with huge adventure, and a more emotive story but requiring more effort.
Regarding adventure, Sam adds 'With the climbing stuff obviously it's quite easy to die, which adds a big edge to it', but finding true adventure on the bikes can be challenging and something Sam obviously wants to push towards. It sounds like Nepal was perhaps only a test for what's to come.
He's hard-pressed to name the top three trips and ends up listing five, but it's clear the memories are vivid and fond of all the trips.
Nepal is an obvious choice as the team head to Katmandu to ride the Annurpurna circuit. This is an obvious hint at where Trippin' may be heading next if they're going to turn the adventure up to eleven. Stunning scenery and culture give this film a real depth and feeling of exploration.
Close to my heart is the North West of Scotland, and the Fisherfield trip looks amazing. Combining pack rafts and bikes they head into one of the most inaccessible parts of the UK for a few days of Munro bagging on bikes. As Sam puts it 'I loved that one, genuinely true wilderness', explaining that Scotland is the testing ground for them for bigger and wilder adventures.
Last year saw the guy's head out and hit the GR5, a classic hiking route from the French Alps to the Mediterranean. The weather wasn't great for them, 'We spent the first four days soaking wet wearing the same clothes' he tells me, but it's the landing on his face that put an end to his trip and says, 'there's no real sign of lasting damage. It was better than breaking a bone. thirty stitches...strategic 'tash placement helps'.
He's obviously settled where he is, and I'm not going to argue, Yorkshire is pretty good. But what's in the future for the Brand Ambassador (I can tell he's not keen on that term)? With Trippin' full time, he still is in demand as a cameraman for various projects and his style is obviously working well for the brands. These include projects with Dougie Lampkin and the Scott road team.
Future trips look likely to include a coast-to-coast In Scotland using the inflatable rafts we saw in the Fisherfield trip. These have been updated to be lighter and easier to use, so we can expect more watery adventures from the team. It's this openness to the new kit, new ideas, and new places that really allows them to get into adventures in daft places. They do like their rafts although 'paddle dribble' is a real problem, but I'll leave you to ponder what that might be. Less watery is a trip to Morocco to take a look at Toubkal and ride the highest peak in the Atlas mountains and a trip to Aconcagua, but it seems they don't like bikes over there. Oh, and the Haute Route in the Alps, so it's going to be a busy few years.
Camera Kit
Sam keeps it pretty slim and uses a Panasonic GH5 as this shoots full uncompressed 4K which 'is incredible for a small camera' plus a little micro 4/3 15mm lens which he took on GR5 for space but usually uses a Metabones adaptor with his Canon lenses. For the next Scottish trip, it'll be the GH5 with a wide lens, a 70-200 lens and the new DJI Mavic Pro drone. Oh, and photos are done on a Canon 5d Mk 3.
Thanks to Sam and his lengthy sponsor list
Scott, Altura, Alpine stars, Bell, Giro, Syncros, Camelbak, Juice Lubes, Hope, Mudhugger, Vee Tire.
Videos
Ewen Turner is a self-confessed bike geek from Kendal in the Lake District of England. He runs a coaching and guiding business up there and has a plethora of knowledge about bikes with an analytical approach to testing. His passion for bicycles is infectious, and he's a ripper on the trails who prefers to fit his working life around his time on the bike.
Comments