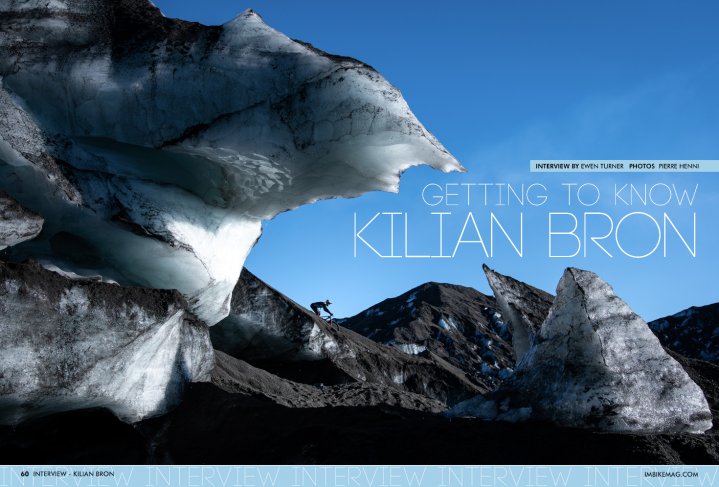 Getting To Know - Kilian Bron
Issue 60 / Fri 16th Aug, 2019
Mass start snow racing specialist Kilian joins us for a chat about his riding career and why he loves this type of racing so much. With an impressive CV of racing and worldwide travel, he's certainly making a name for himself.
First up can you tell us a little bit about yourself? Where are you from, and how did you get into mountain bikes?
I'm Kilian Bron, 27, from Annecy - French Alps and professional enduro mountain bike rider. I started riding bikes fifteen years ago, riding downhill as I lived only 500 meters from a funicular, and there I met some other young riders who became my friends. For most of us, we never stopped riding and spent our years skiing in winter and mountain biking in summer.
Who do you ride for and what bikes and equipment do you use?
We created the Intense Mavic Collective two years ago with my teammate Isabeau Courdurier and Cedric Carrez (team manager). We are all involved in developing it, it's like a family, and we like this concept!
I ride both an Intense Carbine in 29 and a Tracer in 27.5, both fully equipped by Mavic, SRAM/RockShox, Hutchinson, Renthal, HT, San Marco components.
How do you like your bikes set up, do you have any specific things you are fussy about?
There are a lot of things to explain, we could write another article about just this subject! The main things are the geometry, I like to ride large bikes to increase stability and currently I really enjoy riding my Carbine in 29. The grip is impressive, and it's a really efficient bike to gain speed, which is essential for all the pedalling parts.
My brakes levers are horizontal to preserve my arms, and my front suspension is stiffer than my rear, but I always have the same air pressure (1,8bar front - 1,9bar rear with SLICY rim protection). I use inserts between my tires and rims to push hard in the corners without troubles.
And I mustn't forget that I'm always riding with my copilot Pedro, a little lama I found in Cusco - Peru. Since then he's stuck to my fork!
How would you describe your riding style?
I like to combine style, precision and speed. I'm pretty relaxed on the bike to try to be efficient and be able to ride a long time without stops. That's the reason why I like long mass start races!
What do you do when you are not riding a bike?
Even if I want to spend most of my time outside, I also have to spend time in front of my computer or my phone. Writing emails, organizing my next trips and media projects, posting social contents... that's an integral part of my job, but I like to do it! When I'm at home, I'm with friends and girlfriend. I'm lucky to live in a fantastic place with a beautiful lake surrounding by mountains. So, there are a lot of other activities.
What do you love most about mountain biking?
Biking is definitely the easiest way to discover new areas. You can go everywhere with your bike, and I've always enjoyed getting off the beaten track and exploring beyond usual paths and peaks. I see my bike as a tool to express myself with my real addiction is to ride.
What annoys you most about mountain biking?
I hate crashes or destroying my bike and components. I like to be at 100% physically and mentally, and it's the same for my bike. We know our sport is brutal for our bodies and bikes, but I don't want to see it like this. One example, that's just beautiful to watch a good rider flying over rocks with speed and flow. You have to be extremely focused and precise to find this flow. That's what mountain biking is all about.
Which riders have most influenced you over the years, and how?
When I think about racing, it's Sam Hill. I really like his personality and charisma, he's just a fantastic athlete and a humble guy. If it's about technical performances and media vision, then Danny MacAskill. A creative and talented rider, always pushing hard to find his limits.
Best competition results on a bike?
Some weeks ago, when I tried to combine The Mountain of Hell and the Megavalanche. For the second time in a row, I won the MOH and finished the second in the Mega. It was a real goal for my race season, and you can't be relaxed at the start of a mass start. Everything around you is stressful, and that's a strange feeling! Each year, you don't know why you're at the beginning of a race like this, so it's more a mental exercise than a physical and technical performance...
What's your favourite place to ride in the world and why?
I travelled to a lot of countries with my bike. Canada, NZ, Indonesia, Hawaii, Peru, Chile, China, Norway... But my home is still the best place to ride. Not only for landscapes, but you also add your friends, the mountain bike community, our projects and that's why I choose my home as the best place to ride. As a fan of the famous Lion King, I'm in love with Namibia, and you must watch MISSION - Episode 3 on my YouTube channel!
You seem to be a specialist in mass-start races on snow are these your favourite events?
Before I rode mountain bikes, I was a skier. I'm still a skier, but I learned to ride on the snow. Within a few years, I started to ride bikes on snow, and I have a good feeling on it, and it's a unique way to ride a mountain bike. I'm always searching for an edit and new challenges, and it's not common to ride on the snow. I like this ;)
Also, with a mass start, it's not only against the clock as you're not alone and you must be focused and reactive to go fast and stay on your bike. Anticipation, strategies and patience are the keywords.
Are those the critical skills required to race mass start and snow events like the Mega?
Absolutely. More than 50% of the race is in the first 20 seconds. If you lose too much time at the start, it will be tough to finish on the podium. Sometimes, it's a bit frustrating, but that's the game.
What's the best piece of advice you've been given in your mountain bike career?
Always do things with Passion, and you will stay motivated forever.
What are your plans for the rest of 2019?
I'm currently on the way for the 6th episode of my web series Mission, in the Faroe Islands. A guest will join me for this episode as in the last episode in Chile.
What is your Mission project all about?
Until now, we had concentrated on the diversity of the places, the ways in which we filmed or - for the purists - how we rode. But there was no reciprocity. We are lucky enough to travel to the four corners of the Earth, and it is often difficult to explain, in retrospect, the many life-changing moments and experiences that each destination offers.
It's not just about cycling in unusual places. Through these latest videos and photos, we can only convey the tiniest percentage of what we have experienced in real life. My eyes have been opened to this by talking about my travels with my family and close friends. I've reached a simple conclusion: it is impossible to truly experience a journey unless you make it in real life. And it's sometimes frustrating to have to keep your memories to yourself, incapable of expressing them.
What are your predictions for the future of mountain bikes and mountain bike riding?
It depends on each country and people, but most of them see the performance part through competitions and races. In France, we're like this, from school where we compete since we are 4/5 years old. So, I would like to see an open-mindedness in the future, and it's in a good way!
I'm enjoying seeing mountain biking start to be a popular sport and I hope the spirit will be the same in the future. I'm happy to see families in mountain bike/e-Mtb, trails growing everywhere, people using their bikes to go to the office, If everything is built with logic, that's positive!
Videos
Ewen Turner is a self-confessed bike geek from Kendal in the Lake District of England. He runs a coaching and guiding business up there and has a plethora of knowledge about bikes with an analytical approach to testing. His passion for bicycles is infectious, and he's a ripper on the trails who prefers to fit his working life around his time on the bike.
Comments