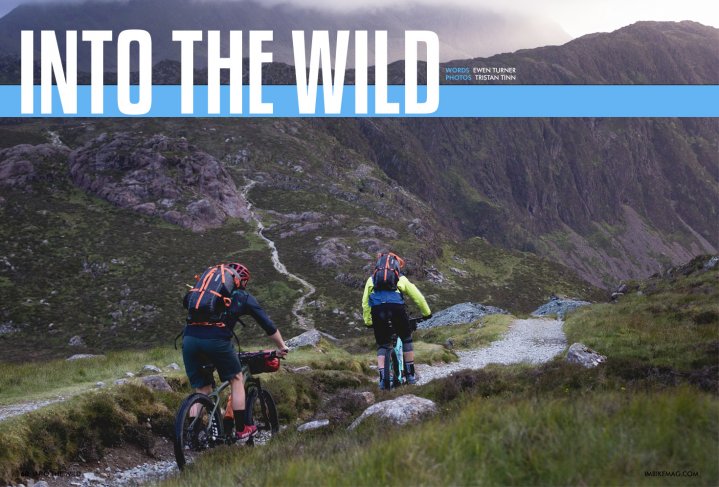 Into The Wild
Issue 60 / Fri 16th Aug, 2019
Bike Packing. It's all about beards and fat bikes, yeah? Think again as Ewen Turner heads into the wild armed only with a rucksack, penknife and an Enduro bike to see if you can still have fun on a backcountry adventure by bike.
The rain was perhaps inevitable, given that we live in the wettest place in England. That said, the forecast was promising, as was the sky, which swirled with clouds that occasionally obliged to let shafts of evening sunlight hit the mountains and valleys around us. This atmospheric evening was a distant memory as I attempted to keep myself cocooned in my bivi bag while still allowing myself the luxury of fresh oxygen through the side zip. At this point, the reality of our adventure was no longer the idyllic experience we had imagined the previous day.
Proof of Concept
The premise was simple, can I go into the wild with my bike and sleep out without compromising the quality of my riding, my wallet or wardrobe. Cyclists love a category, exemplified by the tiny niches we create in the world of mountain bikes. Enduro, downhill, Trail, XC, gravel to name but a few, and then there is, of course, Bikepacking. Those who have watched the resurgence of camping with a bike will know all too well that to fulfil the stereotype, you supposedly need a rigid fat bike, seven types of frame/saddle/bar bags and some serious commitment to facial hair and flannel shirts.
What I wanted to try, was a trip into some mountains where the trails are unforgiving, unapologetically technical and tricky to ride, both up and down. I wanted to take my bike, my normal bike and not strap too many satchels to it and ruin its performance, but at the same time, I didn't want to carry a huge pack. I thought this would be tricky to manage; thus, a test was needed. I've seen Joey Schsullers 'Flashes of the Altai' film, and they still seemed to be having fun on their bikes, they even had pack rafts with them!
To test this, we aimed for the central and more remote parts of our local mountains with a tour around one of the largest lumps via four mountain passes, circumnavigating a big piece of mountain called Great Gable. This is a tough route, achievable in a day by the fit, but a worthy route to be split and test out the light and fast bike-bivi set up.
The Kit
For the trip, my bike was my long term Marin Alpine Trail, which I imagine was never considered as a 'bikepacking' bike when they sat around the drawing board. A 150mm enduro/trail bike designed to deal with gnarly trails. This made it ideal for the trails we would encounter but lacked space for frame bags, rack mounts and associated survivalist bolt-ons.
Realising that one bag may prove a little tricky I resorted to asking for input from our local 2 wheeled adventure specialists Lyon Equipment. The result of this was a simple bar roll and a funky waterproof rucksack from Ortlieb. They also threw in (not literally) Tom Ukelja as a sage-like advisor of all things cycling and wilderness. He put shoes on, especially for this trip as he thought his normal riding 'sandals' might not be appropriate. Also, he was known to have a stove and could make excellent coffee. If anyone exemplifies the no-frills approach to mountain biking and bike-based travel, this is the dude.
Although not entirely convinced I needed a 'specific' backpack, Ortliebs Atrack pack was the weapon of choice, providing a fully waterproof high volume pack, something that would prove to be exceptionally useful during the overnight rain! This was coupled with a waterproof bar roll for my sleeping bag, and it was all sorted and ready to go.
Into the Wilds
Pedalling up into the hills for the night is a particularly enjoyable experience. Knowing that most folks have long since left the mountains for their homes, they are deserted and left undisturbed. Without a rush to get back before nightfall, we could cruise gently to our camp spot and enjoy the evening. Climbing through the old slate mines and spoil heaps we gradually leave the industry behind before dropping down to the head of the valley for a night under the stars.
With dehydrated food and a lightweight stove, the cooking process is simple and surprisingly tasty. As usual for a night out in the mountains, from each of our packs, we reveal our secret booze supply. This explains why everyone's bag isn't looking as 'fast and light' as I thought they would be! However, the evening soon lightened the load and our selection of craft beer, whiskey and something strange Tom brought in a hip flask...
Our perch for the night overlooked the valley below and is genuinely idyllic with a view right out to the sea. Finding a flat patch of grass between the rocks defines our beds for the night, and as clouds gather in the not-so-dark- night of midsummer, it's clear we may be in for some precipitation. In due course, the rain starts and I dream of small luxuries such as a tent but make do with hiding in my bivi bag trying not to suffocate. Bivis may be light, but in the wet, they lack a little sophistication.
The morning dawns and is thankfully dry as we emerge from our chrysalis of mildly damp warmth. Coffee is the top priority before more dehydrated goodness in the form of breakfast. Given our high camp, the first part of the day is a descent into Buttermere down a notoriously sketchy trail. Attacking this bleary-eyed, with a bar rolls attached was slightly alarming, but I was surprised how quickly I got used to having this lump of material attached to the front of my bike.
The Riding
Part of this trip was all about proving, or disproving that you needn't compromise on the technicality of your trails just because you're carrying a bed with you. The proof was condensed into a particularly steep bedrock challenge only minutes after breakfast which sharpened up the mind for the day ahead and quickly proved that the bike does still work as a bike despite the bar roll. With the steering feeling only a little heavier than usual, the bike retained it's feel nicely, even popping the front end up was surprisingly straightforward. I chose the lightest and bulkiest items for the front, and this worked well as a tactic.
The early start from a high point in the mountains set us up well for the day ahead, and after the initial bonkers rocky descent, things had to point up once more. The climb from the previous night had all been pedalled, but this route was going to get chunky, and we would certainly not escape some hike-a-bike. Having most of the bulk already on my back was a blessing, as lifting a well-loaded bike on your shoulders isn't much fun. The bar bag again didn't interfere and hiking with the bike was just like usual, only a bit heavier.
By the next descent, I was starting to believe the bar bag was helping to keep the front wheel planted and I'd stopped worrying about not being able to see my mudguard. Why I was concerned about this is unknown, but just having something different in your field of view was initially disconcerting.
A stop outside England's most remote Youth Hostel offered a pleasant respite and allowed us to do our most adventurous posing before travelling down the valley and back towards the more remote pass of Black Sail. Scottish-Esque, this represents about as wild as you can get around here, but not so wild as to not have a truly impressive descent down the next valley. An education in all forms of rock, from boulder to gravel, it's a test of bike and body. By this point, I'm pretty comfy with the extra kit on my back and bike, and although I'm probably not quite as agile, the riding feels great and uncompromised.
Now adventurous we may be, but we know how to plan a route, and a drop-down from Black Sail Pass drops us at Wasdale Head and a conveniently placed pub. The pub is another pro-tip, to reduce your pack weight, replacing your packed lunch with a credit card saves significant weight and can be highly recommended. While sitting in the sun, it dawns on us that we could happily dry out the slightly damp kit in our packs and restock from the tiny shop before heading out again for another night. The crucial part of this is that for a multiday trip we wouldn't have to carry much more kit providing we could resupply each day. At this point, plans started to form for future trips, but the inevitable final climb was looming and demanding attention from weary legs.
Skirting under Gable, you can look up to what is considered the birthplace of Mountaineering in the form of Napes Needle. First climbed by WP Haskett Smith in June 1886 with a large pole and a handkerchief for assistance. The hike takes us up and over Styhead Pass and a classic trail lies in wait for us to descend and finish the trip. While on a historical note this pass was first reportedly travelled by bike sometime before 1928, turns out mountain biking has been around for a lot longer than we thought!
Which way next?
Our trip over this final pass signifies the end of our round trip, but yet again, the riding is superb, and the ability to ride hard, fast and safe while loaded up is surprising, and I start to get an urge for more. More days, bigger trips and further afield. If I can ride great trails for day after day with a lightweight set up then let's go. Now I know there are plenty of riders who have gone before and we're hardly pioneering new routes, just check out the Rough Stuff Fellowship if you want to see how far behind we are. However, bikes and kit are so good these days that this type of adventure has never been easier.
Whether it's a quick overnighter or a sunrise descent from a high mountain, the art of camping with a bike is one that can be easily added to the repertoire of the mountain biker. Just a night out in the hills in its own right is worthy, but add some adventure and link up some trails on the map, and you have the makings of some great fun on a bike.
The Kit
For this trip, we used Ortliebs new Atrack pack to carry the majority of our kit, and this was paired with an Ortlieb bar roll. Other than this, the rest of the equipment was standard lightweight (and not so lightweight) outdoor kit.
Check out the bag here - https://www.ortlieb.com/uk/atrack-bp
Top tips
Get the weight on your back if you want to ride hard, Riding with a pack may feel awkward, but it's better than trying to manoeuvre a heavy bike filled with the kit.
Keep your kit dry - we had the advantage of the Ortlieb Atrack bag which allowed us to keep everything bone dry. Our Photographer Tristan proved that diligent use of a black bin bag can achieve some impressive results.
Use the current enduro trend of strapping things to your bike to save space. I used a OneUp pump and tool combo, a Fidloc Bottle cage and a Granite Design Tube strap.
Share kit across the group. No need for multiple multitools and three stoves. Spread it out and get your pack weight down.
Thanks to Lyon Equipment and Tom Ukleja
Ewen Turner is a self-confessed bike geek from Kendal in the Lake District of England. He runs a coaching and guiding business up there and has a plethora of knowledge about bikes with an analytical approach to testing. His passion for bicycles is infectious, and he's a ripper on the trails who prefers to fit his working life around his time on the bike.
Comments