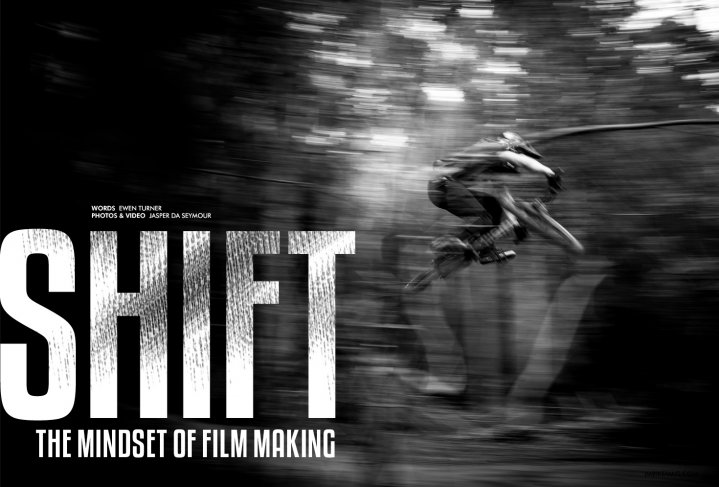 Shift The Mindset Of Film Making
Issue 60 / Fri 16th Aug, 2019
Amid a seemingly endless supply of bike videos, Jasper da Seymour is attempting to offer something different to the standard' shredit'. We catch up with him and find out more about his views on the state of MTB film making and his unique approach.
Known for his ingenuity behind the lens, we catch up with Jasper de Seymour and find out how an edit comes together and the challenges of producing original content in an over-saturated world of mountain bike video.
Who are you, and how did you get into video and photography?
I work for myself full time as a freelance videographer/editor and photographer. I contract and work with lots of businesses and brands to achieve better brand awareness by creating engaging content. I got into photo years ago through light painting, which is a whole other story... I quickly realised I couldn't justify how immersive riding was with just stills, so I used the same camera I have been taking stills on for years and a whole other bunch of gear and ventured into the bush to shoot some video with myself as the guinea pig.
How do you describe your style of photography and video?
I would like to think my style is unique, I don't shoot to compete with others out there, I shoot to engage, so my style is generally a little left field when I'm given full creative freedom. When I'm not, I adapt to the brief I'm given and deliver the product. I like to have a laugh in some form with the video work I do and create something that you want to watch again by making it intriguing enough that one watch just isn't enough.
With so many 'shredits' released every day, how do you try and set yourself apart from everyone else?
The web is saturated with shredits and general mind-blowing MTB content from all over the globe. I tend to gravitate toward more quirky or even contemporary projects. I'm pretty self-aware, I know I'm not the best shooter, editor or have the best places to film in the world but I do know I'm pretty weird. There's a lot of things that go on in my head, and if I'm able to convey those, good things generally tend to follow when I create my videos.
My video CLOSED, which was made for a laugh, went way more viral than was anticipated for a local giggle between mates, getting featured in numerous parts of the web I didn't know existed. I guess I just don't try to compete, I just create, whatever else happens is a bonus, it's the freedom to create I'm ultimately hungry for.
Do you think viewers are tired of the same old mountain bike films and concepts?
No they will never get tired, they will just become further disengaged from what they are seeing, it's only natural as our attention continues to diminish with the deep wash of never-ending content, that's why its important that where possible we create content that affects us on a subconscious level, like an art piece, it might make you happy, sad, laugh or you might hate it but its essential it hits on an emotive level somehow.
What is the process you go through to produce a film like Shift?
Time is spent brainstorming with the athlete to make sure they will be happy with the type of film you intend to create with them, ensuring to work to their strengths where possible and highlight their commitment to their craft. Scouting the right kind of trail is crucial as Scott is a mad slopestyle rider who can pretty much ride anything as you can see!
If there are too many directions from outside parties pushing their agenda or stubborn heads, it can make it hard to create something meaningful. One chef in the kitchen with a sous chef (athlete) for support is the best mix! The best things happen when the athlete and shooter gel and embrace the vision of the project, that leads to something like the product of Shift.
What influence does the camera have on athlete riding? Are they more willing to push themselves and what problems does this present?
Dedicated riders don't generally perform any different, but they want to deliver their best on these projects so its always in the back of my mind, I never ask them to do anything that they aren't 200% on.
I just don't ask, they tell me what they want to do, and I let them know that there is no pressure to perform; it usually comes from the expectations they place on themselves to deliver. I generally know what most are comfortable with, we did push the envelope a bit on Shift but thankfully not too far!
How do you balance the risk of encouraging riders to push their limits?
I feel responsible, although we both know the decisions to drop in are always theirs to make. I never push them, only ask them what they believe they can do, then talk through options.
What's the story behind this latest film?
My concept was to create a visual narrative of our ability to shift & change our state of mind through Scott's riding sequence. Obviously highlighting his broad skillset & abilities on various bikes, so we spent two days shooting one trail on both trail & DJ bike with the vision of linking the two and displaying how it's possible to achieve amazing things when your able to shift your mindset to overcome obstacles or mental barriers, however big or small they might be.
Who is Scott Thornhill?
Scott was the right guy for the job, his relentless drive, passion, skills & stubborn but laser-focused head made this a lot of fun to shoot and produce. It's not often you get to work with someone who is quite literally willing to put their safety on the line. Someone who attempts things that they don't believe are possible within themselves, witnessing someone genuinely pushing themselves to the limits of what they set upon themselves & then breaking through them right there in front of you as you document it.
What future projects are you working on and what sort of films would you love to make in the future?
I'm currently working on a bunch of small projects, one I'm particularly pumped on is a short film showcasing Tasmania and some incredible remote trails. I would love to continue to create short films with some form of narrative, something we can all connect with on a certain level, whimsical and almost playful and childish but creating shorts that make you want to be there.
What is the future of adventure sports film making? Will we be watching the same stuff in 5 or 10 years?
Honestly, I don't know, but if I took a punt I would say it's going to be a more immersive experience, 3D, VR and 360 tech is changing how we experience films and on the film making front are powerful points of difference that will change how we process information and emotions. I'm sure the same industry-driven shredits and basic content will still exist as there will always be a space for this, it will just have to adapt to what the viewers engage with more at the end of the day.
What advice would you give young filmmakers and photographers?
Whatever it is you're stoked on, go do lots of it! Then get literally any camera you have and try and create a story with what you're stoked on, doesn't have to be deep, just a beginning, middle and an end. The same process can drive and aspiring stills shooter too, there's no reason you can't create a story to engage through stills. The reason I go on about this so much is I see so much content out there that is just amazing visually, but when all piled together is just missing the heart.
I have seen some compelling work created with the most basic smartphones because the person behind it cares so much about what they are making, those are the videos I remember in 5 years, not the 4000FPS roost shot I saw, don't get me wrong I love these too! You will learn a lot quicker both technically and invest emotionally in what you're doing, be romantic with it, enjoy the process and all the climbs and descents you have to deal with along the way!
Which other filmmakers photographers do you admire and why?
Oh, so many! Scott Seco, wow, and the 23-year-old shooter for Commencal JB Liautard. His work is so far ahead of his years both technically and conceptually, and he predominantly shoots MTB, he sets the bar with what he does, and he's nearly 10 years younger than me, unreal.
What's your set up?
It changes from shoot to shoot but ultimately it has been my Sony FS700 with Canon glass, 70-200 F2.8 or Sigma ART 50mm 1.4 handheld, Shift was shot entirely by handheld except for the obvious drone shots, I love that setup. Mavic 2 Pro, 8stop ND, 24fps 4K full throttle.
Videos
Ewen Turner is a self-confessed bike geek from Kendal in the Lake District of England. He runs a coaching and guiding business up there and has a plethora of knowledge about bikes with an analytical approach to testing. His passion for bicycles is infectious, and he's a ripper on the trails who prefers to fit his working life around his time on the bike.
Comments