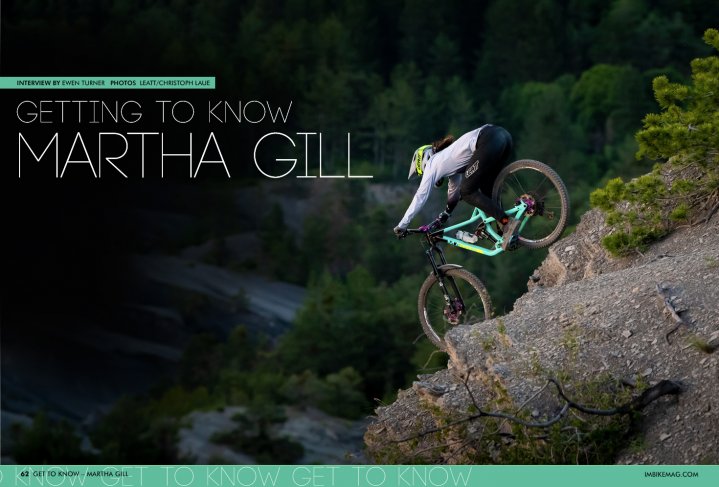 Getting to Know - Martha Gill
Issue 62 / Wed 18th Dec, 2019
Rider, racer, ambassador, musician, the list goes on for this multi-talented mountain biker. From top race results to organising events and inspiring new riders, Martha is making things happen in the mountain bike world.
Tell us about yourself. Where are you from, and how did you get into mountain bikes?
I am 21 years old and from Horwich, in the north of England. I've been riding bikes ever since I can remember; my earliest memories are going away with my family at the weekends and riding in the Lake District. I was pretty competitive, so it didn't take long for me to join the local cycling club, and that's how I got into racing.
Who do you ride for and which bikes/kit do you ride?
I have several sponsors who are all super supportive and help me out massively.
Marin Bikes - I race and mostly ride the Alpine Trail.
WTB - tyres (at the moment I run a 2.5 Verdict and Vigilante), KOM 29 rims, Deva saddle, PadLoc grips.
Leatt - head to toe kit, clothing and protection.
Deity - Skywire handlebars cut to 760mm, and Copperhead 35mm stem.
PNW - 170mm drop Bachelor seat post with the loam lever.
Hopetech - e4 brakes, rotors and crankset.
Crankbrothers - Mallet DH pedals.
Mudhugger - custom Gowaan Mudguard.
Kingud - bike wash kit.
How do you like your bikes set up are there any specific things you are fussy about?
I'm not overly fussy, as long as the handlebars are straight and the pedals go-round, I'm happy!
How would you describe your riding style?
On the back wheel at every opportunity haha! I could spend all day on a bike park flow trail trying to perfect whips and tables, and learn new things, so I'm quite playful I'd say. I also think my style has changed over recent years though, I used to hate steep stuff or rocky tracks, but now I'm learning to enjoy it more and the challenges that come with it.
What do you do when you are not riding a bike?
I put a fair amount of my time into the running of Gowaan Gals, we've just successfully organised our first festival, and that took a lot of my spare time and planning, and we've always got more exciting projects to work on. Aside from that, I enjoy creating and editing riding videos whether it be for Instagram or YouTube. When I'm at home, I also enjoy playing the piano and guitar.
What do you love most about mountain biking?
The sense of adventure, getting lost in the woods, and the new places it can take you. As well as the adrenaline rushes, and sharing the good times with a good group of mates.
What annoys you most about mountain biking?
Currently, the fact that the winners of the EWS Trophy Of Nations Team World Championships didn't get a real UCI World Champions jersey!
Which riders have most influenced you over the years, and how?
It was Tracy Moseley who welcomed me into the world of enduro, she helped me out with race entries, spare kit, and all the hints and tips of racing enduro. So she has been one of my biggest influences in the sport, I've learnt so much from her, and she shows what you can achieve with some commitment and drive. There are also so many people now that you see on social media, pushing the limits of riding and what you can do on a bike, and that always inspires me to get out and push my own boundaries.
Best competition results on a bike?
Under 21 Enduro World Series World Champion and finishing 9th at the Enduro World Series round in Colombia (Elite).
What's your favourite place to ride in the world and why?
It's the obvious answer everyone says, but I always have so much fun in Whistler. Every time I've been, it's when Crankworx is on, so you get a whole mix of riders there and you get to ride with loads of different people which is always a good laugh! I could also spend a long time in Innerleithen, Scotland, and not get tired of the off-piste trails there!
What's your favourite MTB event or race?
The Gowaan Gals MTB Festival!! My favourite EWS races have been the rounds in Tasmania and Colombia.
What's the best piece of advice you've been given in your mountain bike career?
Just lean back and let it roll.
What are your plans for 2020?
More Crankworx, more adventures, less EWS, more Gowaan Gals antics, more fun.
What are your predictions for the future of mountain bikes and mountain bike riding?
In the ideal world, I'd predict equal pay for female athletes in the industry...
Videos
Ewen Turner is a self-confessed bike geek from Kendal in the Lake District of England. He runs a coaching and guiding business up there and has a plethora of knowledge about bikes with an analytical approach to testing. His passion for bicycles is infectious, and he's a ripper on the trails who prefers to fit his working life around his time on the bike.
Comments