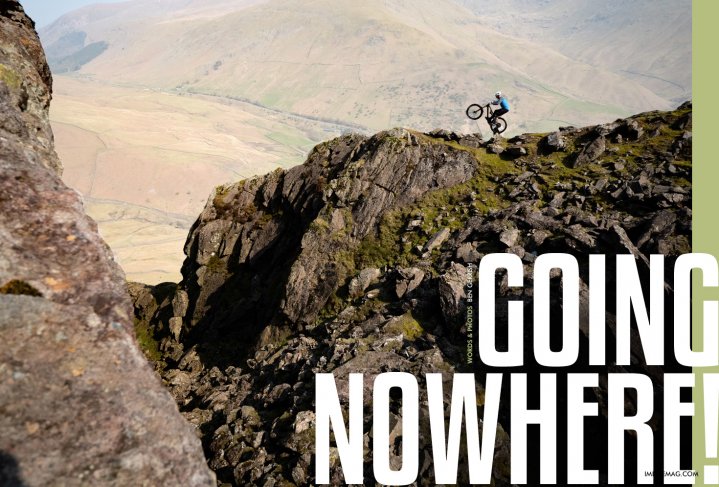 Going Nowhere
Issue 62 / Wed 18th Dec, 2019
Bored with the same old trail? Take some advice from Ben Gerrish and explore the less travelled lines on your local loop. Get creative and go play on your bike while sharpening your skills and seeing what is possible with a little imagination.
How are your riding stats looking? Clocked some serious elevation or mileage this month?
Ours are looking somewhat depleted, more akin to a month spent injured, tied down by work or a broken phone and no access to Strava. However, don't let that mislead you; we've been out nearly every day. In fact, last week we made the hour-long drive, every single day to the same small, gravel parking spot next to the by-pass with a beautiful view of the escalating mountains in front of us.
It's day five in the English Lake District, lit by perfect sunlight broken by only a few scattered clouds, the scene is vivid and stunning. We packed our bags, readied our bikes and left the van. The destination was known, very well known, every rock and lump, bump and transition in intimate detail. Only a kilometre from the parking spot, it's only the size of a football field at a push. But it holds so much potential and all of our attention.
We had first seen it from across the valley, while on a classic loop, the sort of loop that makes your stats look good! The vast monoliths of rock, set in the corner of an otherwise unsuspecting farmer's field. Not visible from the road, they had never caught our eye before, but now we had been there, the possibilities were endless. After the initial hours of dead ends and unobtainable objectives, we dialled in what was doable and set about fine-tuning our lines.
I feel at this point we need some context, we are most definitely mountain bikers, we spend long days in the mountains. We'll happily shoulder our bikes for long, sometimes seemingly endless hike-a-bikes to reach a sought after summit and the glorious meandering singletrack that follows. We also love screaming around a tight berm and loading our bikes onto another shuttle ride just as much as the next biker. We grew up playing bikes, leaning scaffold boards on old bricks, jumping curbs and sliding down whatever route looked likely to offer the biggest skids in the local woods. I can tell you now, old habits die-hard and that deep-rooted love of the simple things lives on.
"Playing Bikes" as we now affectionately call it is a deep routed element of our bike riding routine and plays a vital part in the other aspects of our bike riding as well. Those small moments of perfect balance or the difference between a subtle shift and a bold movement on the bike can mean the difference between cleaning the most 'janky' of technical big mountain terrain or tip the balance on a perfectly executed S-bend berm.
What seems like merely playing about on bikes (and I guess in reality it is), is often dismissed as 'car park skills' or worse overlooked as showboating and dicking about. This stuff is just as vital as putting in the long winter miles and way more productive than cross fit. As far as I'm concerned, everyone should be getting involved and pre-ride car park wheelie competitions should be obligatory!
For us, playing bikes is the ability to make a meal of the most straightforward line on a well-worn trail. Side hits are only the beginning, a rogue rock a hundred metres from the trail, on a route firmly locked into a friends GPS can quickly become our location of choice. Instantly the days ride, when zoomed in, looks more like a toddler's first crayon etching than anything resembling a coherent Strava post.
That said, sometimes as a positive contribution to our aggregate, we trek countless kilometres into the countryside to investigate a potential rock roll. We come armed with an arsenal of advantageous techniques, sometimes all it takes is clearing a good line of sight and making it smooth enough for the right speed, other times we go full build with rocks, logs and dirt or dry up a line with an overzealous brûlée torch.
Although we are still often met by defeat, an un-negotiable exit, a large body of water, countless small elements that for the large percentage of bike rides would be a minor inconvenience, can ultimately shape our day. That said, it never really feels like a wasted day, the discovery, the battle, the dedication of wanting to try something over and over again. This article aside, it isn't even about the media evidence, it's just about getting it sent. Clean, no dabs, as planned…with, wherever possible, a modicum of style.
That brings us back to the field, and those enormous wedges of stone. There are hundreds of lines there to go at, all with different levels of skill, commitment and preparation needed. We ticked off some simple, but satisfying lines on day one. We finished day two with some hard-fought, but satisfying photos in the bag, but also with a firmly defined crux.
The Crux… At the bottom of the area stood a four-metre high wave of rock. Shaped like a crudely formed vert quarter pipe, like you'd expect to see at the local skatepark. Deep, diagonal grooves in the centuries-old rock and a thick covering of moss, made for a less than simple angle of attack and both the run-in and exit left a little to be desired. It was perfect!
We thoroughly cleaned a strip of the rock and prepped a solid line in to ensure a consistent run in speed and trajectory, set up the cameras and began. As far as our "playing bikes" was concerned, this was a big one, and in an ideal world, Dan didn't want to be doing it more than once. We quickly realised though, as, with anything that pushes your limits, it was not going be plain sailing.
Tens of attempts later, hundreds of micro-adjustments, invisible to all but Dan and it was ready for the one. One last pass of the blow torch to ensure every ounce of grip was available, and he took his position at the top of the run-in. "Dropping"… only a few pedal strokes and Dan's rolling with the hill, every rock and lump, bump and transition playing its part in getting him there, the perfect speed, an impeccable line and it's done.
High fives all round, bags packed and the short roll back to the van, time for a pint to celebrate and maybe a quick check on the map, at something we saw the other day.
Next time you're planning a ride, why not consider a small spot where you can play, progress and have fun, rather than just clocking up the miles, it might ignite an element of childhood joy perhaps long forgotten…
Ben Gerrish is a passionate photographer and videographer with a profound love of all things two wheeled. Whether it is riding a BMX around town or rallying an enduro bike down a steep chute in the Lake District he'll always have a smile on his face!
Comments