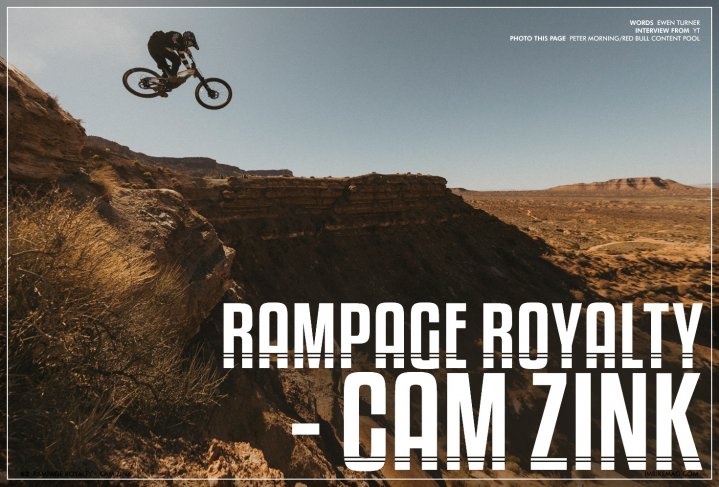 Rampage Royalty - Cam Zink
Issue 62 / Wed 18th Dec, 2019
Cam Zink is a legend in the world of mountain biking and a Rampage veteran. This year may not have gone his way, but you can always count on him to be pushing the boundaries of the sport and be a regular visitor to the podium.
Once again, Rampage managed to do what it does every year, and surpass our expectations and blow the previous year out of the water. For 2019 riders and teams returned to the site from 2018 to forge new lines and develop unfinished business from the year before. Amongst the established riders this year was an injection of younger riders into the field who have come through the Proving Grounds qualification rounds to test their mettle at the real deal.
Despite the young blood coming through, Rampage remains the domain of the experienced freerider. Youthful exuberance will only get you so far, and those riders with more depth of knowledge and maturity are the ones who can consistently make magic in the desert. This year Semenuk found redemption with an audacious run and cements his position as one of the greatest of all time. Elsewhere the performances where outstanding regardless of points gained, including the ever-popular Brendan Fairclough with his line down the mighty Rock. A poignant event, push-ups featured throughout as riders paid tribute to the much-missed Jordie Lunn.
One man who has consistently taken the fight to rampage is Cam Zink, famous for going huge and pushing the sport forward. Most notably in Rampage history was Cam's ridiculous 360 back in 2010, which sealed the win as he launched off the enormous wooden drop that was the style of some features at the time. After crashing on his first run and cracking his helmet, he went on to send what at the time was undoubtedly the biggest 360 ever. In 2013 Cam wowed us all yet again with a huge 78ft step-down backflip that blew everyone's minds and is still hugely impressive even by standards today.
2014 saw him get Best Trick for yet another massive 360, which pushed the competition to an even higher level once again. 2017 saw a second-place performance, proving that Zink was happily mixing it with the best and could happily take a spot on the podium as his legendary status continued to develop. Between all these events and despite injuries too numerous to mention, he has even found time to break the world backflip distance record.
What Cam has been able to do year on year is keep pace with the level of riding as it has progressed. It would have been easy to sit back and retire from the sharp end of bike riding, but he just keeps pushing forward. Frustrating though this year was, there is no doubt had he put it all together that Cam would have been a danger to the podium once more.
On Instagram, after the event, Cam said 'I'm the oldest one out there, but I still work my ass off to win. Absolutely gutted to not land my runs, but we did everything we could and gave it everything I had. Thanks to my diggers, Trevor and Ray, for the building, bike hauling, and everything else they do to win the most prolific bicycle event on the planet. Thanks to all of you that reached out before the event to say good luck and all that had the kind things to say after it didn't go the way we hoped. I'll be back; I love the process, the struggle and I love flipping off of cliffs. Sending it for Jordie right here...'
For Zink, it seems that Rampage is a long game, and I doubt this year will be remembered fondly, but simply chalked up to experience ready to be channelled into more progression next year. While the young guns will be creating the future of Rampage, the old guard is still showing them how it's done. The mix of calculated risks, skill and experience is a heady mix that makes Rampage a hugely successful event and draws riders back every year.
We caught up with Cam to find out more about his relationship with Rampage and his bike set up for one of the toughest events on the planet…
Tell us a bit about Rampage and what the contest means to you personally. Is it the highlight of your year when it comes to riding and competing?
It's the freedom to do whatever you want and build whatever your heart desires. Contests become monotonous and tiresome due to the same jumps being built for everyone. At Rampage, you are free to go as big as you want and build whatever you like for whatever trick you are dreaming of.
As a free-rider, how does the Rampage terrain compare to any other sites you ride during the year?
It's the mecca. We have travelled all over the world to find a replica of Virgin, Utah. We have found some pretty incredible places in the Arctic and China, for instance, but we always venture back to Virgin, and lucky for us, we live pretty close.
What was the biggest feature you hit at Rampage in the past?
There are way too many to try to label one as the biggest…. Every year I seem to find something that challenges what I think is possible.
Which line/terrain/site was your favourite in the past years? What still stands out today, and why?
My favourite is definitely 2010 since it was my only win. But my favourite line I've ever ridden was in 2015. The judges didn't agree with me that year.
What are the biggest challenges the terrain poses in terms of riding?
It's steep.
Do you think there is a limit for both the bike and mentally or is there still room for progression?
There is always room for progression, but we are nearing the end of how big you can go. It's progressing in different directions now, especially tricks being done off the biggest cliffs ever done.
Apart from the paint job is this the same bike you'd ride most of the time?
It's almost identical besides the paint job. It is a standard, size medium CF 27.5 TUES. The seat stay though is custom, it is an aluminium 26" wheel seat stay. It is a Mullet TUES.
What forks and shock do you run, and how do you set them up to deal with Rampage-sized impacts?
I run a Fox 40 front with max volume reducers, but it's still a stock tune. The rear shock is my own tune, but mainly for high-speed rebound, along with the max volume reducers. The stock stuff is so good nowadays and so tunable. Along with the TUES being so progressive, it makes it pretty easy to set up our stuff for jumping off 40-foot cliffs, but still feeling right at home in the small bumps.
Do you make any other setup changes for riding Rampage?
I've got a CaneCreek Angleset to steepen in the head tube angle of the bike as I'm using a bigger front wheel. The 1.5-degree angle set brings the head angle back to stock at 64 degrees.
What's your set up for tensioning the chain? How do you go about choosing chainring sizes and getting the right gearing?
I run a Shimano Saint drivetrain. Pretty standard, but a 32 tooth ring for better clearance.
What wheels and tires do you use? How do you set them up? Pressures? Tubeless?
Stans Flow MK3 Rims Laced to custom Zink edition Onyx Hubs. 27.5 Front setup Tubeless and 26 Rear with a tube since we land sideways frequently and burping isn't an option. 32 PSI Front, 37PSI Rear. MICHELIN 22DH Front and DH 34 rear Tires.
What are the challenges of setting your bike up for the desert?
It's just a happy medium between what I would race on and what I would ride big smooth jumps on.
What bar and stem do you run? Height? Width?
My signature Deity CZ38 bar: 38 mm rise, 30" wide and my signature bend.
Are there any aspects of your setup you're very particular about?
I am always the most particular about my brakes and rear shock. My brake reach needs to be all the way in, with minimal pull, and bite hard. My rear shock needs to ramp up aggressively with slow rebound.
Any cool, custom one-off parts on the bike?
Nearly everything this year!
What do you like most about it?
It's bitchin!
Videos
Ewen Turner is a self-confessed bike geek from Kendal in the Lake District of England. He runs a coaching and guiding business up there and has a plethora of knowledge about bikes with an analytical approach to testing. His passion for bicycles is infectious, and he's a ripper on the trails who prefers to fit his working life around his time on the bike.
Comments