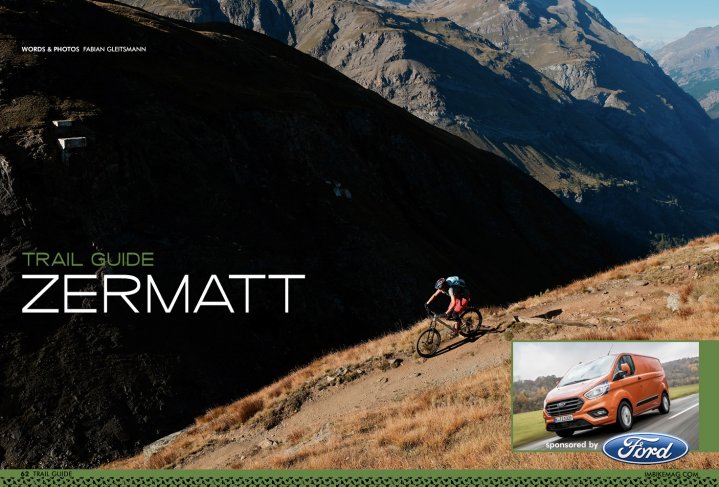 Trail Guide - Zermatt
Issue 62 / Wed 18th Dec, 2019
Fabian Gleitsmann takes us on a trip Zermatt to see if you can ride bikes in one of the most expensive mountain areas in the world. A bit of planning and a positive attitude create a trip to remember and trails that will have you coming back for more.
"Zermatt? Forget about that, go to (insert any other place that is not Zermatt here) instead!" Wow! Talking to other fellow bikers, it seems like they all either totally love or hate the little village at the foot of the Matterhorn, the Alps' most iconic peak. Yes, especially the Western Alps offer countless options for mind-blowing riding vacations, but somehow Zermatt continues to buzz around our heads. So in late September, we finally decide to give it a go, explore Zermatt and the surrounding mountains – and find out if we can prove all the naysayers wrong!
Driving from Germany to Switzerland, you automatically take your foot off the gas. A 120 km/h speed limit – as opposed to our no-limits-highway – combined with exorbitant sanctions force you to relax, to take it easy and enjoy the beauty of the country. Crossing one of the numerous mountain passes we slowly make our way towards our destination and soon realize that one argument definitely is admissible: Zermatt really takes a while to get to – unless you're already living in the tri-border area of Switzerland, France and Italy. But what about the other arguments?
It is too expensive!
Always the number one, but come on – it's Switzerland after all! Nothing is cheap over there, and Zermatt is no exception. However, you can plan it smart. Avoid the high-season, go for a bed & breakfast instead of a 5-star-hotel and get your supplies at the local supermarket. Pre-order your bike ticket and go for a multi-day-pass. Yes, that's right, while the price for just one day of lift-accessed riding is steep, we're surprised that the surcharges for extra days are absolutely reasonable and decide to spend a little extra time in Zermatt.
There are too many people!
It seems that for many, the costs and the lengthy arrival is not an issue at all – gondolas and trains are usually packed with tourists and locals alike. However, once you make it to the top, that's not an issue at all. The number of trails is endless; some are reserved for hikers, some for bikers, but most of them are shared by everybody and this works just fine. Not once did we meet someone who had an issue with bikers on hiking trails. Just make sure to be kind and respectful to the locals, and they'll be the same to you. This is especially true the higher you get: leaving the familiar trails behind and carrying our bikes towards the famous Hörnli hut we got into long conversations with hikers and mountaineers. Only to find out that in the end, we share the same passion for the mountains, but simply have a different means of expressing it.
After climbing for more than an hour with the bikes on our backs, we decide to leave the main route and start cruising down a freshly groomed single trail towards the Staffelalp. Rocky and challenging at the beginning, with a couple of extra tight switchbacks, we soon arrive at the top of the so-called "Hobbit-trail" – and yes, despite the altitude, the trail really feels like it's been taken straight out of the Shire. Smooth, with gentle rollers and perfect, turns it takes us down the mountain and before spitting us out at a traditional, uber-cosy hut. Fresh coffee and some local cake bring our energy levels back to normal, while we can't take our eyes off the enormous hanging glaciers on the north face of the Matterhorn.
Somehow we spend a little too much time in this little paradise, and the early sunset forces us to change our plans: instead of climbing another 500 meters to reach "Höhbalmen", one of Switzerland's most scenic trails, we take the direct way back to Zermatt. High above the river, filled with fresh glacial water, we cruise down, passing old wooden cabins that date back hundreds of years, chamois and marmots – but no other humans. Sometimes, it pays off to forget about your schedule, and life rewards you with an experience that will live on for a long time.
There are too many other good places to ride!
But there's only one Matterhorn. The iconic peak can be seen from pretty much every trail in Zermatt. However, even though that's a view that never gets old, it's not even the most important thing about riding in Zermatt. What topped it for us was the unique combination of easily accessible trails, really high up in the alpine, but still perfectly rideable for bikers of (almost) every skill level. The classic Gornergrat descent, for example, takes you from more than 3000 meters down to Zermatt at around 1600 m – that's a good 30 minutes of fast-paced descent on absolute world-class singletrack.
Or the Oberrothorn, probably the most easily accessible 3000m peak of the Alps, offering almost 2000 vertical meters of downhill. Or, if you're looking for something more technical, there is the descent from the so-called Trockener Steg. Known as the "Smuggler's Run", it's a rocky ride from Zermatt's all-year-skiing resort back down into the valley.
Also, there's much more than 'just' the official trails. For the ones who don't mind a little hike-a-bike, the opportunities are truly endless. Ever thought about a true high-mountain adventure including a glacier traverse? Then have a look at the Mettelhorn, the smaller neighbour of the famous Weisshorn mountain, a descent that gives you vertigo at the beginning before turning into yet another mind-blowing, high alpine rollercoaster.
Looking for a multi-day adventure around the Matterhorn? No problem, you can traverse into the neighbouring Aosta valley and return via the Theodul Pass, an ancient trade route that nowadays includes a downhill on the hard-packed ski slopes. The trails in Zermatt are too short for you? Well, you can easily extend them down into the Rhone valley, giving you another 1000m of descent easily – and also access to yet another incredible network of trails. Want to go skiing in summer? Climb a 4000-m-peak? Enjoy traditional Swiss cuisine? You can do all of this in that little village in the southwestern corner of Switzerland. Overall, Zermatt offers not only an incredible amount but also a fantastic variety of trails, and a substantial taste of local culture. No wonder it was selected as the grand finale of the 2019 EWS season.
After almost a week filled with adventure and lasting impressions, it's hard for us to say goodbye. Despite its worldwide recognition, Zermatt has retained its charm and has resisted the transformation into a collection of huge, anonymous hotels. Just like Chamonix, it still is a genuine mountaineer's village with dozens of licensed mountain guides, and thousands of mountaineers that tackle the ridges of Matterhorn, Monte Rosa or any of the 36 other 4000m peaks around Zermatt. Despite its small size, Zermatt has so much to offer, and the time we had was nowhere near enough to discover all the trails, climb all the peaks, and explore all the little alleyways in the old town. We will be back – no matter what!
Videos

Comments