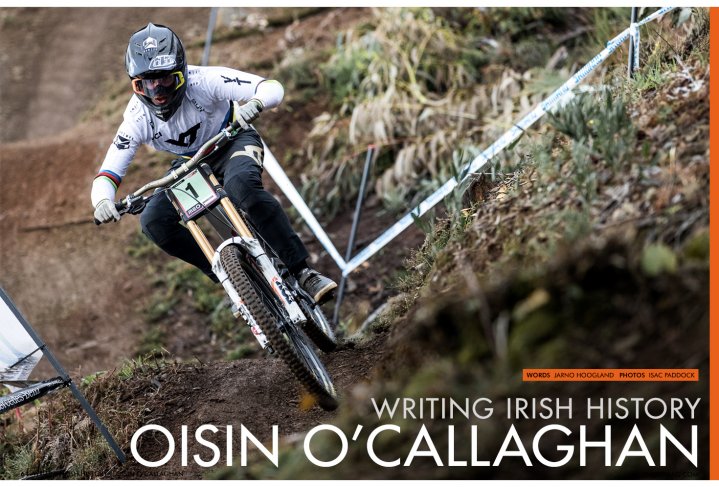 Writing Irish history - Oisin O'Callaghan
Issue 64 / Wed 7th Apr, 2021
The 17 year old Oisin absolutely killed it in his first World Cup season with YT. Multiple wins and a Junior World Champion title are just the beginning if it's up to him. We had a chat to find out what makes him so fast, and what he has planned for 2021 and beyond.
Against all odds, this year saw some amazing racing happen on the DH circuit. With multiple races bunched together in a few weeks, it was a hectic time, but even without an audience and undergoing multiple Covid tests, the riders were more than happy to get some racing done.
2020 was also the year where a young Irishman blasted onto the World Cup DH scene. At just 17 years of age, it was Oisin's (pronounced Ush-een) first year in the YT Mob after being scouted by Martin Whitely in 2019 in their YT Mob World Tour. But that didn't stop him from making Irish history, becoming the first Irish MTB athlete to earn the famous rainbow stripes.
Oisin is no stranger to racing, however, as he's been competing in local and national Enduro and DH races from the moment he was of legal age to enter. He was Irish National Champ in the juniors in 2017 and 2019, finished 2nd in the 2018 Crankworx event in Les Gets and claimed the second spot in the 2019 IXS DH Cup series.
Last year however was his first on the professional YT Mob team, finally enabling him to race with the big boys with maximal support. The backup of YT definitely helped him reach a new level. With all pieces of the puzzle falling into place, he won both World Cup rounds in Maribor, secured Ireland's first-ever rainbow jersey in cycling and only just lost the overall title in the World Cup. We sat down with Oisin to chat about his debut year, what he had to do to get where he is now and what he has planned for the future.
So Oisin, 2020 was quite the year for you. Can you tell us what it was like when you became world champ? Did you get lots of media attention?
At the moment it's calmed down quite a lot, but right after World Champs it was crazy. My Instagram went up by 4000 followers in one day! I was getting so many messages that my phone just froze and turned itself off. It took me a while to realise I was the first Irish mountain biker to put on the rainbow stripes, and that I made history. It was quite surreal, as I aimed to do well but never expected to win.
Let's first go back to the beginning, can you tell us when did you start mountain biking and if you were always into racing? Did you do other sports too?
When I was about 6 years old I started to ride off-road. I usually went out with my dad and some older friends. My dad has always been a big outdoors enthusiast, and he introduced me to riding. At the time he was also setting up Ballyhoura trail centre, the largest trail centre in Ireland, so riding bikes was a big part of our life. In the beginning, when I was younger I was already racing at some local enduro races.
I entered and raced just for fun, but mainly because I wasn't able to race DH just yet. You need to be at least 12 years old for that. But to be honest my dream has always been to become a world champion. I just wasn't able to compete in DH from when I started riding. When I was younger I spent some time playing soccer quite a lot. At some point, I stopped soccer and just went mountain biking all the time.
You've grown up riding in Ireland, but I am sure you went abroad at some point. Do you remember where you went and what it was like? Do you have a favourite spot to ride abroad?
The first time abroad was when I was around 7 years old, on holidays with my family to Les Gets & Morzine, France. I'd say Morzine is my favourite place to ride, I've been going there basically every summer for the last 10 years and I know all the tracks there. But actually, I really like returning home after racing or training camp. The trails here in Ballyhoura are some of the best in Ireland.
There are quite a few fast pro riders in Ireland, Greg Callaghan, Killian Callaghan, Kelan Grant etc. Do you guys meet up and go for rides together?
I've only been out with Greg Callaghan once a while ago, but last year Killian was living close to me and we'd go ride together quite a lot. Although he is training for Enduro and I am fully focussed on downhill, it's good to ride with someone who also wants to be at the top.
It must be good to have someone else around to motivate you to get out on the dark wet mucky days.
It helps but to be honest I don't have much trouble getting out in bad weather. I know it's all worth it once I am standing on the podium.
Your dad plays a big role in your racing career right?
Yes, he does. I do work with Fit4Racing, they supply my training schedules and stuff but my dad oversees my day to day routine. He really is like a second coach telling me what to ride and making sure I'm not overtraining.
Your dad is a big outdoors fan, mountaineer and also into mountain biking, do you also have a passion for climbing and mountaineering and do you guys ride together?
Yeah he has been all over the world climbing and ice climbing, but that is not something I'm doing myself, I just stick to the bikes. Sometimes we do ride together, but most of the time I go out with my friends and he goes out with his. I am planning to get him and his friends out on a ride sometime soon. It's going to be a big one. He knows I have something planned but I'm not sure if he knows how big exactly.
Haha, big surprise missions, always fun. Just make sure to bring some extra trail snacks for him! Do you still remember when you started to become faster than him? Was it a big thing for you?
I suppose it was when we first started having some local enduro races, and I beat him at those. I was around 11 at the time, and I've been faster than him since then. At the time I didn't notice too much, I was just sending it off everything and enjoying myself on the trail. Railing berms and going as fast as I could was all that was on my mind then.
In 2019 your year started off with a wrist injury. How did that affect your season? Have you had other injuries yet and did it keep you off the bike long? How did it affect you mentally being off the bike?
So far I've only had the wrist injury, so I'm lucky with that. It made me miss the first two races, unfortunately, but I was back quite quickly. Mentally I like to think I am quite strong, so being injured didn't cause too many issues on that front. It was mainly the fact that I couldn't put weight on the wrist for a while that held me back. We needed to find different ways to do push-ups for example, and holding on to the handlebars was a challenge in the beginning.
You've been riding and racing for ages but there must have been a point when things got more serious. When did you start really training for competition?
I started training with Fit4Racing 5 years ago, so that's when I started training properly.
So that's when you were 12?!
Yeah.
That's definitely a young to start aiming for the podium. It explains this year's results though. Of course, your training has developed since you started 5 years ago, what does your typical week look like and is there anything you've changed in the way you train for the upcoming year?
Typically I spend 4 to 5 days in the gym. Saturday and Sunday I generally spend out on the enduro bike. Normally I do one big day out, like 60km or more with 2000-2500m of climbing and the other is more skills focussed. Riding sections as fast as I can, staying on the limit and getting used to riding quick and pushing myself. Sometimes if I can find someone to uplift me I do some DH runs, but that's not always the case.
We generally don't make any big changes in training schedules, it's more fine-tuning we do every year. We're in close contact with Jonny from Fit4 Racing, so if it ever happens that I'm feeling too tired I'll ring him up and he'll modify my schedules for the next week. My dad also plays quite a big role in this as he often sees my reaction to the training before I am ready to admit it. I don't like to admit I am tired.
What about daily life, do you still go to school?
I still go to school, but I have a pro status which gives me the opportunity to take fewer classes. It usually is 3 hours of school, and then off to the gym or ride my bike or both. School has always been flexible to allow for my training and racing, but after winning the world title it did get a bit easier. I train every single day except Mondays, depending on what I did on the weekend I might take a day off or go for a quick E-bike ride.
What are your thoughts on the E-Bikes?
I love E-bikes! You can put them in Turbo mode and just blast out a ton of laps without putting in much effort. I'm still fresh for training the next day, but I still get my time in on the bike doing jumps and corners. I also like the weight of the bike, it's great training for the DH bike. As it is so much heavier, I get used to throwing the E-bike around, and once I am on my DH bike it feels light and nimble.
Do you train on the DH bike a lot? What bike do you usually ride when training and do you use a road bike for training?
I ride my YT Capra most of the time, just doing big enduro rides. Where I live there are not many uplifts so the DH bike isn't suited for that. Besides the climbs get me fit. I never ride a road bike. What other people usually do on the road bike, I do on my enduro bike. Just big 80km / 2500m climbing rides for endurance. I don't find it as beneficial for the style of racing that I do. The body position is totally different, the bike handles differently. It's better in my opinion to do big rides on gravel roads on my enduro bike.
When you make that many miles, I'm sure you have had some good adventures…
Ah too many to remember. Generally, when out riding we get lost a lot. I always end up leading the group, and we usually end up at a spot I recognise, but yeah there are plenty of times where we have no clue where we are exactly. Me and Killian also sometimes just pick a mountain we see and ride up it. Even if there are no trails or anything we just mission it to the top and blast down hoping there are no potholes or hidden rocks. But I haven't had any big mechanicals out in the middle of nowhere, I don't break many parts to be honest. I haven't had a flat in over a year on my enduro bike. If I do break something I can fix it myself, but it's usually one of the other lads in the group that is better at mechanics than I am, and he'll fix it for me.
At the moment COVID has a big effect on life in general, does it affect your training at all? Are you still planning training camps?
No, I'm quite lucky, we have our own gym so I can still do my weight training. And for me, it's about 500m up the road to the biggest trail centre in Ireland, with some pretty big hills. It's not quite as high as the alps of course, but definitely, enough to do my training. I think there are some of the best trails I've ridden right on my doorstep. I'm really lucky to have that. With the training camps, it is all a bit uncertain these days but if all goes well I have a training camp at the end of February / beginning of March in the south to do some testing. Then later on we should have another two team camps for testing, training and photos.
You started off with the YT Mob last year, what was it like to join a top team like that.
It's something that as a kid I've seen and dreamed of and it's exactly the way I envisioned. It's amazing to show up and have a mechanic help you out, and have different parts to try out and you can focus 100% on racing. Some people say it adds to the pressure, but I don't feel that personally. I think I deal fairly well with pressure in general and I'm just really happy with the support that YT gives me so all I have to do is race.
For 2021 there are some changes in the YT Mob team, Angel is leaving and Dakotah Norton is new in the team. With riders from Austria, USA and NZ the team is quite international, what are your thoughts on that?
Yeah Angel is leaving which is a shame as we got along really well. I still talk to him quite a bit and I will still go visit him in Spain. It's a shame he is moving to a different team but I think it's good for him. He wanted something fresh, and I think he will still be up there in 2021 with some good results.
With all the different nationalities it's nice as the team gets good coverage around the globe, and it's fun being with people from different cultures. Guy and David were on the team last year already, but Dakotah is new and I'm quite excited to ride on the same team this year. He's a bit older than us and I'm sure he will bring some knowledge and experience to the YT Mob.
When it comes down to race prep, do you have a special routine?
Yes, I always warm up with the same routine. On the rollers and with some other exercises to get my blood flowing. I always have a playlist with some tunes that I listen to at the top. Also, the night before I have some breathing techniques I use to calm myself down and to make sure I have a good night sleep.
What's on the playlist?
Oh, a big mix of stuff to be honest. Some rap, some pop stuff and some stuff to get you in the zone. It constantly changes, to be honest.
You're turning 18 in May, so you have another year in Juniors. What are your goals for 2021 and do you have any long term goals? Would you ever consider doing a different discipline?
Yeah I have another year at the Juniors, and obviously I want to become world champ again. Last year I was so close to getting the World Cup Overall and I lost it all in a silly crash so this year I'm planning on revenge to take that title home this year. It really fired me up losing that title, although I know I had a really good year I still had the feeling my year wasn't that great.
As for long term plans, there is always the goal of becoming World Champ and Overall World Cup winner in the Elites of course. I have no plans to switch disciplines, to be honest. A switch to Enduro for example could maybe happen once I feel I am done with my Downhill career, but it's not at all on my mind now.
Yeah what happened exactly with that crash?
I'm not even 100% sure what happened. I think there was a loose rock that sent me off my line, and I was coming in a bit hot so that didn't help either. Once I was down I tumbled all the way down the hill, so I lost a lot of time just climbing back up again.
Definitely a shame. But it's part of racing in the end. Let's move to some more bike setup stuff. Can you tell me a bit more about the bike you ride and how it's set up?
Well for DH I have the YT Tues and I train a lot on the Capra, both 29-ers. I run Maxxis tires, tubeless but with no inserts. I can be pretty fussy with my setup, especially with my brakes. They need to be just the right angle, pressure point, power etc. I like them really really powerful, like an on-off switch. I'm running the new TRP ones with the 223 rotors front and rear which are really impressive. I switch between brake pads for wet and dry conditions.
My brake lever setup is not too extreme anymore. I used to have them quite horizontal, but I found that my elbows were dropping with that setup, so now they're a bit lower which brings your fingers down and your elbows up which allows me to ride more aggressively. It also creates less pressure on your wrists, which helped me after my wrist injury too.
That's pretty detailed, do you spend a lot of time setting up your bike? What did you play with?
Yeah I'm also quite picky with stuff like tire pressure, or bike noises. It all needs to be perfect. When testing I tried a lot of different handlebar heights and stem lengths to figure out what I liked best. I ended up running slightly narrower handlebars this year, the 770mm wide ones. I found I was holding my grips more to the inside, so it made sense to just shorten the bars. I also moved my brake levers about 1cm towards the edge of the handlebars, giving me a bigger surface to put my fingers on.
When you started out with YT there was a lot to get used to. New geometry, 29'' wheels etc. Can you tell us how you dialled the bike in?
Well, first I started out with setting up the cockpit and suspension to get a basic middle ground setting that I felt comfortable with. It was the first 29-er DH bike I ever rode, so that took a bit of getting used to. The bike rolls crazy quick, especially through rock gardens and brake bumps and stuff. I'm just 5'8'' so not overly tall, so I had to work on my style a bit too because of the tire buzz.
I tend to ride quite far off the back so I hit my ass on the tire quite a lot. I even had a special butt patch sewn on at some point haha. One thing I'd love to try out is a mullet setup. At the moment YT don't make one, but I'm definitely keen to give it a go. After I am done with the basic setup and get a good feel for the bike I start playing around with different stems, bars and suspension settings. Generally, I just change one thing at a time, and then see if it's an improvement or not. It's quite time consuming, but it makes all the difference in the end.
I saw you've also been using the Freelap timing devices. Can you tell us more about that?
Yeah that's been a great addition to the training. It's basically a mobile timing system I can put up anywhere to create timed sections or even whole timed runs. Even if it is just you racing against yourself, it is really good to feel that pressure. It definitely helps once the racing season comes around.
When doing the track walk and race practice, how do you scout for lines and try out different lines?
Yeah I usually make mental notes of a few different lines and try them out in practice. In the tricky sections, I try to have some backup lines, just in case the main line gets blown out or if I can't make the line for some reason while racing. Every track is different but there is always one section that's a tricky bit where you walk back a few times to find the line. And sometimes also during practice, new lines appear, especially last year when there were multiple races on the same track.
Later in the week a lot of lines got totally blown out and the track changed completely from what it looked like on day one. At the end of the practice, if I'm feeling good, I usually do a full race run without stopping or maybe stopping once. It's during qualifications where I have the first quick fast-paced full run, but still keeping it safe of course.
You had some really strong qualification runs this year, what was it like coming out of the quail's with such a good result?
It was something I wasn't really expecting. For years I've been following all the Irish DH racers trying to make it in the World Cups, and a lot of them were struggling to qualify, even though they were pretty fast riders, but for some reason, they were struggling to qualify. I was looking at this two years ago and thinking that it would be tough to even qualify and be part of the race. But yeah coming into the season this year I won several of the qualifications and races, so that gave me a lot of confidence. But before starting the season I wasn't totally convinced I would make it into the finals even, let alone the podium.
This year the format has been of course a bit of a change from the norm with two races at the same venue. What did you think of the format they came up with?
Well I was happy to be able to race at all in 2020, but doing two races at the same venue definitely brought some challenges. The track was the main thing, as it changed so much with so many riders going over it throughout the week. It got really chewed up, the holes that appeared were huge and they almost brought you to a stop. Also doing that many practice runs and race runs in a week was pretty demanding on both bike and body.
For the mechanics, it was a tough one, as they're the ones working until late to make sure everything runs like new. Generally, after each race, we give the bike a complete overhaul, but with this format, there wasn't the time for that in-between races 1 & 2. With the track getting rougher and rougher, we also needed to continuously change the suspension settings to deal with the bigger bumps. It's not something I'd love to see in the future, but of course this year we didn't have many options.
This year you've been racing with all the big names out there, is there anybody you look up to?
I've always looked up to Steve Peat, I even have his book that he wrote. He signed it for me in Fort William years ago. He's probably my biggest idol I would say. Out of the racers that are currently in the World Cup I would say Amaury Pierron. Just because of the raw speed and his all-out style to go for the win.
You've travelled quite a bit already, but Is there a place in the world where you'd still want to race or ride? If you could move anywhere in the world, where would you go?
I'd love to do a World Cup in Les Gets. I've done the Crankworx event there but I'd still like to do a World Cup there at some point. The top section is just so fast and so much fun.
I've never really thought about moving countries really. I think I'd just stay where I am to be honest. I really like where I am, the riding is great and I don't feel I am missing out on anything. Even if you go to the Alps the riding with the lifts will be amazing but then there is so much snowfall in the winter months that it makes riding difficult. We had some snow up here in Ireland the other week, but it wasn't too much. You could still go out and ride and after a day or two most of it already melted. We were still out riding, it was a bit sloppy but still a lot of fun but I wouldn't want to have that all through the winter. I'm pretty happy where I am.
Nice to see you're happy where you are. What about nutrition? Do you follow a special diet or take any supplements?
Yeah I try to eat healthily and stuff but I am not on an extreme diet. Life still needs to be fun too. I do have a nutritionist, and work together with FX Supplements, to make sure I get all the vitamins and minerals I need. Even if I get sick I get some probiotics to help my recovery and to boost my immune system. I also take some protein supplements so my muscles recover and rebuild quicker after gym sessions. But I'm not terribly strict with it, I don't want it to limit my life too much.
If you weren't a bike racer, what would you be doing?
I'd probably be out in a field driving tractors haha. Or maybe an engineer. I don't know to be honest.
What about non-bike life, do you have any friends that don't ride? Are you a party animal in the off-season?
Haha no not really. Partying doesn't interest me much, I have enough fun on the bike. I do have some non-bike riding friends that I see regularly. Although now with homeschooling I see them less often. I think it's important to just unwind a bit and have some good times off the bike too.
When is your first race of the season?
If all goes well it should be in April, so just a few weeks from now. I can't wait to get between the tape again and see where I stand this year.
Amazing, thanks for your time Oisin, I hope all the training and hard work will pay off once again!
You can follow Oisin here: https://www.instagram.com/oisinocallaghandh
You can follow the YT Mob here: https://www.instagram.com/the_yt_mob/
Jarno's life has revolved around two wheels ever since he swung a leg over his first BMX at age 4. After a BMX and DH racing career, he moved on to work for bike shops, distributors and brands before ending up in the editors seat at IMB. Based in the ultimate testing ground in the Swiss mountains, he runs his guiding operation and makes sure every IMB issue is filled with top notch content.
Comments