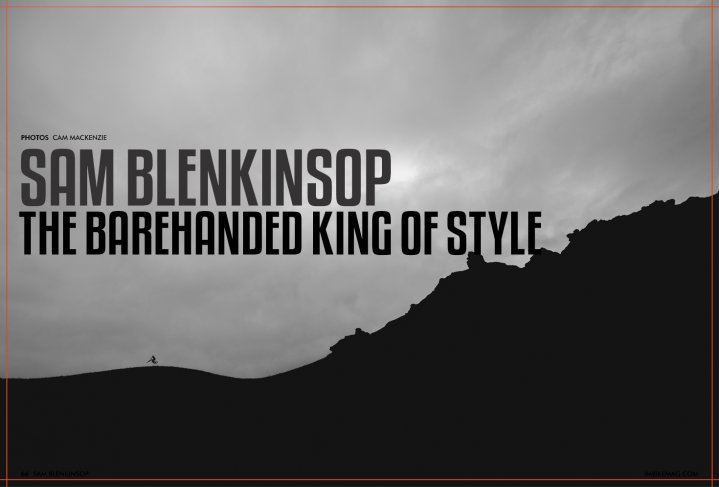 Sam Blenkinsop - The Barehanded King of Style
Issue 66 / Fri 6th Aug, 2021
One of the most stylish veterans on the DH circuit, Kiwi Sam Blenkinsop has been a pro for almost 17 years. We talk about how his life unfolded and what it's like combining fatherhood with a pro racing career.
Sam Blenkinsop has been a household name on the World Cup circuit for years. The Kiwi hailing from Christchurch has had many podium appearances over the years and has a style that can't be replicated. After a very successful off season where he was crowned National Champion once again, we sat down with the Norco Factory rider for a chat.
Hi Sam, thanks for finding the time to do this. How's it going?
Yeah all good, I'm currently stuck in a hotel doing my quarantine period. I got all the time in the world to be honest!
Oh so you went back to New Zealand in between the Les Gets World Cup and Maribor?
Yeah I had to return because my wife is pregnant and due in 3 weeks from now. Don't want to miss that!
Congratulations! That will be your second right?
"Yeah, I already have a baby girl and now we're expecting a boy. I'm super stoked as all I wanted was to have a girl and a boy. Set for life really!
When we found out our first child was a girl I was a little bit disappointed as I always wanted a boy. Once she was born all of that disappeared though and I was just so happy being a dad. I never imagined it would impact me so much.
Before she got born, it was all so unreal because as a guy the 'Dad work' only starts after she's born. But once I held her for the first time it was like "oh shit it's real''. I remember the first night. I had trouble sleeping because I was paranoid something would happen and I wouldn't notice it. Now with the second one this will be a lot easier though. We are a lot more comfortable with it. Kids are so resilient and learn so quickly too, it's amazing."
How does being a dad affect you as a mountain bike pro?
"Oh, one of the hardest things is being away from home now. At the moment I am almost 9 weeks on the road now and although I chat with my little girl every day it's hard to not be there. She grows so quickly and learns so much. I see her talking a lot more and even biking around and stuff and it's hard to miss all that, but that's just the way it is aye.
It would have been great if the family could join on the trip overseas, but with the whole Covid thing and my wife being pregnant it's not really possible. Probably we will do that next year though. Just find a good base in Europe like Finale or something and get a motorhome to travel to all the races as a family. That would be brilliant.
Not just for being together at the races, but I think it would also be important for my kids to travel a lot and see the world."
Yeah you've been racing for almost 17 years now, you must have seen a lot of the world.
"Yes and no. Even though I have been to Europe lots of times, we usually just go to the same places and all we do is ride bikes. Not that there's anything wrong with that, but as I get older I realize there is so much more to see and do and I really want to go out there and do that together with my family.
Even up here in New Zealand, I've been going to all the National races but I think up until recently the average tourist would have seen more from my home country then I did. The past few years I have been travelling both the north and south island and seen all the sights.
We did that last year right after lockdown ended. Just travelled from the North of the Northern Island all the way to the most southern tip of the Southern Island. Normally there are not that many people anyways, but this time it was absolutely deserted. The only people we saw were fishing for white bait, as it was white baiting season.
It's really a dream of mine to be able to do that in Europe sometime too. Just stop at some city and pedal or walk around, see the sights, meet the people and stuff. Before the only thing on my mind was racing and riding, that definitely changed a bit."
That definitely sounds like a nice goal or the 2022 season. This year kicked off pretty sweet for you with another National title and a podium at Crankworx Rotorua. How were you feeling coming into this year's World Cups and how did it go?
Yeah, becoming National champ again was great, and I was feeling great coming to Europe. We have a new bike for this year and I am feeling really good on it, but still coming into the first World Cup I was quite nervous. You still have to make it happen, you know. So at Leogang I was riding a bit tense and stiff and ended up having a crash in my last practice run.
It was a proper crash so I had to go to the hospital and get stitches in my leg and stuff and I thought I broke my hand initially. But it turned out I dislocated my finger. The next day I had trouble holding on to the handlebars, but after two practice runs everything warmed up and it was ok.
Came into qualifying and just aimed at having fun, but when I came into the woods section I had a moment that sent me off the track way down the hill making me lose a lot of time. I ended up not qualifying so had to be a spectator at the finals for a change. Haven't had that happen to me before, so I decided to just try and enjoy the event as a spectator. Headed up the hill with my camera and cheered the guys on. It was fun, but I still prefer to be between the tapes on race day.
Then in Les Gets I qualified 47th so I wasn't caught out too much by the rain in the finals. I got a bit lucky there for a change, although I have been unlucky a bunch of other times too. The course was so nice, I was really having fun and ended up 15th. Pretty stoked on that but I know I can do better though."
Yeah, you up for another podium this year?
"Oh for sure. I am fit and the bike is running sweet. I just need to get my head around the qualifying bit and get to relax a bit more. The thing is, everyone is so fast these days, so one mistake in qualifying and you're out you know. In Les Gets it was me, Dean Lucas and Connor Fearon all right at the tail end, barely passing qualifying and we're all people that on a good day we can podium, that's how tight it is these days.
How stoked are you to see Brook back riding and racing at this level? I know you two ride a lot together and travel a lot together and stuff. It must have been difficult when he had his accident.
Oh definitely, it hit me a lot harder than I thought to be honest. I was with him for quite some time on the hill and it took so long for him to be taken to hospital too. Focussing on the race the day after was one of the toughest things I have done. But Brook is such a champion you know. I went to see him in hospital the next day, and he was so optimistic and already focussed on getting back on the bike.
For him there was no question about it when it came to bouncing back after that crash. And look at him now, basically being back to the old Brook already. If it weren't for the rain in Les Gets he would have had a great shot at the top 10 and in Leogang he crashed in the last corner but was on his way for a great time. So it's clear he still has it in him."
It's definitely great to see him back on track again and doing so well. When you were preparing for this season, did you do anything different then previous years?
"We did a lot of work on bike setup too with the new bike. To be honest if you feel good on the bike, you just get into a flow and you can win races. So bike setup has been really important.
Currently we have two setups we use, one for practice which is a lot softer in the suspension than the race setup. That is just so horribly stiff, it only works if you're going full race speed.
And with the fitness side, we do some fine tuning every year. But after being a pro for such a long time I kind of know what to do. I ride my bike a lot, make sure to get my gym hours in to get the power I need. I really spent a lot of time on my fitness this year, because I always was quite a fit rider. I had the feeling that I never needed to work on that too much. But with racing being so close the last years I felt I needed to focus on that some more."
Does the training ever get boring?
"Hahaha, no not really aye. I mean sometimes when you're out alone riding on the road bike it gets a bit monotonous, but I am just so stoked to be riding bikes for a living that I never get stuck in that feeling for long.
In the beginning of this year I was doing a photoshoot for Earshots and they make headphones that stick to your ears with magnets, so you can use them out on the trail and not worry about losing them. They're nice because they don't completely cover your ear, so you can still hear the bike sounds and cars coming and stuff like that. When taking the pictures I was riding this sweet jump trail and had some good music on and stuff. I was like this is ace, I really should ride with music more.
Besides that I do a lot of cross training in the off season. I do a lot of skiing in winter, love riding my motocross bike and I just got a trials motorbike. I'm really into that now, these bikes are so capable you can just ride up anything. If I want to really relax I head out in my boat to go fishing and I used to surf a lot as well, but now being a dad and all I'm running out of time to do all of these sports."
I can imagine. Kids take up a lot of time!
"Yeah definitely, but I'm loving it. We got this Kids Ride Shotgun child seat, and she's absolutely loving that lately. I never really pushed her onto it, but she's totally into it. I take her out on it almost every day on rides to the park and stuff. But even on the proper trails she's loving it. I can do wheelies and rough sections and everything and she just holds on with the biggest smile on her face. I'm really surprised by that.
She's grown so much so now she has her own little bike too and we go to the pumptrack together. It's crazy how quick she catches on with it and I'm so proud to see her progress, without me really pushing her. I think that's really important as a parent that she feels no pressure from our side."
Definitely. And now you have a boy coming up too so that will be double trouble out on the trails.
"Hahaha yeah maybe aye. Maybe he isn't into bikes at all. Who knows, I might be taking him to ballet lessons in the future haha. Either way I'll be happy though. No matter what he feels like doing, I feel it is really important to support him just like my parents did when I grew up. I mean my dad worked extra shifts and everything just so I could go racing and still there was never any pressure from his side. I really admire that in him and I want to be like that."
Awesome. So what are the plans for the rest of the season?
"Well I will be missing Maribor, as that is right when the baby comes, but I got my flights already sorted to go back to Europe for the World Championships. I love the Val di Sole track and I really want to aim for doing well there. Then after that it's Lenzerheide and straight on to the USA for the season ending. It will be tough because it's another long stint away from home, and then when you're already back in New Zealand you still have to quarantine for another two weeks. But that's just the way it is. It's a small price to pay in the end."
Cool. Well thanks for your time and all the best of luck in the coming weeks!
"Cheers! My pleasure."
Jarno's life has revolved around two wheels ever since he swung a leg over his first BMX at age 4. After a BMX and DH racing career, he moved on to work for bike shops, distributors and brands before ending up in the editors seat at IMB. Based in the ultimate testing ground in the Swiss mountains, he runs his guiding operation and makes sure every IMB issue is filled with top notch content.
Comments