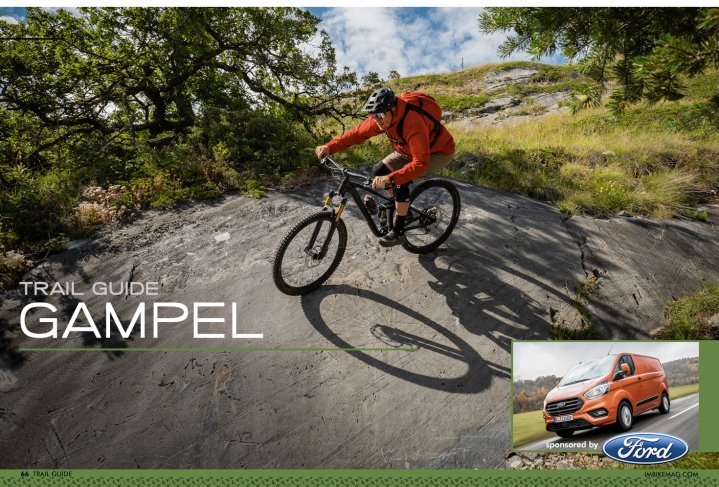 Trailguide - Gampel
Issue 66 / Fri 6th Aug, 2021
Key bike parks like Morzine and Saalbach are getting busier and busier. We head out to the relatively unknown spot of Gampel, where the people speak a strange language and the public transport gives bikers access to dusty singletrack goodness.
Questioning decisions
It's a sunny Sunday, and we are standing in line for the Pleney lift in Morzine as I wonder, what the hell am I doing here?
Against better knowledge, I decided to meet up with some of my mates in Morzine to do some 'sick laps in the park'. We definitely were not alone with this idea judging by the amount of people in line. And by the brake bumps on the trail. To be very honest, I was more interested in seeing my friends than to do as many laps as possible. But the waiting times here were a bit of a bummer.
The bikepark Mecca is known worldwide, and to be fair it does have a crazy amount of terrain accessible for mountain bikers. Countless trails, huge jumps and other features. A great apres bike scene too. How much of a contrast of the place I was just a few days ago.
Say what?
Three days earlier I found myself in a little town called Gampel, in the Rhone valley of Switzerland. While ordering my lunch in the local bakery, I whipped out my best French. The friendly lady handed me a sandwich and replied to me in a language that sounded vaguely familiar. It had some German vibe to it, but was full of French words too. Turns out in this part of Switzerland, Ober Wallis, the language of choice is German. Although you shouldn't call it German. Oberwalliser is the better name for it.
I was caught off guard as just a few kilometers ago at the gas station, French seemed to work just fine. Not a big issue either way. As we didn't plan to do much talking today. We were here to ride a well kept secret called Gampel. A place on the sunny south facing side of the Rhone valley, where a tiny gondola takes you up 900m of vertical to the village of Jeizinen.
Originally a farmers settlement, Jezeinen is now more aimed at tourism. In summer there is great hiking, and wintertime has quite a few people enjoying the ski resort. Although that is a big name for the slope with two drag lifts, two tow ropes and a chairlift. The views however are breathtaking. On a clear day you don't need to try hard to spot iconic peaks like Rothorn, Weisshorn and Matterhorn.
Sardines
In the alps, there are quite a few villages set at around 1500 meters. Many of these originated as farmers settlements from a time where they moved their cattle up and down the mountain according to the season. Each family had a house and stables low in the valley, halfway up the mountain and, for the summer season, up in the high alpine. When transporting cattle became easier with the arrival of modern machinery, the habits changed and farms were sold to permanent residents.
One of the downsides of living high up on the mountain, is the time it takes to reach any type of shop or workplace in the valley. So, the Swiss being Swiss, decided to install various cable carts and gondolas to cut down commuting time. Not knowing this will make many mountain bikers really happy a couple of decades later.
Now when I say gondola, don't let your mind make you believe these are huge 50-90 person structures you see in the ski resorts. Nope. These gondolas are tiny and not built for taking mountain bikes either. Without bikes, you can squeeze in 8-10 individuals plus their groceries, but when insisting on taking your bike with you, it goes down to 6.
As these gondolas are a form of public transportation, they run all year throughout the day at set times. But as relaxed as people are in this part of the world, the lift operator is happy to add in another run for you and your buddies. As long as it doesn't mess with his lunch break too much.
He is quite a friendly fella too, eager to assist you while you try to Tetris yourself into the tight space. The sardines' feeling isn't great, but it only takes you a few minutes to reach the top, and it sure beats climbing up.
Eenie meenie minie moe
When checking out the map there are a legion of trails to choose from. One of the downsides of riding natural stuff like this, is that it's impossible to tell what the trail is like. Sure, the map gives you some information on if it's a jeep track, singletrack and you can judge by the altitude lines how steep it approximately is. But if it's smooth, rocky, rooty or blocky is impossible to tell.
We head off for trail number 1 that starts in the village of Engersch, a few meters west of where you get off the gondola. Finding the entry is not too difficult, and only a few meters in we know we hit the jackpot. A tight singletrack snakes through the fields with boulder strewn sections. Definitely on the tougher side of a warmup trail we razz down letting out squeeks of joy (and the occasional squeak of fear).
On the map, the trail looks fairly straight forward, but once out in 'real life' there are tons of turns and features that are not on the map. Experience tells us not to care too much about the details and just keep smashing down the trail. Once we reach a road we realize it's time to whip out the map again to see where the heck we ended up. We saw quite a few trails fork off left and right, but we stuck to the one that looked most used and ended up exactly where we wanted. Bonus!
From this point there were a few options open. Either continue straight down entering a trail I would refer to as Zig Zag or follow the road a little to the village of Bratsch to enter the 'panorama trail'. As that last one sounds epic we vote for that one.
Panoramic or terrifying?
After a few hit and miss choices in the center of the village, we manage to find the access to the panorama trail. A few rock drops and tight corners take us to one of the few wet spots on the mountain. And boy, were they slippy! Think along the lines of green mossy round rocks. Yum!
After surviving that pinball alley, we make it onto the ridge where this trail gets its name. It is true, there is a stunning panoramic view over the valley. Another appropriate name for this trail would be "don't look right" or "don't bother with a helmet". It's a good thing we don't mind the exposure, because boy, does this trail flow! What an amazing piece of singletrack.
The gradient is perfect, and the radius of the turns really suits bikes. They are tight, but there's no need to hop or lift the front wheel to make it through. Another thing about this trail is that it's constantly changing. You flow from rock garden to corner to drop to hairpin.
When reaching the end of the singletrack, we get spat out on the jeep track leading back to Gampel. I reckon this is the most dangerous bit of trail on the whole mountain. It's wide but rough and easy to get a lot of speed. If however you accidentally hit a boulder in the wrong way, you could be sent off the 200m cliff edge. Leave the phone checking for later I'd say!
How much can you handle?
Back at the lift the clock already strikes midday. The trails here are long, and have the occasional climb thrown in for good measure. Where in places like Les Gets it's all about smashing laps, this place is definitely the spot if you enjoy longer runs. We squeeze in the condola again and head up to a lunch spot with a view.
Bellies full, time to roll! Time to try the opposite side of the hill, rolling through the village we take a hard left towards the Teelwald (for you trail Sherlocks out there). The wide jeep track is an ambush, trying to make you believe this trail is boring. Once you hit the 180 degree turn, you encounter some of the tightest singletracks your bars can handle. You know those bum clenching moments with a fence to the left and a big rock to the right.
Once you pass that section it's time for some next level trials stages. Flowy undulating sections change rapidly into pointy rocked challenges like the ones you see in Kilian Bron and Ludo May videos. Also note, if you see a rope or chain on the side of the trail, it's a good indicator there's a scary section coming up.
Lap two turns into lap three, turns into lap number four. Each trail we pick throws something cool at you. Tiny wooden bridges, 24 epic railing turns in a row, mega steep gullies and one of the sickest natural wallrides you will ever see in your life. It's never ending. And to think we have only done the obvious stuff that is on the map.
After lap four we pedal back on the road towards the gondola. We are all grinning like kids on their birthdays, but when lap 5 comes to mention we all hesitate. Almost too proud to admit we are tired, we discuss which trail we want to repeat. Once at the gondola however the decision is easily made. It's time for a cold beverage and some snacks in the setting sun, because no one wants to make a mistake on these trails.
Swapping park for nature
If you feel like swapping out brake bumps and lift lines for exposed cliff trails and orienteering with a map in hand? There are plenty of options all around. True it is not as easy as following arrows in a bike park, but for the intermediate and advanced rider it's an adventure to be put on the to do list.
Google will show you the way to the town of Gampel, and on this website you will find all the topographic maps you'd need. Lift tickets are 35 CHF for a day and the best tip I can give is avoid the weekend. The lift capacity is very very limited and the trails are worth taking a day off for.

Comments