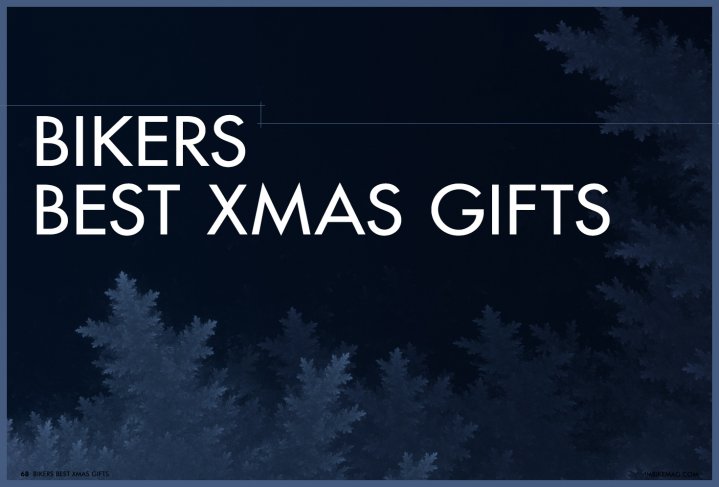 Bikers Best Xmas Gifts
Issue 68 / Fri 17th Dec, 2021
The holiday season is here and that means gifts! What cool stuff is currently out there to make you a happier biker?
With all the new products being released, it's natural that Santa gets a bit overwhelmed with all the options. To help this poor man out a bit, we sat down and made our personal top 10 of the best Christmas gifts for 2021.
1 ION Products - The Shelter Jacket 3L Hybrid unisex
This jacket is the choice for riding in unstable conditions and keeping it cool at the same time. The Hybrid_Console paneling keeps away rain, water as well as the wind. It also allows heat to escape from the jacket's inside. Hybrid venting keeps you fresh and lets moisture out. The result is a light, hybrid tech & stylish mountain bike jacket.
EUR 199 / 159 GBP / 149 USD
https://www.ion-products.com/bike/men/bikewear/outerwear/shelter-jacket-3l-hybrid-unisex-2022/ 
2 Osprey - Talon 6 hip bag
Everyone needs a decent hip bag in their wardrobe, and Osprey has been making quality product for ages now. Their Talon 6 is no exception and it has some cool features too. The Airscape backpanel creates a stable, breathable close to body fit. With it's 6L sizing, it's big enough to fit some spares, snacks, minitool and a windbreaker.
85 EUR / 75 GBP
https://www.ospreyeurope.com/shop/gb_en/osprey-talon-6-2021
3 PNW - Wool Socks
Happy feet, happy life! When riding in cold weather, a pair of comfy socks is a must. Santa will definitely make this rider happy with PNW's woollen socks. The 6 inch cuff and 70% merino wool makes them breathable, odor free and classy all in one small package.
19 EUR / 19 GBP / 20 USD
https://www.pnwcomponents.com/products/wool-pnw-sock?variant=33201234575437#image-0 
4 DHARCO - Gravity Jersey
Aussi clothing brand DHARCO just released their 2022 range, and they have something for everyone. From the more timid Gravity Jersey to the all out tie dye and palm tree designs.
65 EUR / 59 GBP / 73 USD
https://dharco.com/collections/2022/products/mens-gravity-jersey-sundown 
5 Magicshine Light Package deal
Magicshine has been bringing out some real quality products recently, and one of the eye catchers is their Monteer 8000 light. With a whopping 8000 lumens, bar mount and a remote control this is the big daddy of the lights. In this package deal they have combined it with their MJ906 light, which makes the perfect combo for a bar mounted and a helmet mounted light. Ready for some night riding?
475 EUR / 405 GBP / 535 USD
https://magicshine.com/collections/mega-combo/products/monteer-8000s-2-0-rn-3000-mj6275-black-friday-mega-light-combo
6 Muc-Off Christmas MTB Gift Bundle
Give the gift of a clean bike with the Muc-Off Christmas MTB Gift Bundle! Containing a selection of our best-selling mountain bike products – an ideal gift for anyone who likes to shred the gnar and get loose in the loam.
47,95 EUR / 39,99 GBP / 49,99 USD
https://muc-off.com/collections/mtb-christmas-gifts/products/christmas-mtb-gift-bundle?variant=30873381797986 
7 OneUp Components EDC V2 Tool
We all need a multitool and we all leave it in a different bag, pocket or hip bag whenever we go out for a ride. The EDC tool is a great solution, integrating the most important tools in the steerer tube of your bike. Impossible to forget!
59 EUR / 59 GBP / 59,50 USD
https://www.oneupcomponents.com/collections/edc/products/edc-v2-tool 
8 Unior Tools Home Tool Kit
Unior tools has been making quality tools since 1919 and their bike tools can be found in almost every pro mechanics tool box. With this Home Tool Kit, you will have everything you need to service your bike in a waterproof carry case. Of course there is an empty foam tray for you to store your own favorite tools that you want to add. Are you ready for #toolboxwars ?
245 EUR / 209 GBP /275 USD
https://uniortools.com/eng/product/1600HOMEKIT-629069-home-kit#969597
9 EVOC Neo 16 Backpack
With all the hype on carrying hip bags, you might forget how useful a proper backpack is. No need to strappy strap everything to your downtube with the Neo 16 from Evoc. It has plenty of space for spares, jackets, drinks and a big sandwich to keep you going on a proper day out. It's available in two sizes to ensure a perfect fit too!
180 EUR / 153 GBP / 200 USD
https://www.evocsports.com/NEO-16/100116514-S-M
10 AlpKit Aeronaut 2 person tent
The new year is always a time for some new year's resolutions. More adventure is always on our list and with the Alpkit Aeronaut tent you will have the perfect tool for those overnighters. Weighing in at just 1500 grams, it's easy to stuff in your bag. This weight is reached by using inflatable tubes instead of tent poles.
Grab the map and start planning!
232 EUR / 199 GBP / 262 USD
Jarno's life has revolved around two wheels ever since he swung a leg over his first BMX at age 4. After a BMX and DH racing career, he moved on to work for bike shops, distributors and brands before ending up in the editors seat at IMB. Based in the ultimate testing ground in the Swiss mountains, he runs his guiding operation and makes sure every IMB issue is filled with top notch content.
Comments