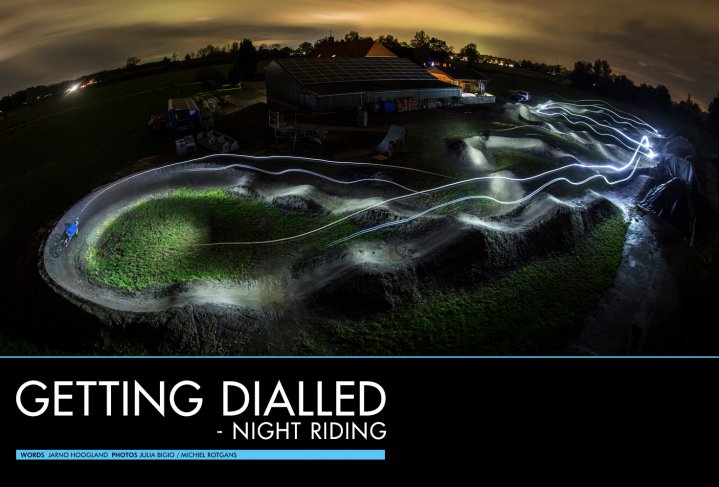 Getting Dialed - Night Biking
Issue 68 / Fri 17th Dec, 2021
Extend the riding season with the power of LED and Li-Ion! Which lights to choose? Where to go? How to stay safe? We'll give you all the information you need.
Once the daylight savings time is in effect, the majority of us riders are left with a considerable reduction in our riding time. After work rides usually get banned until next spring and even our weekend adventures get shorter as in the heart of winter the sun starts setting as early as 4 pm.
Once again technology comes to the rescue in the form of LED lights and Li-Ion batteries. Over the past few years, lights have become smaller, lighter and more affordable making night riding almost a trendy activity. But what equipment do you really need, and how does riding in the night differ from a normal daytime adventure?
Internal or external?
There are tons of brands out there, but you can mainly divide the lights in two systems. The internal battery ones with the battery built into the housing, and the models with the external batteries. Both have their pros and cons.
The internal batteries are easy to mount and with less wires there is less risk of something breaking or wearing out over time. The external battery options usually have more power, and the added advantage of being able to wear just the light on your helmet and have the heavy battery packed in your backpack. Added bonus is you can bring a second battery too if you have one.
Power
When it comes to lighting power, this is expressed in Lumens. More is usually better, but the shape of the beam itself is also crucial. There's no point in having 8000 Lumens if they're all concentrated in one spot. If the beam is too narrow, you miss what's going on further down the trail or directly at your front wheel.
So a nice wide beam will give you the peripheral vision you need to keep speed and exit corners with confidence. For riding off-road, we would opt for at least 1500 Lumens. Anything less will seriously slow you down and make any technical feature very daunting.
1,2,3 ?
Light placement is also something to debate. You can have a bar mounted setup that lights the trail right in front of you but ideally you want to add a helmet mounted light as well. That way you also have a beam pointing directly where you are looking at. Also, when things go south and you do end up crashing the chance you're left totally in the dark is a lot smaller.
This brings us to the next thing; a backup light. I know most cellphones have a built-in flashlight, but ideally you want to spare that battery for emergency use. So make sure you have a spare flashlight for emergency use in your pocket or backpack, just in case.
How to stay safe
Heading out into the darkness brings quite a few extra risks, so there are a couple of things to consider before venturing out. First of all, never ever do night rides alone. The risk of crashing is definitely higher compared to riding in the daytime and you don't want to be injured in the dark waiting for hypothermia to set in.
Speaking of hypothermia, night time is always colder so layer up. Don't go full enduro with just a tiny hip pack either. Bring a backpack with an extra jacket, first aid kit and materials to start a fire. The emergency blanket also should not be left at home and I always like to bring some tea in a thermos flask.
Trail choice is also a big factor in staying safe. The beam might shine a bright light into the forest, but things like logs, drops and jumps will have a dark shadow on the backside of them making it difficult to judge height, distance and slope angle. Go for easy trails you already know and are comfortable riding on in the daylight and make sure everyone in your group is on the same level too!
Put a "Late back" procedure in place. This means you tell someone where you are going, who is coming with and what time you will be back. Mention a cut off time for that person to alert the mountain rescue/emergency services if you haven't returned or called them in time. This way, even if you crash or are in trouble in a place with no mobile phone reception, you are sure there will be help coming. Just make sure you keep this person posted if your plans change, you don't want to have a rescue team out searching for you if you accidentally have an extra pint or two in the pub!
Out on the trail
So you're all geared up, picked the right friends and are on the right trail. What else is there to consider? On the climbs, it makes sense to power down your lights. This way you will use minimum battery on the longest part of the ride, and you'll be able to have the lights on full blast when your speed increases.
Razzing down in the dark, it's a smart move to keep a little more distance than normal too. That way you avoid a pile up if anyone crashes. Also when you stop to chat to people make sure to not blast them with the 8000 Lumens straight in their eyes. Same thing goes with other traffic. Shining a beam of bright light into the eyes of someone driving a car or motorcycle can cause a horrible situation.
Another thing to think about is wildlife. The nighttime is when the beasties come out, so don't get spooked if you have a bunch of eyes staring at you in the middle of the forest. Make sure you are not in a nature reserve, and that you are actually allowed to be in that place after sunset. Spooking animals can result in them running off onto the road with all consequences.
Just as in the daytime, the best rides end at a good pub. Find one near the trail you want to ride and see if they have a nice log fire to warm up next to.
So now you're all set!
Get dialed, stay safe and have fun out there!
Jarno's life has revolved around two wheels ever since he swung a leg over his first BMX at age 4. After a BMX and DH racing career, he moved on to work for bike shops, distributors and brands before ending up in the editors seat at IMB. Based in the ultimate testing ground in the Swiss mountains, he runs his guiding operation and makes sure every IMB issue is filled with top notch content.
Comments