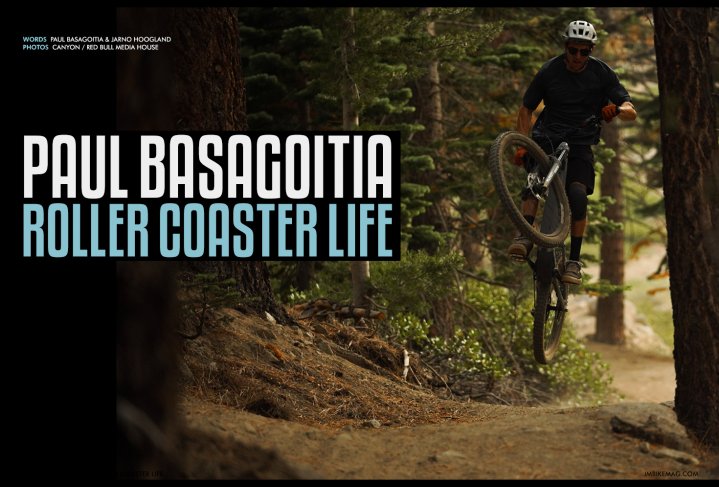 Paul Basagoitia
Issue 68 / Fri 17th Dec, 2021
Slopestyle legend Paul has been through a lot. From having the worst crash of his life to walking the red carpet at the Emmy awards, Paul talks about how a positive attitude helped him reach his goals and what E-MTB's meant for his return to the trails.
For those that don't know Paul Basagoitia, let me give you a quick introduction. The mountain bike world first got to know him in 2004, where he won the Crankworx slopestyle competition on a borrowed bike ( from Cam Zink).
From that moment on, he was on fire, winning basically every slopestyle contest he entered. He signed a deal with Kona bikes, got his own signature frame and kept pushing himself and the sport to higher and higher levels.
Fast forward to Red Bull Rampage in 2015, where he was the favourite for the top spot on the podium. Things went completely different however. He crashed during his run, and he immediately knew things were very very wrong. He couldn't move his legs, and was taken to hospital.
A spinal cord injury is any person's worst dream come true, but Paul decided it was just another opportunity to work on himself. He went into rehab, working hard every single day on regaining control over his body and filmed the process every single day.
At one point, Redbull stepped in and suggested turning the story into a documentary to give people some insight into what it's like to have a spinal cord injury and what rehab actually looks like.
Although he never made a full recovery, Paul is back on the bike and we sat down with him to chat about how he experienced the past 6 years.
Paul! Thanks for taking the time to chat with me. Let's start at the beginning, you started out as a BMX kid before moving to mountain bikes, can you tell me how that all started?
Well I started racing BMX when I was 6. I competed every weekend, all around the US basically. I ended up becoming national champion of my age group when I was 8 years old.
I actually was a team mate with BMX legend TJ Lavin at one point, and he started moving away from racing and more towards dirt jumping. I always looked up to him and of course I was like, man I want to ride dirt jumps too.
I continued racing until I was about 13, then my parents got divorced. They couldn't take me to the races anymore, so I got a dirt jump bike and started cruising the streets and riding the local dirt jumps learning tricks and backflips and what not.
When I was about 16 I met Cam Zink, who was riding his mountain bike at the dirt jumps. We would ride together tons, and that's basically how my whole transition towards mountain biking started. At some point he said, hey I'm going to lend you my mountain bike, we're going to enter this competition called Crankworx and I'm pretty confident you're gonna do well.
Well that was 2004 and we all know how that went. Did you ever feel like returning back to racing BMX again though?
No not really, after racing so many years week in week out I really got burned out a bit. Every weekend you'd see the same faces and it was hard to progress after such a long time. The moment I started riding mountain bikes I knew I was never really going to return to BMX ever again.
With the BMX you are really kind of limited to the dirt jumps or the race track, and with my mountain bike I could go anywhere really. I could ride downhill, dirt jumps, trails, pump track you name it. Living in Lake Tahoe was amazing because I had all this terrain right on my doorstep, so the move to MTB really made sense.
Cam Zink was living right down the road, so we would ride together loads, pushing each other to progress every single day. We really switched it up from slopestyle to downhill to dirt jumps to slalom so we became really all round riders too.
Did you ever get bored from riding MTB?
No not really, we were constantly doing something new. Well, actually, to be honest I have to take that back. At some point it started to feel like BMX racing. It became more and more repetitive, courses were not progressing so yeah I did get burned out at some point from the whole slopestyle thing.
Which was weird because I was really on my peak, winning contests, having great sponsorship deals and making good money and all. But it really reminded me of the BMX racing days.
I really believe that the most scary thing for humans is change, but it is also really necessary in order to live a happy and fulfilling life. Without change without those challenges you just get stuck in this safe but boring place.
I mean, I've recently moved to California but before that, I never moved outside of a 30 mile radius of where I grew up. I was really stuck in this bubble although I travelled the world. But living somewhere is a totally different experience.
This year I really went outside of my comfort zone, meeting new people, getting to know a new area, different culture and all and it really enabled me to grow as a human being.
So you moved to Cali for the winter or you plan to stay there longer? Why did you decide to move that direction?
Well winter was really always a depressing time for me. It was cold, snowy, dark and I couldn't ride my bike and all. Also my body really does not like the cold, I still have a lot of hardware in my back when it gets cold outside my body really starts to ache.
Earlier this year I moved to Scottsdale Arizona, and it was great for winter and spring to go ride, but during the summer temperatures shot up to like 120 degrees (48 degrees Celsius). So yeah it became the opposite, it was just too hot for me to leave the house even.
So I moved out from there, and basically travelled around for 3 months. I was super busy with filming projects and I had a lot of speaking engagements and stuff, and when autumn came around I was planning to go back to Scottsdale. But I really got the feeling that this just wasn't the place for me so instead I decided to move to Santa Monica and I'm loving it. The beach is right by my house, Canyon HQ and Shimano are just down the road. There's a ton of trails, a big bike scene and the weather is perfect too.
Yeah I think the key to a happy life is good trails and a good bike scene on your doorstep! So you're also working for Ride Concepts as their athlete manager. Can you tell us a little bit about how that came about?
Yeah so with Ride Concepts I was involved from the very early beginning. Brandon the founder got in touch with me and he said "Hey I'm going to start this shoe company, and I need some help building a team and with getting this brand off the ground, would you be interested in helping me out?" and I was like sure I'd love to.
We were from the same town and he used to work for Airwalk, Bern helmets and all these cool brands that I looked up to as a kid so before I knew it I was on the phone to the Athertons, Kyle Strait and all these other athletes to get them to ride for us. All of a sudden we had a team of riders, a shoe line with a bunch of cool models and distributors in like 20 different countries around the globe.
Orders started to flow in, and to get all these orders produced we needed to raise some capital. At that point I knew this brand was going to be really successful, and I decided to invest some money and become a partner.
So what started out as just helping out, now turned out into me being their global athlete manager, handling media production, moving images and also part owner of the brand. I'm really stoked to be involved with all of this and it is really humbling to see we're available in 57 countries and doing really well.
So you're in charge of their media creation and video production. Where did you pick up the skills for that, did you take a course or went to school for that?
Well to be honest, I learned so much from the work we did on the documentary on my injury and recovery "Any one of us". We hired a director from Hollywood for that and basically we lived together for almost three years.
He was shadowing me every day, filming and documenting my rehab, but at the same time I was observing how he was working and really learning loads of stuff about storytelling and video creation. So yeah right now I am really turning that experience into the "Ride Everyday" YouTube series, telling other people's stories instead of just my own.
What made you think about turning your rehab into a documentary and can you tell us about how you ended up getting a Hollywood director involved?
Oh that chapter in life is just totally crazy. I still can't believe what happened there. So I crashed at Rampage, fractured my spine and when I woke up from the surgery the doctors were going to tell me I was going to stay in hospital for three months. I was like, what the hell am I going to do here for three whole months?!
A week before the accident, I actually bought a brand new high end camera and as I was stuck in the ICU I thought there was no better time to figure out how to operate that thing. So I got the camera, pointed it at my face and started talking. Just documenting my day to day situation and my main reason for doing this was to track my progression.
I really wanted to be able to see myself improving. When you're living this injury, it is really hard to notice your own progression unless you see it on a screen. It was kind of like when you are learning new tricks on a bike. Filming, analyzing and tracking that progression. I was really using that mentality in tracking my progress with my injury.
About a month into this, I figured out there were absolutely no videos out there about people with spinal cord injuries and what rehab was like and everything. So I got really motivated to change that. Because even the people that know people with spinal cord injuries have no idea on what it is really like.
I mean I knew Tarek Rasouli for 16 years, and I had no idea what he had to go through. I remember calling him and talking about the stuff I was living at the time, and he was like 'yeah that's normal, I lived that every day'.
So, one day Scotty from Red Bull came to visit me in hospital and saw that I was filming and he asked me what I was doing with the footage. I told him I didn't know yet, maybe I would just post it on YouTube or something like that.
Three months go by, and I was able to move out of the hospital and go back home and at some point Scotty comes to visit me at my home, and sees I am still filming. And he asked me how I would feel if Red Bull came on board and helped me tell my story. They would provide all the tools needed, and I would get full creative control over the project.
I said I'd love to make that happen and it would be great if they could help me bring this stuff more to the awareness of people. So he pitched it with the big boss of Red Bull, and he got the green light the same day. It was the fastest approval for a project ever.
Next thing you know I was interviewing people, flying to LA to meet with all these film directors and sound guys and all and yeah, we created a killer team. They actually moved in with me to be able to document it all and here we are filming every day on my rehab documenting the work I'm putting in, documenting me visiting doctors overseas to try out all these experimental treatments and everything.
It must have been quite an experience, going through such an intense phase of your life surrounded by people you barely know that are filming your every move.
Oh it was so tough, when you're living your absolute worst nightmare and you have a film crew documenting every single detail of it. You can't even imagine. Looking back, I can't even believe myself that I was able to handle all of that. But to be honest what kept me motivated to continue was the knowledge that I would not be the last person to live through this, and that by making this movie I might be able to make someone else's journey easier to deal with.
Knowing that I was creating something that will last a lifetime and that could help the 300.000 people that suffer a spinal cord injury every year was worth all the struggle to deal with the camera crew. When we finished the film the real roller coaster started.
We started showing it at all the film festivals and we took it to SXSW. Suddenly I was sharing the red carpet with people like Matthew McConaughtey, Snoop Dogg. I mean this was totally crazy life right now. Then at one of the film festivals, the people from HBO were there.
Just remember, a few years back I was still thinking about winning Rampage when I hit the ground and my worst nightmare turned into reality and now I am walking red carpets and getting letters from HBO that they want to buy the rights to the movie. It was so extreme I really couldn't get my mind around it all.
Wow, that must have been such a crazy roller coaster.
Yeah, it was insane. And it's not even finished either. When the HBO legal team and the Red Bull legal team went into talks, I really didn't think they would be able to strike a deal on this. But fast forward a few weeks later I get a call from Red Bull and they tell me 'Hey, we signed our first HBO deal because of you and it's going on the platform next week". We were so stoked!
We did a big Hollywood premiere the day before it went live, and next thing you know it was one of the best watched documentaries on the platform. If that wasn't crazy enough, we ended up getting nominated for two Emmy awards and ended up winning an Emmy for outstanding editing and best documentary of the year.
Just let that sink in for a second. In a time frame of like 4 years I went from being on the top of my game in slopestyle to being paralized in hospital, to fighting my way back on my feet in front of a camera crew, touring film festivals, getting signed to HBO to ending up at the Emmys receiving a trophy to take home.
This thing was so much more powerful and has so much more influence in the world than winning Rampage could've ever done for me. As crazy as it may sound, I got to sleep happy knowing that although I never managed to win Rampage, I managed to do so much more outside the bike world. To this day I still receive messages from strangers saying "Hey your story saved my life" and that stuff gives me goosebumps every time I think about it.
That's definitely inspirational. It's crazy isn't it how something that any logical thinking person would label as a negative experience, can bring so much positivity.
How are you doing now, are there still things you struggle with?
Oh yeah I am far from fully recovered. I still can't feel my foot, I can't move my toes and on the right side of my body I can't move anything from below my knees. Walking is actually quite difficult for me and when I go outside I always use a cane as support. But it's all good, because I have enough muscle groups functioning to ride a bike again!
If I were a snowboarder, skateboarder or runner or whatever I would be in massive trouble, but for where I am now with the muscle groups that are working and me being able to ride my bike again that's just insane. I realize how insanely lucky I am with that.
Also, when you think of when E-bikes started coming to the market, that was in the exact same year as when I got injured. Really makes me think there was someone out there looking out for me, like 'OK Paul, we got you on this, we'll get you back on a bike'.
That timing is definitely crazy. When did you first come across E-bikes and when did you give them a go?
Well it was late 2015 / early 2016 that I received one from my sponsor, but the thing was I didn't want to touch it. I was actually mad they sent one to me, because I was like why would I want to ride an adaptive bike. At that point I was still thinking that I would get back to the Paul I used to be, enter Rampage again and continue where I left.
So that bike just sat in the box for a few months. In the meantime my recovery was slowing down a bit, I wasn't making as much progress anymore. I did manage to get on my trail bike again and I just started riding every day, thinking that I would build muscle over time.
Thing was, it really didn't go like I envisioned. I could ride on the flat, but I couldn't ride anything with a slope. So even pedalling back up the driveway to my house wasn't possible.
I mean I was really happy I was able to ride a bike, but not being able to go to the trail with my friends and do a proper day of trail riding really sucked.
My friends weren't going to ride bikes on the road with me, and I didn't want them to need to change the route because I was joining a ride out. So eventually, I took the bike out of the box, built it up and gave the E-bike a try.
What was that like?
Probably the best feeling of my entire career. Just being able to ride up my driveway made me feel ecstatic, as I realized this E-bike thing will change absolutely everything. I knew immediately that with this technology helping me, I would be able to go ride singletrack and ride with my friends and everything.
So yeah when I did my first rides with Cam, on the trails we grew up on that was magic. It was so good to be able to feel this freedom again and to be able to call my friends to go riding without having to pick an easy route because I am coming along.
Some people are very opinionated on E-bikes, did you ever have any negative comments or bad experiences?
Yeah I've had a few times that people feel the need to yell stuff like 'cheater' when I ride on the trails. One time there was this guy who was giving me a hard time about me riding my E-bike, and he later found out who I was and why I was riding an E-MTB. He ended up sending an apology letter to me and everything.
It actually happens more often than you'd think, which I think is really weird when you think about how much joy these E-bikes bring to people's lives. This technology really saved my life and enabled me to stay a sane person, you know?
Yeah is there anything you'd like to say to the 'haters' out there?
Well I'd really like to say please don't judge a book by its cover. You can impossibly know what the person that you meet on the trail has going on. Not all disabilities can be seen from the outside and for that person to be able to get out of his or her house can be a huge achievement and literally be the life saving activity they need.
In the end we are all out there for the same thing and that is to have fun on a bike, and there is absolutely no need to hate on the type of bike they're riding. More love, less judgement!
What bike are you riding at the moment? What do you think about the current E-bike technology and what do you think we'll see in the upcoming years?
Currently I am on a Canyon Spectral:ON with the Shimano EP8 motor and Suntour suspension. I've tuned it a bit with some Spank components too. I don't want this to sound cliche but this truly is the best bike I have ever ridden. This is the first time I am riding with a mullet setup, and I am really loving the way it handles. It's easier for me to turn and more playful on the trail that really suits my riding style.
I love how they've developed in the past few years. The integration is getting cleaner, batteries are getting more powerful and the overall weight of the bikes is going down too.
I really think that with the big car companies moving into the electric side of transportation, we will see a big leap in technology coming up.
One thing I noticed is that the bike as a whole got better. Drivetrains are built more durable, wheels and tires are more capable of handling the job and also on the suspension side we're seeing better shock tunes to deal with the different demands of an E-MTB. Really excited about what the future holds for this though.
Talking about the future, what do you have planned for the future?
Well, currently I have a lot of speaking engagements that I really enjoy. The audiences are really varied from investment banks, governmental agencies to schools. I just seem to get the most random phone calls for this and I'm loving it. Generally I just speak about adversity, how I dealt with it and how your own perception is key to dealing with life and I hope to bring across that you can deal with anything in life with the right mindset.
And besides that I will be busy with Ride Concepts, doing the video series and managing my athletes and stuff. It feels great to be part of that side of mountain biking again too, albeit in a different way. I have a bunch of experience and I'm really stoked that I can pass that on to others.
Other than that I just want to ride my bike as much as I can and keep progressing with that. I'm not entering Rampage anytime soon, but I manage to do some jumps again and pick up some speed on the descents too.
Yeah you're styling it up again I've seen!
Cool, thank you so much for your time Paul. It was great to hear your story and I am sure everyone is excited to see what comes next!
Jarno's life has revolved around two wheels ever since he swung a leg over his first BMX at age 4. After a BMX and DH racing career, he moved on to work for bike shops, distributors and brands before ending up in the editors seat at IMB. Based in the ultimate testing ground in the Swiss mountains, he runs his guiding operation and makes sure every IMB issue is filled with top notch content.
Comments