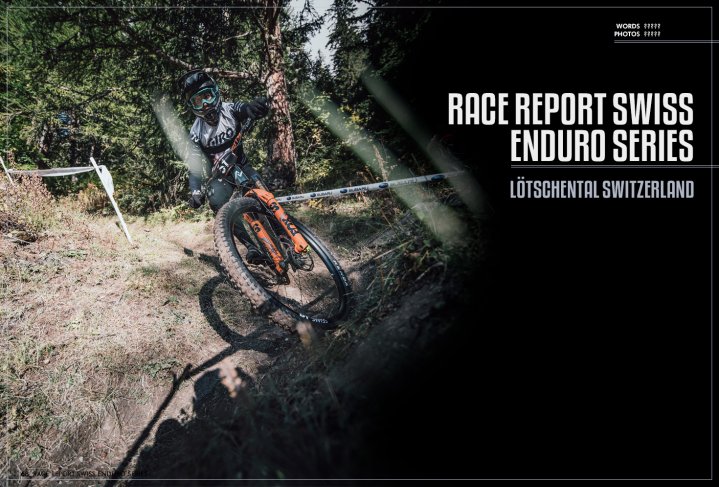 Swiss Enduro Series Loetschental
Issue 68 / Fri 17th Dec, 2021
We head out to unknown valleys to race a round of the Swiss Enduro Series. Find out if we survived!
It's an early Saturday morning in October as I load up the last things in the campervan. The weather forecast predicts blue skies, a chilly 9 degrees and no sign of rain. In a flash of clarity I grab my full face helmet, although I haven't done a proper race in years, I'd imagine this would be mandatory when hurling yourself down a mountain, battling against the clock.
The past few years, I shied away from racing. There were the usual excuses, no time to train, I don't care about the results, I'd rather ride with a small group of friends instead. So why the change of mind? First of all, the Swiss Lötschental is an absolutely stunning location. If that is not enough of a reason, there is also the bonus of getting to know new trails and people.
The Loetschental is a side branch of the Rhone valley, located in Southern Switzerland. Think typical ancient wooden chalets, cows with huge bells around their necks and glaciers in the distance make up the stage for this round of the Swiss Enduro Series, which is also the battle for the National title.
Practice
After signing up, it was time for practice. Snacks in the pack, up with the gondola and straight to the start of SP1. I don't mind a good climb, but it's definitely nice to zoom up the first 600m of vert in a lift.
From the top of the gondola, it was still quite a journey to the start of SP1. Climbing up on the ski pistes, and then traversing west on a high alpine hike trail towards the 'Kummenalp' pasture. The views are absolutely breathtaking, and so is the undulating terrain to be honest. Short bursts of singletrack climbing at 2100m altitude really suck energy. To complete the package, there is a short hike-a-bike before you reach the descent towards stage 1.
When reaching what feels like the middle of nowhere, I spot the marshalls and start gate of the first timed section. After a friendly chat I slip on my goggles and drop in between the tiny mountain huts that are perched on the side of the slope. Time to find out what the organizers have in store for us.
A few meters in and it's already impossible to wipe the grin off my face. Oh my, what a stunner this is. The tight trail flows along the contours of the pasture throwing a perfect mix of corners, rocks and hairpins at you. I spot a ton of highlines, and do my best to memorize them all for the timed run of Sunday.
Dropping in the forest, the goodness keeps on coming. Loamy sections followed by more loamy sections as you shoot down towards the valley. Halfway the trail spits you out on a gravel road, before shooting you back into the woods at mach 1. I barely make the hairpin corner that follows.
The forest turns into some grassy corners before shooting onto an asphalt road. When I see the marshalls, I think that this must be the finish of stage 1. Nope. Basically I'm just halfway.
As the arm pump sets in, I give up on remembering the trail and just focus on getting down in one piece.
After reaching the finish, the trail leads you to the idyllic village of Ferden. A short pedal back towards the gondola station and we're off to stage 2. Coming through the event village there is a nice buzz already. The beer tap is being tested by the villagers and the other riders attack the buffet with snacks, fruits and nuts to refuel.
Reaching stage 2 was a lot easier and only involved a short asphalt climb before dropping in. When catching my breath at the top I run into Matt, a Canadian who decided to spend some time in Europe and Alistair, a Valais local with Scottish roots. We chat away a bit about the differences of riding on this side of the globe, and how weird it is to talk to the other riders. Not because they're not friendly, but more because this country has three official languages. You never know who speaks what!
The waiting line disappeared and it's our turn to drop into stage 2. After all the singletrack goodness, stage two was a totally different beast. Berms, rocks and jumps made for a bikeparky feel to it all. The dusty track was slippery as hell, and even when taking things easy I had a few hair-raising moments as I tried to stay in Alistair and Matt's rear wheel.
Halfway through the stage, it was time for a workout. A nice gradient pointing in the wrong direction provided you with a climb to set legs and lungs on fire. The gradient progressively steepens too, before dropping in another flow trail section. The worst bit however, was the flat section right after.
I knew I was going to lose a lot of time on this bit, as I rarely spent time in the 190bpm range this year. Not that I have any chance of reaching a podium spot, but hey, you can always try.
The final section of the stage thankfully pointed in the right direction again; down.
To reach stage three we were sent into the same direction as for stage one. Great, as this meant we could do that epic traverse again, albeit with the hike-a-bike. It was definitely quarter past burrito, so I paused at one of the viewpoints and took in some nutrients and views.
Stage three turned out to be a proper challenge for all riders. You know, one of those technical rooty death trails where you scare yourself on numerous occasions. Besides the huge tree roots and slippy rocks, the main challenge with this trail was that it was 99% in the shade, right next to a stream. So while the rest of the stages were dusty, this one had a decent amount of mud on it, turning the 'OMG' levels up a notch.
Here, line choice was key, and I stopped several times to see what line would be quickest. I spotted all of them, but deemed 90% of them way too sketchy to give them a try in practice. Let alone in my race run with 190 bpm. Luckily I wasn't the only one struggling finding the line. I saw many riders exit the track, miss a corner or just give up and walk some sections.
Although tough, I really enjoyed this stage. It's one big puzzle, and when you manage to put the lines together it can actually flow. And these were the Swiss Championships after all. It should be a challenge for even the top riders.
Some more snacks awaited me in the event village, before heading out to the final stage of the day. The start was just a short pedal from the gondola station. The organizers sent us up with the gondola 4 times, but our Polar Grit X told us we climbed a good 900m of vertical today.
While checking the trail from the start gate, I see the reigning Swiss champ Gusti Wildhaber roll up. Perfect opportunity for me to scoop some lines! As he effortlessly whizzes past, he does point me in the right direction on how to deal with the first rock slab right hander. He quickly disappears out of sight though, so for the rest of the stage I'm on my own.
Rolling down this trail, it soon becomes clear that there is not a lot of line choice, and the best way to be fast here is to find flow where it is not. Awkward and tight corners followed by big chunky rocks and loam. I walk back a few sections and struggle to make up my mind if I like this stage, or the first one best.
Halfway through I really start to get in the flow, and pick up more and more speed. Corners are railed and I magically hit all the highlines, sending me into the following sections with speed. On one of these sections, I suddenly see a crowd of riders stand around. Now no matter how quick you think, by the time you realize that the crowd is there to check out something steep and tech, you're already in the steep-tech.
With the trail dropping below me, I see more and more roots and less and less trail appear in front of me. "Best hang on for the ride" is all I can think of, as I huck down the section, dropping to flat on the gravel road below. I hear some sounds of approval coming from the crowd, but I am fully aware that my recently acquired knowledge of this section will only slow me down in my race run.
The final bit of stage 4 convinces me; this is definitely the best trail of the day. It has everything from rockslabs to loam, via rooty hucks to flat into high speed corners in between the cattle. No climbing either!
With practice done, I roll into the event village. The snack buffet is being murdered by the hungry riders. The sun is slowly setting, but the temperatures are still very very pleasant, especially for early October. Alistair and Matt ride past, and invite me over for some beers at their camper. Would be rude to say no to that!
Race day
After a night of watching GoPro footage and drinking the odd beer or two (three), it's time to get ready for the race. I have no illusions that I will make it anywhere near the podium today, but still I feel this tension. How much will I suck? Do I remember all the good lines? Where was that techy death drop again? Will I survive stage three without hugging a tree?
I tell myself, there's only one way to find out!
My start times are only a few minutes apart from Alistairs, so we ended up riding to stage 1 together. It's definitely colder than yesterday, and even with the sun out it's very very chilly. Waiting at the start with this slight breeze made me regret my clothing choices, but as I went #fullenduro with just a hip pack and a windbreaker, I had to rely on my dance moves to stay warm.
Druu, zwaaa, aajnz, GO! (The Swiss German language is something special) the starter shouts, and I'm off. I do my best to pick the best lines I can remember and surprise myself with decent line choices and well timed nose wheelie turns. Looks like I still got it!
Halfway however I realize that skills are useless if you are too tired to use them. After two close calls I tell myself: "rubber side down!" I slow down the pace a bit, and focus on line choice, flow and keeping momentum. I see the "100m to Finish" sign just as my arm pump starts to appear, what a relief! After crossing the finish line, Alistair and I discuss our near misses and good moves. Besides the actual act of riding, sharing the stoke is the best thing about racing.
Another gondola ride and pedal push, and it's time for stage two; the lung and leg burner! We set off with the aim to do the best we can, without passing out on the pedaly bits.
The top bit flows amazing, I'm hitting all my lines and feel fast. Emphasis on feel. Because reality caught up with me as I hit the climb, in the shape of the Junior rider that started 30 seconds behind me.
By the time I am at the top and drop into the trail, I can already see him absolutely charging up the climb. I do my best to keep momentum on the flat pedally singletrack, checking every now and then where he's at. Just before the trail starts to drop down the steeps again I decide to pull over to the side and let him pass, as I know that on the following section of trail passing is impossible. I am sure he cares more about his race result than I do about mine!
I pass the finish line with a heart rate higher than feels healthy. At least no big mistakes on this run. As I pedal towards the lift station I tell myself I should really do more high intensity riding to prepare for stuff like this (or in case I am chased by wildlife).
When I reached stage three, a light breeze started to pick up making all the riders turn a light blue color. As the start is totally in the shade, there are even some snow and ice patches to be found. I put on all the layers I have stuffed in my hip bag and try to stay out of the wind.
The starter calls out my number, I'm up. I say my prayers and drop into the grassy top section, pedaling as hard as I can to warm up. The wet rocks are super slippy, and I just focus on not crashing while keeping speed. Some of the sections are not as hard as I recall them from yesterday's practice run, but I am far from kicking ass on this special.
Reaching the lower section, I mess up a corner in a really rooty section to the luck of the rider behind me. While I am making my way back to the trail, he can safely go past and be at least 30 seconds quicker than me.
The entire run my hands are absolutely freezing, and at times I have no clue how hard I am pulling on the brakes (or if my finger is even on the lever or not!). Somehow I make it down in one piece, I definitely would've preferred an extra practice run or two on this one, and winter gloves.
Transferring to the final stage of the day, my legs start to feel heavy. The amount of climbing per day is not too much (about 900m vertical) but combined with the 110% sprints in the stages, it starts affecting my energy levels. Good thing is the transfer from the gondola is only short.
Final run of the day, and I am a little sad it's already over. I should really look into entering a multi day enduro's for next year. As I make my way down, I notice that my mind keeps drifting to two tricky sections of the trail. One being an almost undoable corner, the other being the rooty steep drop to flat I hucked during practice. Sometimes it is better to not know where you are going.
Again I play things safe, riding down the features at half the speed I know I am capable of. Then again, what will the difference be? 160th instead of 150th? The final section really feels like a race. There's even a crowd cheering everyone on for the last few meters!
Re match?
Back at the event village there is a lively vibe. Happy faces, tired faces and everything in between celebrating their survival with a beer in hand. I hand in my timing chip and immediately get my stage results in my hands. 123rd overall and 61st in the Open Men category. Not bad.
One thing has to be said. The organization definitely did an amazing job. Marshalls on all important places, timed runs well taped off and everything taken care of. No extreme waiting times at the start either, a big bonus at enduro races. The stages itself were incredibly varied and you truly had to be a strong allrounder to take home the win on this event.
To be honest, when it comes to enduro, I prefer blind racing. It is nice to know where you are going, and with one practice run you are for sure faster than when riding blind. One run is not enough to get all your lines dialed but definitely enough to make you remember the scary bits to then hit them too slow in your race run.
All in all, I had a smashing weekend. Met some great people, rode amazing trails and lived to tell. If you ever want to ride these trails, the gondola is open for bikers June - October and you can get a map with MTB routes at the gondola station.
Want to enter a Swiss Enduro Series yourself? Check out their website: https://www.swissenduro.ch/ The 2022 calendar is online and keep an eye out on their social platforms for registration details.

Comments