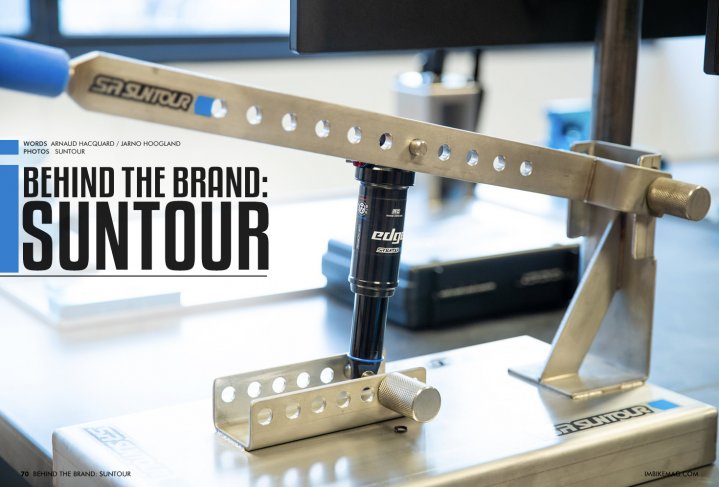 Behind the Brand: Suntour
Issue 70 / Mon 23rd May, 2022
Suntour is a household name in the suspension business that just opened a new training facility in Europe. We went for a visit.
SR-Suntour has been around for a very very long time. Starting out as early as 1912, as the Maeda Ironworks Company, they were manufacturing sprockets and chainrings mainly for the bicycle market. In the mid 50's the company created their own version of the derailleur and in 1964 they were the first to invent the 'slanted parallelogram' style rear derailleur.
This invention gave them an edge over the competition as they were a lot easier to shift and performed a lot better under load. It was by far the best performing derailleur on the market, and Shimano was quick to copy their design once their patent expired.
SUNTOUR was part of Maeda industries until 1987, then SR SUNTOUR was established in 1988 by Sakae Ringyo (SR) leading the company into the new era.
When the mountain bike scene started to boom in the mid 90's, SR Suntour started making suspension forks. In 1998 they made a huge investment by buying a 500-ton magnesium alloy die-forging machine for the production of magnesium MTB suspension forks. Making them able to produce high quality suspension forks in large quantities.
Although the MTB market was booming, things really started to change when suspension forks found their way onto touring and trekking bikes in the early 2000's. Right around 2010, SR Suntour were producing about 10 million forks a year globally and you would see them on almost any model of any brand out there.
SR Suntour is actually quite unique as a brand. They're not only the most specced fork on mid and entry level bikes, but they also had their products at Red Bull Rampage and on the podium with Tom Pidcock at the Olympics.
With all these forks out in the wild, there is of course the demand for service and spare parts. This is where their North American and European offices come in. Not only do they offer high quality customer service, but they also organise workshops and training days for distributors and dealers.
We checked in with Arnaud Hacquard to get the lowdown on their new training centre in the French Alps.
Hi Arnaud, thanks for taking the time. Not too long ago SR Suntour moved to a brand new facility. Can you tell us a little more about that?
In fact we have extended the facility doubling the surface and the main reason was the creation of the Academy room. Our French Office moved here back in 2012 and the second section of the facility was finalised in November 2019.
It must have been quite disappointing to finally have such nice facilities, and then have the pandemic shut it down. Did you change the courses to become digital?
Of course the timing was unfortunate but as you guessed we had to go ahead to keep supporting our partners and customers and make our Academy set-up adapt a bit. That's why we still offer the digital option for tech training. This will still be a great tool especially for our distributors and official service centres all over the world.
In the meantime the world has slowly moved back to normal, are the tech training events back on again?
The training sessions will start again from next September. Everyone is busy in the bike industry at the time and summer is coming, so it's more convenient for dealers and distributors to attend such events off-season.
How long does a training session take?
We offer 2 different types of sessions with different skill levels and tools needed. Basically, each session lasts one complete day.
Do you need any special equipment to do a small lower leg service?
Small lower leg service requires common tools such as 10 or 12mm sockets and/or an Allen key. This will depend on the model and version of the fork. It's a really quick and easy process that unfortunately most people are afraid of.
Are there any training videos or days for enthusiastic end consumers?
We offer a dedicated area for tech videos on our website. It's 100% free access and has tons of information on servicing our products. Check it out here:
- https://www.srsuntour.com/fr/entretien/row-2/videos-techniques/
So far the Academy is dedicated to professionals but we are not against the idea of welcoming end consumers for a few dedicated sessions per year.
2022 is well on its way already, can you maybe tell us something about the 2023 line up for SR Suntour?
The bike market is under deep transformation in particular with the growth of the E-SUB bike category. This of course leads us to make our product line-up evolve and 2023 will see new products and technologies at SR SUNTOUR with the MOBIE forks range that will expand. The new DUROLUX38 and the TRIAIR2 will also be officially announced in the next couple of weeks.

Comments