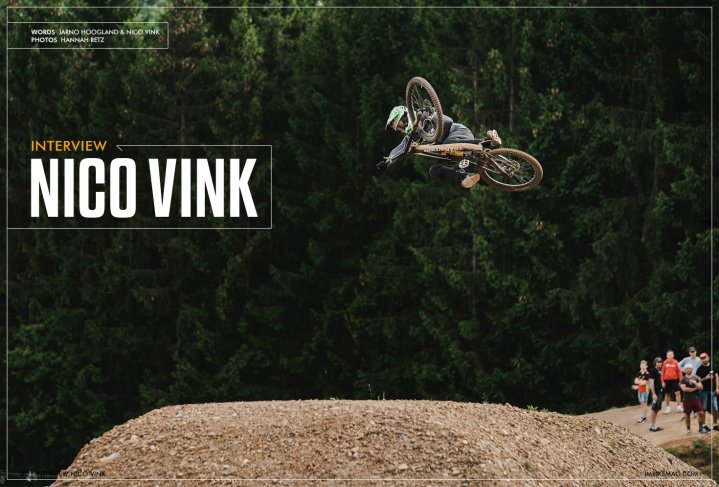 Nico Vink - Freeride Nomad
Issue 70 / Mon 23rd May, 2022
Nico Vink has been the man to push big mountain freestyle riding for more than a decade, but where is he from, where is he at and where is he going? Jarno Hoogland tracks the OG of boundary pushing freeride down for a catch up!
Interview Nico Vink
Nico Vink has been the man to push big freestyle riding for more than a decade. But where is he from? Where is he at and where is he going? What motivates him to keep pushing the envelope and why on earth is he always going bigger? We tracked the OG of the boundary pushing freeride down and fired him over some questions.
Nico, thanks for making some time for me. Where are you at, what are you up to these days?
Yeah no worries! At the moment I am in France at a place called Royal Hills (https://www.royalhillsexperience.com ). It's a wild place with 50 hectares of land with MX tracks, Supercross course, FMX jumps and some MTB trails too. I'm here to build some jump lines for their MTB trails. We just had a huge group arrive so sorry for the crappy internet connection. Everyone is busy uploading their pics to the socials right now haha.
That sounds pretty epic. Still busy building then I see. I saw the Esperanto movie trailer. Can you tell me more about the project?
Esperanto is the latest movie from the guys at Teton Gravity Research and basically the successor of 'Accomplice', the TGR movie that got launched in the summer of 2020.
I have a segment in there for which I built a special line in Ecuador and I also built the line for Emil Johansson's segment in that movie too.
Sounds like a lot of work!
Haha yeah, definitely. Especially when things don't go to plan. For the second segment the line we built really turned into a challenge. The weather was just really bad and basically everything went wrong. We had diggers breaking down, the build crew got the flu, you name it, it happened hahaha.
It's funny because we thought we had it all well planned. The basic idea was to ride at sunrise and sunset, build during the day and repeat, but in the end it was just us building for 14 hours a day in the pissing rain, solving problems working deep into the night. But we got there in the end, the segment is really sick and looking back we did have a lot of fun.
Nothing goes as planned, sounds familiar! Great that it was fun in the end though, I guess you got to enjoy the process otherwise you're better off getting a 9-5 office job. So right now you're in France, what are you doing there?
At the moment we're building a few new jump lines next to the Fest Line we already built there a few years back. Basically it's meant to be really progressive, so you can start small and ease your way into the big lines. We've built it in a way that you can transfer from one line into another too, so it creates a ton of options. We're just finishing the final bits and pieces right now and then we'll do some filming in the coming weeks.
Awesome, that sounds like great fun! So besides building tracks and filming segments, what does a day in the life of Nico Vink look like?
Well you pretty much summed it up with that. I'm living a pretty nomadic lifestyle and I am moving from project to project. Of course I take part in all the Fest series, and each year there are a number of photo and video shoots to do. Besides that I get asked a lot to build trails and jump lines, which is something I really enjoy too. The year only has 52 weeks so it flies by. I do spend a lot of time at the Fenasosa Bikepark. It's a great location, I build a lot of lines there and if I have to call something home then that's as close as it gets.
Nice! Yeah the climate in southern Spain is pretty good for riding bikes. You spent both of the lockdowns there I think?
Yeah exactly, when the whole Covid thing started happening I could already foresee the lockdown, so I packed my van with bikes and headed straight to the south of Spain in February. Best move ever! Basically I spent the entire time in lockdown building trails at Fenasosa. I was really lucky as I could really just close myself off from the world and do my thing. Same thing for the second lockdown last year actually.
Ah like many other rider you just spent your time in the woods building.
Exactly! I just focussed on creating something good from all of this and wanted to build some great stuff for people to come and ride whenever the lockdown ended.
So most people now know you from the Fest series and big freeride lines, but there is a part of you being a rapid man on the World Cup circuit. Tell us about that.
Back in the 90's I actually started with riding BMX. Dirt jumps and park mainly, all day every day. Then when mountain bikes came round I decided to give them a go and did the Belgian Cup races. After a few years of getting faster I did pretty well at the World Cups, top 30 usually with some top 15 results in there too. But for me, this was not really the mountain biking I was in love with.
At some point the jumps on the World Cup tracks were just feeling too small, the courses were not pushing my limits. Also, in the end racing is a lot about fitness too. I felt that if I wanted to progress with my race results it would take me to the gym and on the road bike and all that. And that's just not me.
So after 16 years of pure racing I started to go my own path, build bigger lines and we got a good crew of riders that were like minded. It then all evolved into what it is today and I must say that I can't be more stoked with how life is at the moment. I can really let my own creativity flow in the projects I do. Looking back I really enjoyed the racing scene and I learned a lot in those years but I'm happy that I have moved on and progressed.
When we are talking about racing and big stuff, the first thing that comes to my mind is the RedBull Hardline. You entered the first year but that was the only time no?
Yeah, I entered in year one and it was a ton of fun. Scary but fun. The years after I wanted to ride it again, but somehow it never lined up with my other projects. Now I am not sure if I want to enter again, on one hand I still have this fire in me for riding extreme stuff like that but I know very well that if I want to do well in that event I really need to get back training again. Riding a Fest line is one thing but a two and a half minute race against some of the fittest DH races is something else!
Yeah, totally understand and it's not free of risk either. Talking about creativity, where do you get your inspiration?
A lot from motocross of course, the sizes of jumps and tricks they do there is a blueprint to show what's possible on two wheels. BMX dirt jump has a lot of creative jump lines these days and that is something I try to blend in with the stuff I build. In snowboarding and skiing there are some really creative people around like Arthur Longo and Candide Thovex. But I try to just do my own thing as much as I can. With the building projects I generally only take on if I can get total freedom of what I build. Only that way I am able to really use the terrain and my creativity to create something unique.
What are your favorite spots in the world to ride at the moment?
I still love riding in the Chatel bike park and the whole Portes du Soleil area. I feel like there has been a lot of progression in North America in the past few years. The Coastal Gravity park is amazing, some of the trails on the North Shore and Squamish are really pushing the boundaries. Europe is starting to catch up with the North American style of building trails, but in terms of a real allround bike park that caters for every single type of mountain biking discipline they're still not there yet. There is just no second Whistler.
So you mentioned BMX as an inspiration, do you still ride some park or trails every now and then?
Well, when time is so limited it gets a bit difficult I must admit. The BMX is still always in my van, and I definitely take it with me everywhere I go, but the past few months it has been looking a little sad sitting there with low tire pressure and dust collecting on the top tube hahaha. It's also so different from riding mountain bikes that it takes a bit for me to get in the flow again in a skate park. Whenever I am at some dirt jumps it is much more tempting for me to grab my Transition PBJ, as that's a lot closer to what I am used to riding.
Yeah you've been with Transition for a few years now. How did that come about?
Well, after spending 7 years with Scott, I felt it was time for a change. I had a chat with the Transition guys and it really just matched instantly. Their vision on what mountain biking is and how to create bikes and run the company is just exactly what I think. I've been to Bellingham a few times and we really got along. It was such an easy move!
Which bikes are you riding from them?
I ride their TR11 most of the time for the big lines. There are not many modifications other than the Öhlins suspension setup with some heavier springs to handle the big hits and jumps. I have my signature cockpit from Reverse components that have the exact sweep and rise that I like. My daily driver is the Patrol. I ride it with a 180mm fork and front and rear 27,5'' wheels which make it such a strong and playful bike, ideal for raging down the bikepark. For the regular enduro riding I have a Scout which is again a really fun and playful bike that's easy to pedal everywhere and for dirt jumps I have the PBJ of course. If all goes well I should be getting my hands on the new Repeater E-MTB at some point this year, which I am really excited for.
Ah yeah you're getting older so moving on to the E-bike haha!
Hahaha yeah! No, I think they're great fun to be honest. They're just so good for scouting a new area, checking out where it's good to film and stuff. It's not like a normal bike, but it opens up so many possibilities and you can't ignore the fact that they're a lot of fun to ride.
Do you do any product research and development for them too?
Well for all of my sponsors I give feedback for the products I use from them, but I am not actively part of the product development team. Sometimes I talk to the designers about stuff that I think can be changed or improved of course, but bikes have gotten really good these days though.
So, what does the future look like for you?
Well, like I said I will be entering the Fest series again and I am working on something really cool and new together with Szymon Godziek. But that is in quite an early stage so I can't tell you too much about that, sorry. Furthermore I really hope to be able to get back on track with the events and bike festivals and jams. The past two years have been a massive struggle of course and getting things back on track is really difficult.
If all goes well I should do another big mountain trip to North America this summer, really looking forward to that of course.
Awesome. Thanks Nico, is there anything else you want the world to know?
I'd like to give a big shout out to my sponsors Transition Bikes, Reverse Components, Neatflow, Schwalbe, Öhlins, Hope Technologies, Bell, Ninjaz and Vans. Without them I wouldn't be able to do what I do. Also, Turn off your phone and TV, go outside and enjoy the world we live in!

Comments