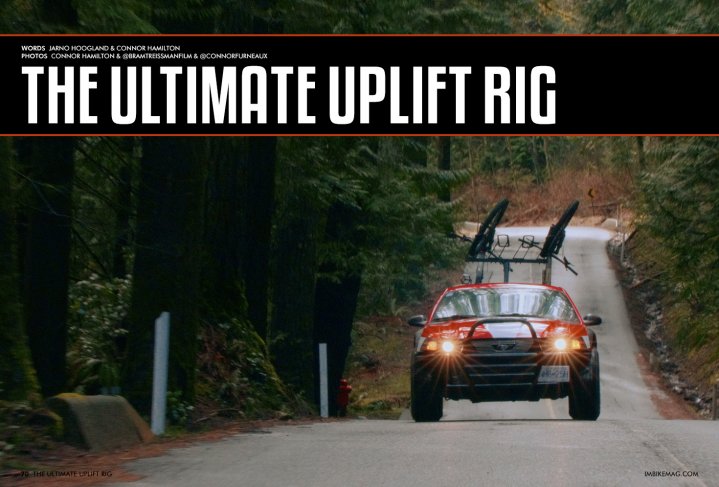 Ultimate Uplift Rig
Issue 70 / Mon 23rd May, 2022
What if you took a Ford Mustang, did a body lift and mounted big burly offroad wheels on it? Connor Hamilton decided to find out and created a freakishly sexy car that turns heads everywhere he goes.
When it comes to cars for the mountain biker, there tend to be two camps. One group of the people just have an old beater, barely capable of taking them to the trailhead and the other take just as much pride in their four wheeled setup as with their two wheeler. Whichever camp you're in (or maybe you're even in neither), it's always cool to see something different parked up at the trailhead.
When you're based in B.C. you're bound to bump into some wild looking trucks, jeeps and vans. But there is one car out there that is truly unique; a custom Mustang with raised suspension, some big ass wheels and built out side panels. We grabbed it's owner for a chat to find out the whats, whens hows and why's behind the creation.
Hey Connor, thanks for taking the time. Let's kick off with the basics. How old are you and where are you from / located?
I'm 23, originally from a small farm town Ontario called Orono (Toronto without the T's) but now live in Revelstoke, BC.
What do you do for a living?
I'm a mountain bike guide and Instructor for an outfit called Wandering Wheels in Revelstoke, BC. Been teaching, coaching and guiding for 7+ seasons now.
How long have you been into bikes?
I actually got into bikes later in life at the ripe old age of 18. Been non stop riding since then with some bonus southern hemisphere summers in there.
What's your favourite type of riding / style of trails?
Honestly, blue flow has such a special spot in my heart. Don't get me wrong, I love some gnarly DH tech trails to rattle down and some big jumps to float weightlessly. But the draw of blue flow for me is the artist's aspect. You're not worried about anything, its pure creativity, a blank canvas to draw your own style on. It's the perfect trail flavour to express your own style.
So, can you tell us a little about the Mudstang?
Absolutely! So on paper, it's a red 2000 Ford Mustang with a 3.8L V6. For those mustang aficionado's out there, yes it's only a V6, but that was by choice. I wanted to get into track drifting and wanted an underpowered car to learn in. Something to get sideways but not out of control. Which now, translates to having a lot of fun on dirt without getting out of control. And something you trust your friend to get in and drive down the shuttle road without getting crazy.
How did you come up with the idea?
This one is a bit of a story. So originally it was supposed to be a drift car. Built for the track with a bit of road use. I was living and going to school in Vancouver, so a lot of pavement driving was the life destined for this car, or so I thought. After fixing all the mechanical issues and taking it to a drift event, the time came to make some major modifications and really start the project.
At this point in the journey, I had completely different plans for it. They were more along the lines of lowering the car, adding an angle kit for wider steering, adding a huge spoiler, stiff suspension and then painting it half baby blue and half bubblegum pink. But the week that it was all supposed to start I had a simple yet pivotal conversation with my teacher at school, it went something like this:
T(eacher): "How's the 'Stang'?"
M(e) : "Running and driving"
T: "So I was thinking last night, You're heading back to Revelstoke come spring right"
M: "Correct"
T: "There's a lot of dirt roads there, yeah?
M "Yes there is"
T: "Have you thought about a Rallystang?"
At that point my eyes widened as my brain started racing. I think everyone in the room could feel my menacing smile grow ear to ear.
That point onward it was full steam ahead. Lots of hours researching what the biggest tires we could fit were. How to cut and modify the body. What it should look like. Funny enough none of the research helped in all honesty, but I'll get into that in a second.
What modifications did you make?
So as it sits right now it's mostly just body modifications. There are upgraded brakes and steering components but the custom work is all body work. The first thing we did was cut the wheel wells out (see pics). The front ones were easy, the rear ones required us to fabricate and weld in new wheel wells as well as redesign the bottom corner of the quarter panel. (see pics) That way there wasn't just a hole in the trunk. We used an old hood and some other metal we had lying around to make the wheel wells and quarter panel modifications.
After those were patched up and looking good we got to painting, well more like a week and a half of prep and one day of painting. There's a good story behind the colour scheme of the car, but I'll save that for when you ask me in person. I'm usually hard to miss in Revelstoke and more than happy to chat!
To finish things off it needed new bumpers. The stock ones hung much too low for offroading. Also, weirdly enough, it didn't come with a good spot to mount a North Shore style rack. Who knew? This was actually the quickest step of the process, it was my first time ever fabricating tube bumpers but both were done in under 6 days of work. The front one needed to protect the headlights, radiator and hood so we built it pretty burly. The rear one was mainly made in order to mount a hitch high enough to hold bikes. (see pics)
How long did the transformation take?
In total it was about 12 weeks of working on it 15-20 hours a week. The first fender cut was made in early January 2022 and it was driven out of the shop in late March 2022. I did have two very close friends helping me each step of the way, Jay Legaspi and Ty Funk-Thompson. Jay used to be a welder in the Philippines and was probably the best person to have there for positive energy and encouragement. Ty grew up in a body shop and honestly this project wouldn't have happened nearly as quick or as clean without him.
Building something like this, there is always something that goes wrong or different than planned. Can you tell us about it?
Oh man haha! I mentioned earlier that none of the research I did actually helped us and boy does that ring true. No one has built a mustang like this. There are some out there that are lifted slightly and some off road tires but nothing like this. That means we were making it up as we went. Every single day in the shop we had to tackle problems we never knew we'd have.
The biggest one was fabricating the wheel wells. There are probably a total of 5 or 6 different pieces of complexly shaped metal pieces that went into each wheel well and quarter panel. The really complex ones we made out of cardboard then translated that onto sheet metal and cut, bent and grinded it all to make it fit. There was a lot of discussion, a bit of arguing and a mountain of metal shavings during this step.
The next big hurdle was getting the steering right. We originally tried to fit 33 inch tires on it (see pic). Which did fit and drive quite nice, other than the fact you couldn't turn at an intersection. The tires were rubbing on the firewall and pinch weld on the inner front fender. We modified that with some professional cutting and grinding, but still, the 33's were too big. After that we simply downsized to 31 inch burly off road tires and that did the trick.
Then we found out that the car had been in a pretty gnarly accident after removing the bumpers. The horns where the bumper mounts on the front were pretty mangled and one of the quarter panels had a pound of filler on it from an old patch. This just meant we had to get creative. The bondo part was straightforward. Remove, reapply, sand and paint. The bumper was interesting as we had to build a square and level bumper from foundations that were neither of those things.
There's more I'm forgetting about but that's the beauty in these projects. At first it's one huge question mark. A plethora of problems and hurdles. Once you're into it you then realise there's actually two times more problems and hurdles than you thought. But you just keep plugging away. Like someone running a marathon you keep taking one step at a time not really knowing where the finish line is. But then there's a moment where you step back and you're just flabbergasted at what you just created.
How happy are you with the result?
I'm beyond stoked with where it is. It gets a lot of compliments, looks and attention in town. I truly didn't think it would turn out this clean. Ty and I looked at each other when it was done and both said "I thought it was gonna look like shit to be honest". So it's safe to say we're both stoked on where it is.
That being said, it will most likely never truly be done. There's constant plans for it and work to be done. Roof rack, rally lights, upgraded suspension, more power etc. are all among future goals for it.
You plan to do more crazy builds?
Down the line for sure! I owe my friend Ty Funk Thompson a lot of volunteer hours and effort, so most likely the next creation will be his.
Awesome. Great to see the idea come to fruition, especially something that goes against the grain. There are too many boring cars out there these days.
So, if you're ever out in Revelstoke and see the Mudstang out in the flesh, don't hesitate to chat to Connor about it!

Comments