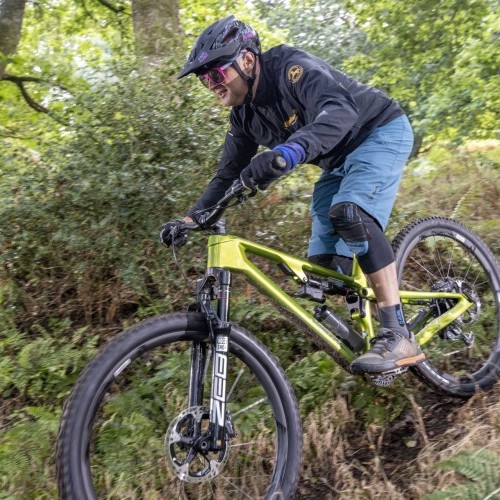 First Ride – Merida Launch New ONE-SIXTY and ONE-FOURTY Bikes With New FAST Suspension Platform!
Features / Fri 23rd Sep, 2022 @ 1:01 pm
First Ride - Merida Launch New ONE-SIXTY and ONE-FOURTY Bikes With New FAST Suspension Platform!
New bikes are always something to get excited about, especially as we all know the N+1 rule well enough by now. Merida decided to launch their new ONE-SIXTY and ONE-FOURTY platforms at the Merida Ex event, with a special invite to journalists to attend on the Wednesday and Thursday before the race to throw a leg over the new steeds from the German powerhouse. I always enjoy a bike launch where there is less chat and more riding, and that was the format for the event, arriving at 4 pm on Wednesday, setting up the Ford Transit Trail adventure van and then jumping on the bike at 5 pm for a ride.
I was fortunate enough to chat set up with Stephan Seitz, one half of the design duo for the platform alongside Tim Dosenbier, and he gave me a brief rundown of what to expect before we headed off. What's new? An awful lot; Merida have been working on this new platform for some time, and there are some definite standout highlights…
The ONE-SIXTY now boasts 170mm of travel up front with 162mm in the rear in 29″ set-up; if you opt for the mullet option, then the travel at the front increases slightly to 171mm. The bike features a flip chip in the rocker which allows you to switch the rear wheel size; it DOES NOT, however, change the geometry, so while you can get a different ride characteristic, you maintain the bike's unique geometry. That geometry is worth a mention, too; a super steep seat tube angle of 79 degrees is coupled with a 64-degree head angle. The seat tube is straight, and this allows the use of the revolutionary Merida Team TR Dropper post, which delivers a huge 230mm of travel. This travel can be tuned using an Allen key, so you can set it to any amount of travel you desire down to a minuscule 30mm. Removing the need to push the post up and down in the seat tube. This allows Merida to keep the seat post super short across all the sizes, allowing larger riders to get decent clearance and shorter riders to ride longer bikes while still having a good standover height.
This leads to what Merida calls Algiometer sizing, they are still using the XS, S, M, L and XL monikers, but these now stand for X Short, Short, Mid, Long and X Long. With a short stack height on the bike, cockpit tuning comes in the form of two different handlebar rises, and you can also run spacers too if you want to bring the bar up even further. Essentially the goal was to allow riders to choose a bike using the reach rather than the seat tube length, allowing a range of up to three sizes to each rider. If you want a more playful bike for throwing around, go smaller on the frame, something longer, more planted and comfortable at speed; go larger without running the risk of the bike not fitting, regardless of your height.
All of this comes with the new FAST suspension platform, which stands for Flexstay Adjustable Size Tuned kinematic suspension. The Flexstay removes a pivot point, reducing weight and maintenance; Adjustable is a nod to the full 29er set-up or mullet capabilities without altering the geometry and its Size Tuned to deliver more wheel rate progression as you move up the frame lengths; this means smaller lighter riders can use all the suspension available, while heavier riders get the support they need.
Available in Carbon and Aluminium frames, there will be a limited release in October with more bikes due to drop in 2023. We had a range to try; I was lucky enough to be given the ONE-SIXTY 10k, which was the top-spec bike in the range, arguably there will be a limited market here; rumours of a retail price of around £9000 will certainly price most people out, but the key FAST Suspension runs across the range as does the Merida Team TR dropper post, so the feel, sizing and handling runs throughout the range. Mine was an e-bike without an engine, equipped with Rock Shox Flight Attendant suspension with a Zeb up front and a Super Deluxe in the rear; it was also boasting electric shifting with SRAM XO throughout.
Once set up (I'm still a fan of analogue here), the bike was ready to roll, and arguably the only issue was the person on top of it who'd spent the last month surfing and not working on his fitness as he'd promised ahead of the launch. That said, we rode out onto Exmoor, which was a first for me and the scenery and trails are worth a mention, sublime springs to mind. Definitely get yourself out there if you haven't already. The first thing I noticed about the bike as I pedalled was how short it felt, considering Merida have gone for a longer reach on these new models. It felt much shorter than the stated 498mm as I pedalled up the hill; this put me in a central position over the bike and gave me plenty of purchase on the front wheel. In fact, this was my first experience of the super steep seat tube, which pushes you forward over the front of the bike as you sit in the saddle and climb.
On the first descent, and as soon as I stood up on the pedals, the bike grew underneath me, and the longer reach was right there all along. It's an interesting concept and bang up to date with where bikes should be; often, seat angles leave you wallowing on the climbs, but that wasn't the case here, and even for my unfit legs, it was an impressive bike to climb. Of course, the Flight Attendant suspension was working away to ensure all my power went into the tires, too, but the general feeling from the launch was a bike with impressive climbing ability, especially for the ONE-SIXTY with its huge suspension travel.
Pointing it downhill, the bike was phenomenal; it took a couple of runs to dial in the suspension, but when we had it was incredibly capable and deathly silent, there was bountiful grip on the front and rear end, and in the corners, it never even hinted at wanting to let go. Your position on the bike feels just right, and the ample travel feels progressive as you hit the bigger stuff. At speed, it is stable, and confidence comes in abundance; on the more technical decents, the ONE-SIXTY is happy threading a line and sticking to it.
While I only had 9 hours on the bike in total, I was incredibly impressed, so much so that if one ever becomes available, I'll put my name down for it. It was a revelation to have such a long travel bike that could climb so well yet feel so planted on the descents. I felt like I spent the two days writing cheques my body couldn't cash, but the ONE-SIXTY was there to scoop me up and make me look good regardless. That is my kind of bike.
PR and more details below:
Good things often take time, so it's an understatement to say how exciting we are to finally be able to share the news of two new bikes that will set the standard for MERIDA mountain bikes: the all-new ONE-SIXTY and ONE-FORTY.
Having undergone the longest and most rigorous development and testing program of any MERIDA model to date, we're happy to say that these two new machines are the most advanced and feature-packed mountain bikes we've ever made, designed to work in perfect harmony with the rider to allow them to push further and harder than ever before.
The ONE-SIXTY is our longer travel bike, aimed at the serious enduro rider and racer or anyone that needs maximum performance and dependability in rugged terrain, with the ability to take on the toughest and roughest descents and climbs. The ONE-FORTY is aimed squarely at today's do-it-all trail rider, where all-mountain prowess needs to be balanced with lighter-weight uphill ability.
In these shrinkflation-ridden times, it's a rare case of you getting more than you expected, with both bikes having more travel than before. The ONE-SIXTY delivers 170 mm of front wheel travel and 161 mm at the rear in full 29" mode or 172 mm in mixed 'mullet' 29" front 27.5" rear setup, while the 29" wheeled ONE-FORTY offers 150 mm at the front and 143 mm at the rear. That is delivered through our new Flexstay-Adjustable-Size-Tuned suspension kinematic. It's FAST. Really fast.
The Flexstay part adapts the low-maintenance P-FLEX system seen on our NINETY-SIX cross-country rig to a long travel platform, the bike is Adjustable to work with both 29" and 27.5" rear wheels without altering the geometry, and it's Size-Tuned to deliver more wheel rate progression as the reach increases, offering greater support for heavier or harder riders while allowing lighter riders to actually use full travel.
While these two bikes are aimed at different riders, they both deliver a huge number of shared innovations thanks to our all-new long travel platform design, which is available both in carbon fibre CF and aluminium LITE. No matter which is picked, they both share their geometry, design and the vast majority of their features.
We've also smashed the compromises modern riders need to make when picking a size that fits both their physical frame and desired riding characteristics. Whether you want a long reach rock hammer of a bike or want that short wheelbase pop'n'party feel, you'll be able to get the bike dialled without compromise thanks to our reach-based AGILOMETER sizing, short stack and standover heights plus our 30-230 mm infinitely travel adjustable MERIDA TEAM TR dropper post on every size.
The geometry has also been radically overhauled, with a much broader range of reach figures throughout the five sizes each bike is offered in, ranging from the bijou Extra Short up to a mighty Extra Long. That's combined with progressive super steep seat tube angles for tenacious climbing performance and slack head angles for calm and collected behaviour in the face of trail chaos.
And to top it all off, there are a whole host of other features that boost usability and reliability to new heights; with integrated tool and storage options, easy-to-maintain features and so many other cool things we'd need another sheet of A4 to list them all. Do other bikes in the market have these features? Yeah, sure – but none of them has all these features in one bike.
Our new sizing system, suspension kinematic and progressive geometry concept delivers the performance you want, married to the perfect fit, with all the features you'll ever need, freeing you to focus on the trail ahead. No more compromise, just the untamed evolution of the mountain bike.
Fri 23rd Sep, 2022 @ 1:01 pm
Rou Chater is the Publishing Editor of IMB Magazine; he's a jack-of-all-trades and master of none, but his passion for bikes knows no bounds. His first mountain bike was a Trek 820, which he bought in 1990. It didn't take him long to earn himself a trip to the hospital on it, and he's never looked back since. These days he's keeping it rubber side down, riding locally and overseas as much as possible.
Comments