NZ MTB Cup Round One – Christchurch
The 2012 NZ MTB Cup got off to a scorching start today in the blistering heat of Queenstown. The new Remarkables downhill venue overlooking Queenstown airport, Frankton and Lake Wakatipu delivered dry, dusty, and very hot racing conditions for the multi-national field of 151 starters today.
Win a Hassle'Off Multi Tool this issue in our FREE subscriber prize draw.
Competition was fierce across all categories, with the new downhill race course cutting up during the two days of practice and competition to become worthy of this level of contest – huge braking bumps and multiple choice lines, including long off-camber sections provided plenty of challenge for all on the hill.
In the Elite races today, the women's field was always playing catch-up to Wellington's Sarah Atkin, who had the measure of her competitors in both seeding and race. Atkin won by a massive 15 second margin over recent UK immigrant Harriet Latchem, with Nelson's Veronique Sandler in thrid. Both Atkin and Sandler have progressed through to the Elite field this year after stellar 2011 seasons in the U19 ranks, and having represented NZ last year at the World Championships.
The mens Elite race had a number of international racers taking on a very strong NZ field. George Brannigan (Havelock North) was last starter today, having seeded fastest in the mornings shake down. The Devinci Global professional waited for his race start, in the knowledge that he would have to put down the same speed on the Remarks course to claim the win, having seen his competition one by one post times that could easily take the podium top step, any mistake would be punished on the clock.
Christchurch local Joseph Nation had set the time to beat early in the race order, with a brace of solid competition only just behind him. Brannigan held his nerve however, and went slightly faster than his seeding run to take the win by a comfortable 2.5 seconds. Of note today in the Elite mens results list was French visitor and enduro specialist Jerome Clementz. Clementz bolted on a pair of downhill forks for the weekend and showed that he is also multi-talented, with a fourth place finish.
The NZ MTB Cup continues this coming weekend in Dunedin, with the second round of the Downhill series on Friday/Saturday the 13th and 14th, and the first round of the Cross Country Series on Sunday the 15th. Both races are taking place at Logan High School at the base of Signal Hill.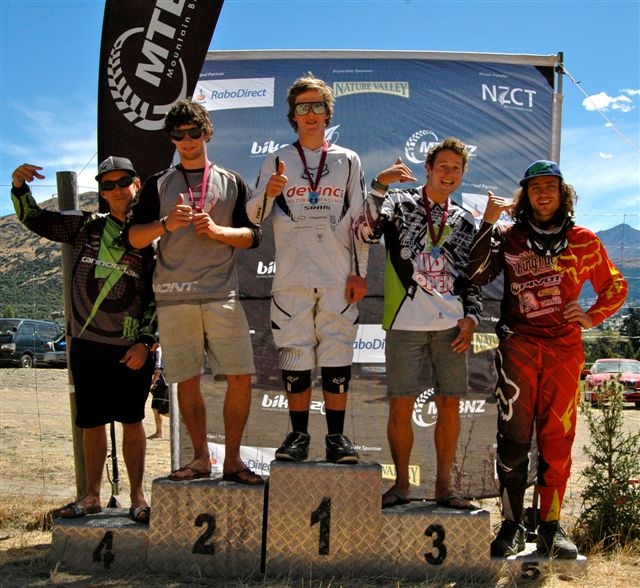 Photo by James Clark
Brief results:
Elite Men
1 George Brannigan
2 Joseph Nation
3 Matthew Scoles
4 Jerome Clementz
5 Wyn Masters
Elite Women
1 Sarah Atkin
2 Harriet Latchem
3 Veronique Sandler
Tue 10th Jan, 2012 @ 9:20 am
Comments