Troy Brosnan Wins 2012 Australian National Championships!
Another 1-2 finish for Team Monster Energy-Specialized riders Troy Brosnan and Sam Hill, with Troy crowned as the 2012 Australian National Champ!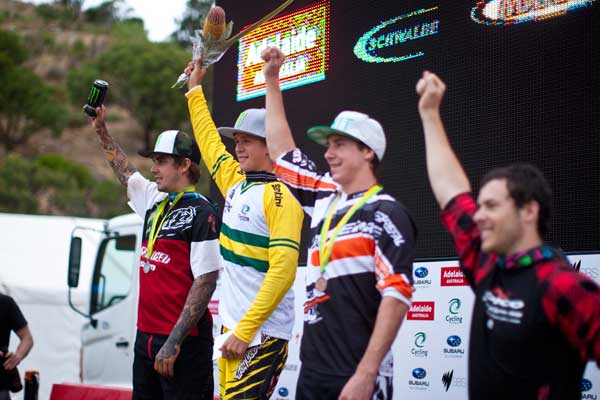 With both riders keen to claim the elite title, there was a healthy friendly rivalry with the pair after coming off some close results in the National series. Troy and Sam have been going 1-2 for the whole Australian season and expectations were high for the duo.

With both enjoying the track during practice, the local favorite, Troy Brosnan, managed to exceed expectations with a blinding seeding run of 2:01.86 with Sam Hill 2.66 seconds behind with a 2:04.52, and Jared Graves on his tail with a 2:04.57.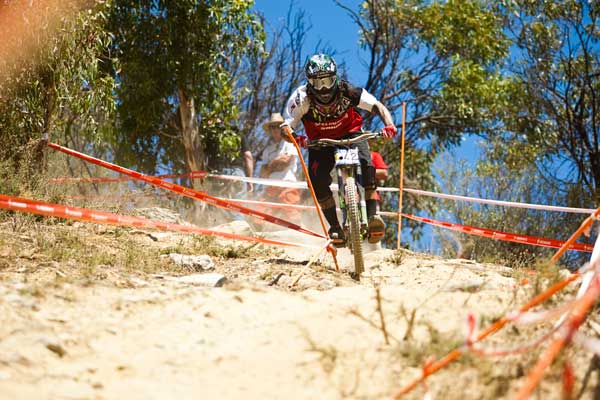 "Seeding went well," Sam said. "It's pretty hot here at Eagle, so just trying to stay cool. "The track is quite simple but tricky to ride fast. If you mess up it can take quite a while to get going again, and you lose time quickly. I have some left in the tank so I'm pretty keen to see what I can do tomorrow."
Troy commented: "Seeding was pretty smooth and I pinned it pretty hard. I didn't make any mistakes, so I just need to do the same thing tomorrow."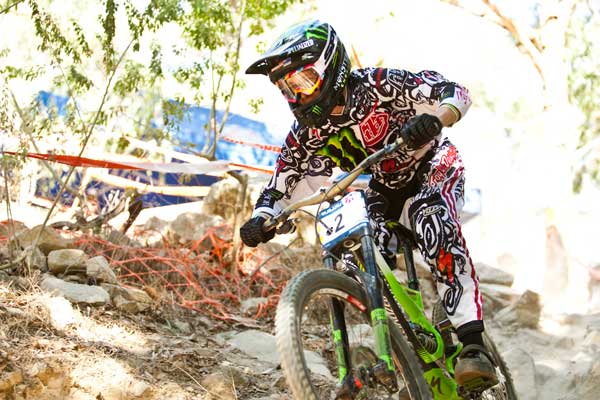 With rain forecast for Sunday afternoon, the general consensus was that it would need to be a lot to change the super dry track significantly for the finals. The clouds loomed all day during practice, with rain visibly making it's way towards the hills as the finals started. Sam emptied his tank and left nothing on the hill with a 2.01.12. With the crowd not sure if it was enough they went wild as Troy popped out of the trees on a flyer. It was a fast time going just under the 2 minute mark with a 1:59.05 and taking his first National Championships title.
Sam said: "I had a pretty smooth run. I didn't have the best practice runs today so it was good to get down without any mistakes. Troy is really on top of his game at the moment and I cant wait to race him on some World Cup tracks."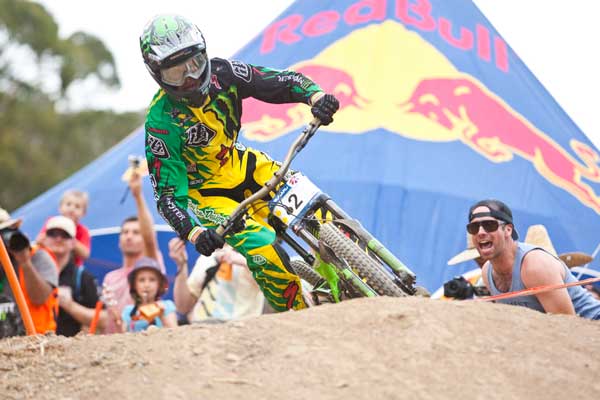 Troy said: "I had a great run. I was real nervous in the gate and tried really hard not to hear Sam's time, but just heard it before I left. I knew I had given everything in seeding, so I knew I needed to step it up again. It all went to plan really, the pressure didn't get to me and I didn't make any mistakes. I can't ask for anything more."
"Again, I'm speechless on the consistency both Troy and Sam are showing down there and look forward to getting the World Cup Season under way," said team manager Sean Heimdal. "I have to thank all of our Australian market sponsors (Monster Energy, Specialized AU and SRAM) for their continued support down under in helping keep these guys on top of their game!"
The boys now head to the final National series round at the Awaba National round near Newcastle, N.S.W next weekend. Will they manage to finish the series with a 100% one-two finish? We'll find out.
All photos by Tim Bardsley-Smith
Mon 27th Feb, 2012 @ 10:30 am
Featured in this Post
Australia
431,585
542,482
Comments