Trek To Sponsor Irish Gravity Enduro Series
In a continued effort to grow mountain biking around the world, Trek Bicycle has signed on as title sponsor of the Irish Gravity Enduro series. The four-event series combines the recreational fun of trail riding with timed stages for athletes of all ability levels to compare their results. Enduro racing is quickly growing in popularity around the world thanks to its approachable racing format requiring both fitness and handling skills as well as its social atmosphere.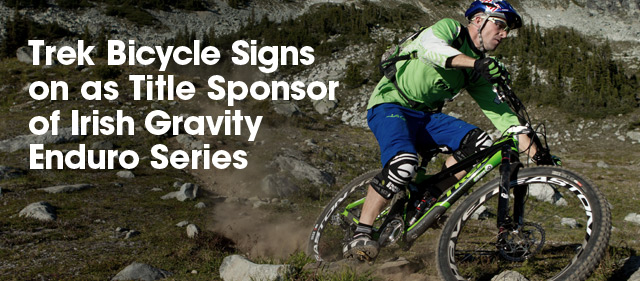 "We pitched this series as 'the evolution of mountain biking' and it seems to have struck a chord with riders around the world, Ireland is fast becoming the home of Enduro Racing." said race director Niall Davis. "The first event in April is almost sold out. Our format is a perfect balance of competition and a really fun bike ride on really great trails."
One lucky rider who completes the overall series will be drawn at random to win a brand new Trek Slash trail bike, a bike designed for enduro racing and developed with Trek C3 Project athletes and enduro pioneers René Wildhaber and Ross Schnell. Trek will also be bringing a roster of its marquee athletes to the Irish Gravity Enduro Series events. Multi-time Megavalanche champion René Wildhaber, 2010 UCI downhill world champion Tracy Moseley, and Unior Tools team athletes Jess Stone and Harry Heath have all confirmed they will participate at one of the stops of the series.
"Enduro racing is clearly the direction mountain biking is headed, and we're excited to help bring it to more people," noted Trek Mountain Bike Brand Manager Travis Ott. "Now that riders have access to a bike like the Trek Slash that's made for this type of riding, you're going to see more people having more fun and there's no telling where it can go from here."
Irish Gravity Enduro Series dates:
April 7th and 8th: Wicklow
June 16th and 17th: Dublin
June 30th and July 1st: Limerick
September 8th and 9th: Wicklow
Complete details of the series can be found at gravityenduro.ie
Tue 20th Mar, 2012 @ 11:32 am
Featured in this Post
Comments