The Bandite Bike Park Punta Ala proved to be the perfect venue for the second PRO round of the Superenduro Powered by SRAM in 2012. It also marked a return to the top for Andrea Bruno, in a race that came down to just a handful of seconds.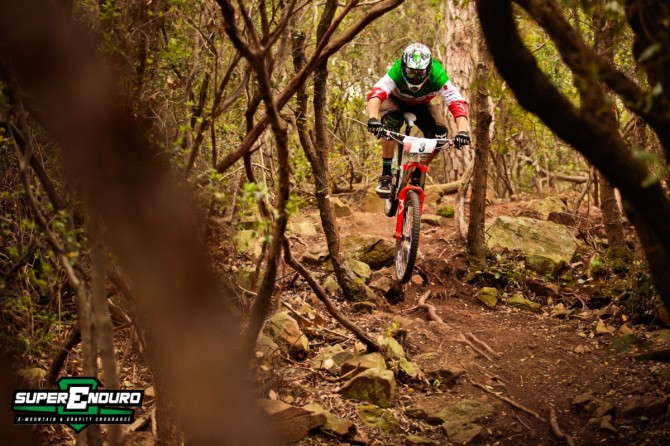 In round one at Golfo di Diano Marina it was an all-Italian podium, but would it be again here in Punta Ala? The British invasion of the series continued with Dan Atherton, Al Stock, Paul Aston and James McKnight making the journey over. There were also Slovenian riders, Swiss riders and, for the first time at a Superenduro, a Portuguese rider. Pro downhiller Marco Fidalgo decided a Superenduro race would be the perfect testing ground for his prototype Berg enduro bike.
Punta Ala always provides a real test for the riders, as the race is 60km long and each stage is very different. Racing has been close in the Superenduro series over the last few years, but nobody could have expected how close it was this weekend.
Andrea Bruno returned to his winning ways, regaining the red leaders plate with his first win of the year. Al Stock looked to be on the verge of his first Superenduro win, but crashed hard on stage three, coming in second, still only 2.3 seconds off the win. Just 0.7 seconds behind Al was Davide Sottocornola and another tenth of a second back was Dan Atherton. Fifth, and what would usually still be close, was Swiss rider, Lukas Anrig, 12.3 second back.
The womens race was over the same, demanding 60km course as the mens race. Maria Federica Zanotto  took the win, ahead of  Marianna Uttini and Chiara Pastore. Fourth place went to Valentina Macheda, followed by Laura Rossin.
Al Stock's strong race started on stage one, The Guardian, taking a 4.2 second win over Lukas Anrig and 6.1 seconds from Alex Lupato. Winner of the prologue the day before, Dan Atherton was 8.3 seconds, followed by David Sottocornola 12.8 seconds off the lead. Rain had been forecast the day before, but held off, giving the advantage to riders who stayed on the dry tyres.
On Stage two Rock-Oh Andrea Bruno came into his own on the technical lower section to take the win. Davide Sottocornola was 4.8 seconds back, followed by Al Stock 10.5 seconds back, Leoluca Scurria 13.2 seconds back and Dan Atherton 13.4 seconds back. Vittorio Gambirasio rounded out the top five, just 15.4 seconds back after a small crash. Alex Lupato's hope of victory were dashed as a drivetrain problem lost him more than a minute. After stage two was the quick break at the pits, where he re-built his bike and headed back out to try and at least win a few stages.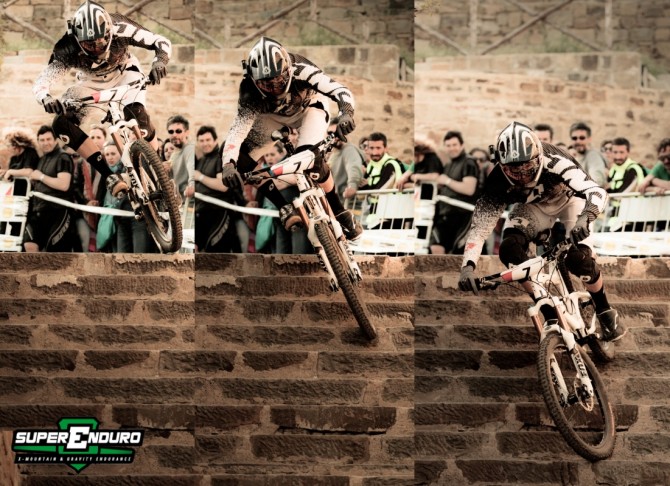 Lukas Anrig had other ideas on stage three though and put 5.5 seconds into Lupato and dropping him to second place. Atherton was third, 6.4 seconds back and Bruno seven. Gambirasio took another fifth 7.4 seconds back, four tenths ahead of Sottocornola who was edged in to sixth. A Stock blew his lead with a head-first crash near the top of the stage and threw the race wide-open.
On the final stage, The Sentinel, Atherton took the win, just ahead of Stock. Second wasn't quite enough for Al to make up the time he lost to Andrea Bruno on stage three though. Sottocornola grabbed third and a fourth for Bruno, 3.5 seconds behind Atherton was enough to seal the win.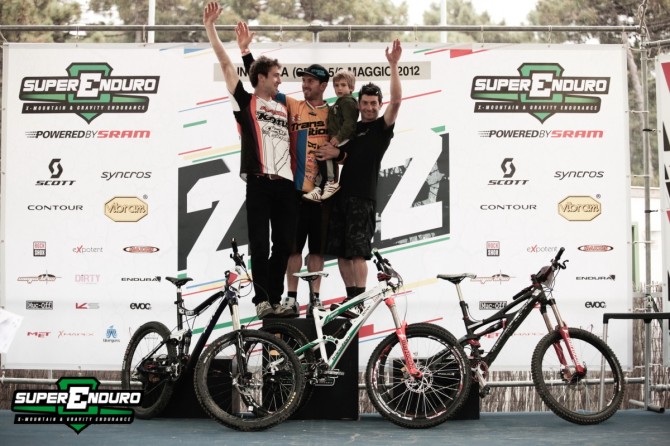 There is now a two week break before the sprint race at Palazzuolo sul Senio, in the heart of the Apennines on May 27.
Videos to come!
Comments