Kurt Sorge Wins The 2012 Red Bull Rampage!
Kurt Sorge has cemented his name in Freeriding history winning the 2012 Red Bull Rampage!
Sorge's winning run scored 86.75 points from the judges included a suicide no-hander, backflip step-down and Sorge's signature super extended Superman. In his first run Sorge was the first rider to throw down a backflip and the judges rewarded him for it. The addition of a superman in his second run secured his victory.
2010 winner Cam Zink had to sit out and watch the action from the side line after bailing on the Canyon Gap. Miraculously Zink was able to walk away from this huge crash with no serious injuries, but was unable to ride.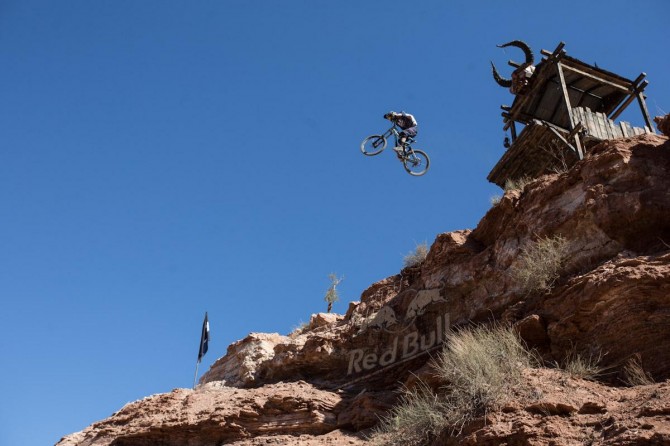 Gee Atherton was also left unable to compete after what he described as "the biggest crash of my life", clipping the side of a cliff face on a huge step down. Fellow dh rider Brendan Fairclough qualified for the finals but tweaked his knee, remember Fairclough suffered a huge knee injury last year, and so also had to admit defeat.
The relatively unknown French rider Antoine Bizet had a disastrous first run crashing almost immediately after rolling out, but redeemed himself with his second run pulling an incredible four backflips and storming into second place with 79 points. Utah local Logan Bingelli came third with two super slow backflips as well as sticking the wall ride, all on a 650b equipped bike! After catching his breath Logan admitted this was the first time he'd flipped his bike since the last rampage back in 2010!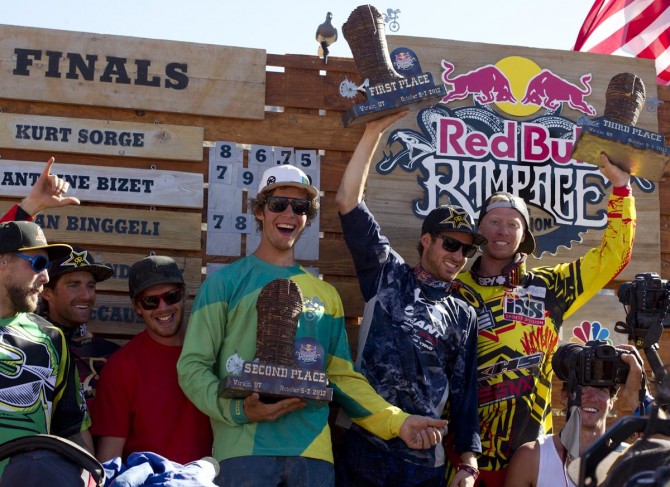 Top Five
1 Kurt Sorge – 86.75
2 Antoine Bizet – 79.00
3 Logan Bingeli – 78.50
4 Andreu Lacondeguy – 74.00
5 Tyler McCaul – 71.00
Stay tuned for a full feature in the next issue of IMBikemag!
Mon 8th Oct, 2012 @ 8:58 am
Comments