All-Olympian Roster for 2013's Trek Factory Racing XC Team
Trek Bicycle today announced the formation of Trek Factory Racing, an elite cross-country mountain bike racing squad which has set its sights squarely on lighting up the 2013 UCI Cross Country World Cup. Representing four countries across three continents, Trek Factory Racing's global roster is a who's who of the new generation of XC heavy-hitters, who in spite of their youth have put the world on notice with strong results at the top level of the sport.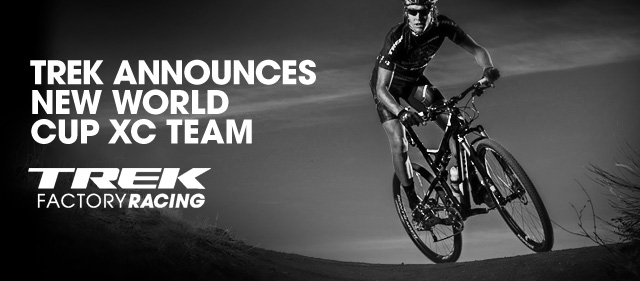 Made up entirely of Olympians, the Trek Factory Racing roster is short on age and long on race results. After a USA-best result in London, reigning US National Champion Sam Schultz will make the jump to focusing on the World Cup next season joined by Emily Batty of Canada, whose steady rise to the top of the sport makes her a constant podium threat. Great Britain's 23-year-old standout XC star Annie Last will look to build on her 7th place overall from the 2012 World Cup. Rounding out the team are Australia's top male and female riders as well as current National Champions: two-time Olympian Dan McConnell, and 22-year old Rebecca Henderson, who earned multiple podiums in the 2012 U23 World Cup on her way to the London Olympics.
"Trek Factory Racing represents both the current and next generation of XC superheroes," said Travis Ott, Trek's Global Mountain Bike Brand Manager. "The team is carrying a ton of momentum into the 2013 season, and we're excited to support them as they stand on the podium next season and remain on the podium for many seasons to come."
Trek Factory Racing will pilot Trek's lightest, fastest 29ers ever in 2013: the all-new Superfly SL and Superfly 100 SL, armed with Shimano's top range XTR components and FOX suspension. The team will roll on Bontrager wheels and tires, as well as sporting apparel from the brand. Trek Factory Racing will be managed by industry veterans Jon Rourke and a crew of all-star support staff.
In his final year as a U-23, Russell Finsterwald will split his season as domestic powerhouse and defending his national title in the US, while continuing his development at the international level.
Long-time Trek athletes Jeremy Horgan-Kobelski and Heather Irmiger, who have over a dozen national titles between them, will also race under the Trek flag in 2013, with a focus on the fast-growing discipline of enduro racing.
Wed 23rd Jan, 2013 @ 9:44 pm
Featured in this Post
Comments