Imagine you're out on your favorite secret trail that you know like the back of your hand. Then the unexpected happens as you push your limits or zone out through a well known section. What if you are injured and can't ride back or worse if you're knocked unconscious? Well, that's what inspired this app.
One of the founders, Toby Northcote-Smith, has climbed, mountain biked and skied for over 25 years. In 2012 he was riding his road bike down Old Topanga Canyon road, in the Santa Monica mountains. He got tangled up with some motorcycles in a corner and was pushed wide onto some gravel. There was not much he could do, on loose ground a road bike will not scrub off much speed at 35 mph. Toby ran along the barrier until his handlebars caught on a sign post. He was then tossed about 25ft through another sign and onto the verge on the other side of the barrier. Dazed, crumpled but alive he lay there thankful that he had not fallen down the steep cliff 2ft to his right.
Luckily his mate Rob showed up a minute or so after the accident.  Toby was in ragged shape, Rob called for emergency services. Toby had shattered his right hand,  a deep 5″ cut on his shin, punctured his chest and his helmet (Giro) had fractured and saved his brain. Somehow, much to the surprise of the hospital, he had managed not to suffer any significant internal injuries.
He was lucky. What is if Toby had been on his own?
That's where this latest app comes in. ActivBeacon sends for help. The app is made by riders for riders and participants of other outdoor activities. If you crash, fall or stop moving ActivBeacon automatically sends a text and voice message to designated family and friends with your GPS location.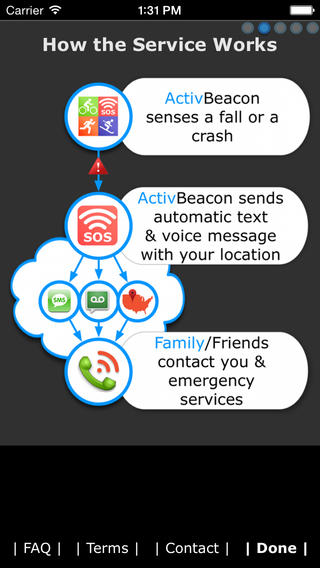 Think of it like Onstar for sports.
Simple as that.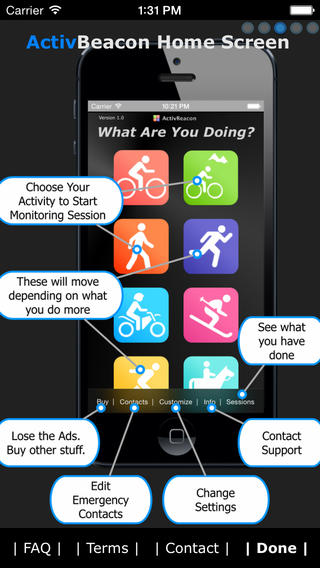 Building on previous work, the team adapted automated messaging technology to help people participating physical activities to help keep them safe when going at it solo.
The result is ActivBeacon, an easy to use subscription based automated alert service for the iPhone. If you crash or have an incident it sends your details and location to family and friends.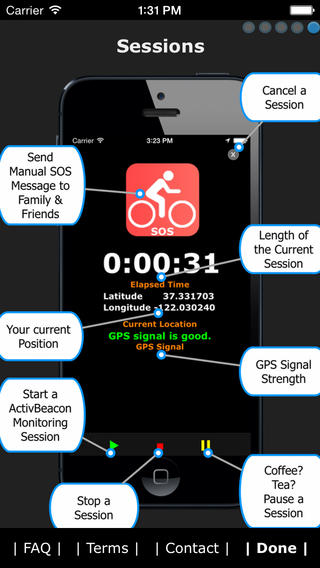 Naturally, they have done tons of testing to measure different kinds of falls and impacts. This makes sure that your mates don't get a message when you simply drop your bag or take a break for some pics. It cleverly sends you a signal asking if all is good in case you forgot to pause it or it senses a fall so that you can stop the message. If not, then it goes out along with a pre-recorded voice message, SMS and GPS coordinates.
The product is free and ad-supported. They do have a paid ad-free version as well.
Right now, it's available for USA and Canada downloads in the iTunes App Store. Within a month or two, they'll also expand to Europe, Australia and other regions. They will also launch an Android version.
Click on the image below to check it out in iTunes!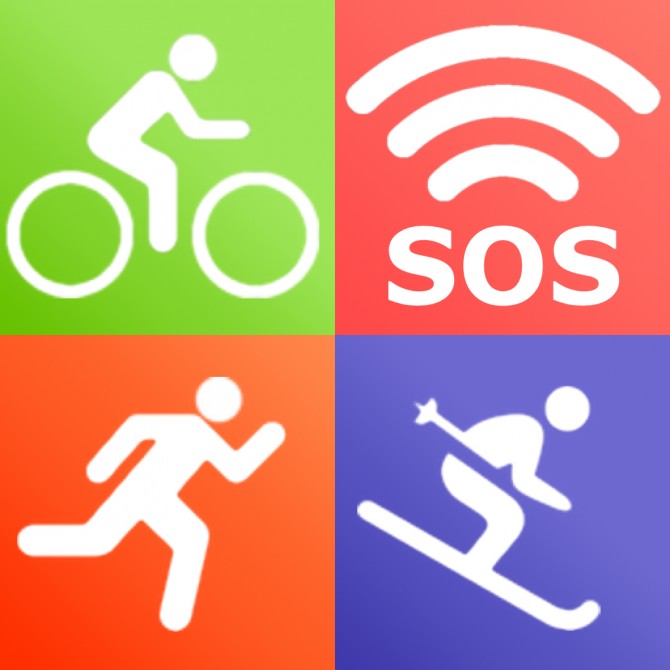 Comments