Hannah Barnes' Enduro World Series Report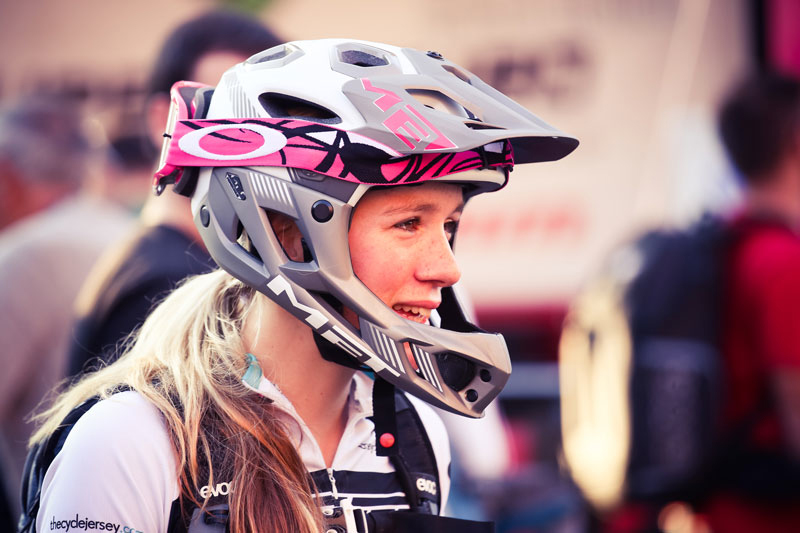 Yeti rider Hannah Barnes, sums up her 2014 Enduro World Series, from the highs of competing on home soil, to the low of being forced out of the last round due to illness.
The season began for me close to home in Scotland, Peebles to be exact. It was really cool to race such a big international race so close to home, and my parents came along to help out. The weather was pretty wet in the week leading up to the race, and come practice the trails were extremely slippery. There were three days to practice, and the race was over two days, so it all amounted to five long days on the bike. Living in the van it was hard to keep all of my kit dry, and washing everything was quite a task! No uplift and 8 race tracks meant the race was very physically demanding, with a lot of climbing each day. I struggled to get into a rhythm in the race and wasn't very happy with my result, but overall it was a pleasure to get the season underway in sunny Scotland.
Next on the calendar was a big roadtrip in the van to Valloire in France. Valloire is situated among some huge mountains, and the famous Col Du Galibier is only a few kilometers further up the valley. Needless to say, the tall mountains meant long, tough tracks. French Enduro rules state that you get a single practice run before your race run, so you are limited to walking the tracks if you turn up early. I decided to save my legs and stick to my single practice run. Being a mountain resort, there are ski lifts all over the place, so the trip up to the start of stage one was an easy one. The tracks were awesome, proper old-school French Enduro, with wide taping, fresh tracks and lots of options. I absolutely loved riding and racing in Valloire, it was a real challenge, with some incredibly long stages!
I continued trucking in the van to La Thuile in Italy for the next round. With views out to Mont Blanc, La Thuile was an epic destination for a race. Open practice and Ski lifts meant I had the opportunity to do plenty of great riding! La Thuile has some incredible trails and they were so much fun to ride. Even though we were in central Europe in June, the temperature never lifted much out of single digits, and it was a battle to keep warm at times. Even if it wasn't too cold at the bottom of the hill at the van, by the time you had climbed up to 2600 meters it was freezing. Getting off the top of the lift to do my first practice run I was greeted by a proper snowstorm! It was quite strange to go from baking sun in Valloire to winter conditions a week later! I got down off the hill as fast as possible and had a lovely Italian cappuccino to warm up. With the weather being so bad, in between practice and race runs, all the racers ended up spending a lot more time than usual sheltered in the cafes of La Thuile over the week. The race was a real challenge, the trails were incredible to ride, and it felt great to have raced well and got through this tough weekend with a solid position.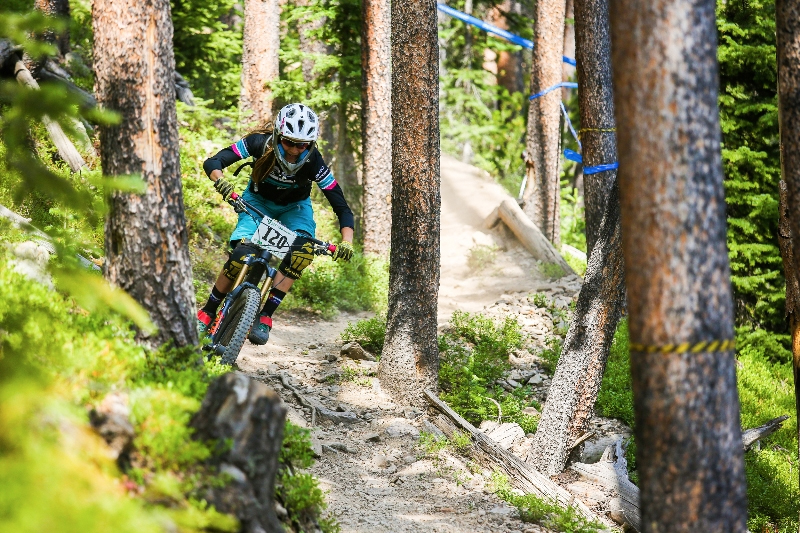 After trucking home to Fort William, I parked the van up and hopped on a plane to Colorado for the next round of the EWS. Winter Park is a small ski town high in the Rockies outside of Denver. Denver is already at quite high altitude, but Winter Park is something else, with the pits sitting at 2800 meters, higher than the top of La Thuile! Just walking up stairs was enough to tire me out, and it was such a strange feeling! Combined with the jetlag, the altitude was a real challenge, and after my very first practice run I went back to the apartment and had a four hour nap! The trails in Winter Park were very different to what I am used to in Europe, much flatter and more physical, and they were much more constructed with lots of berms and jumps. There was still a real mix, with both a full on DH track and an extremely long pedally stage. It was a real novelty to be in the USA, with the coffee coming in much bigger cups than in Italy! The race was spread out over 3 days with practice interspersed with race runs. I like it that each race has such a varied format, depending on country and race organiser.
From Winter Park I flew to Vancouver to head up to Whistler for a couple of weeks. I was somehow daydreaming in the departure lounge and missed my flight, so got there a day later than planned. There was a 2 week gap between the two races, so I got a little apartment with Anka Martin and we rode bikes, practiced yoga and swam in the lake every single day. Heaven! By the time the race came around, I was really excited to get stuck in. Whistler has some of the most fun trails anywhere in the world, but the trails used for the race were among the hardest in the whole area. There were lots of sections that scared me, and I had quite a few big crashes in practice. This turned out to be a common theme, with lots of the guys racing struggling as well. The race in Whistler was all crammed in to one huge day, with 5 race stages and some huge liasons. Add in the 36 degree heat and it was a real effort to keep from blowing up. The race went really well, and I rode much better than I expected to after my tough time in practice. I felt strong all day right to the end of the final stage 'Top of the World', I had raced well, and I felt a genuine sense of achievement having finished such a tough race! I loved my time in Whistler and can't wait to go back!
After Whistler there was a long break until the season Finale in Finale! Finale is one of my favourite places in the world, and I love going there at the end of the season as Autumn is arriving. The weather is usually great, the sea is warm and the gelato is delicious! Last year in Finale the trails were fast, open and incredibly technical. This year they changed it up completely and the stages were much more tight and not as fast, apart from the flat out final long stage. I really enjoyed practice in Finale, and was looking forward to the race beginning on Saturday morning. On Friday afternoon I began to feel a little ill, and by Saturday I felt awful. I soldiered on, but it was a pretty horrible day, feeling hot, then cold and shivering despite the heat. That night I crawled into bed at about 8PM and didn't wake up until the next morning. On Sunday I felt even worse than the day before and I made the tough decision to pull out of the race. It was such a shame to have to miss the days racing, and to get a DNF for the last round of the year, but I feel it was the right decision to make. I would have made myself much worse had I tried to race.
The season was a year full of contrasts. I have lots of great memories of racing in beautiful places, incredible riding and making great friends along the way. The one thing that stood out was how tough the races were. Every weekend I was challenged in a new way, technical riding, extreme weather and huge climbs all added up to a real test!
After a Winter in New Zealand, the 2015 race season will be here before we know it!
– Hannah
Featured in this Post
Comments