Rheeder The First Man On Deck For The Triple Crown Of Slopestyle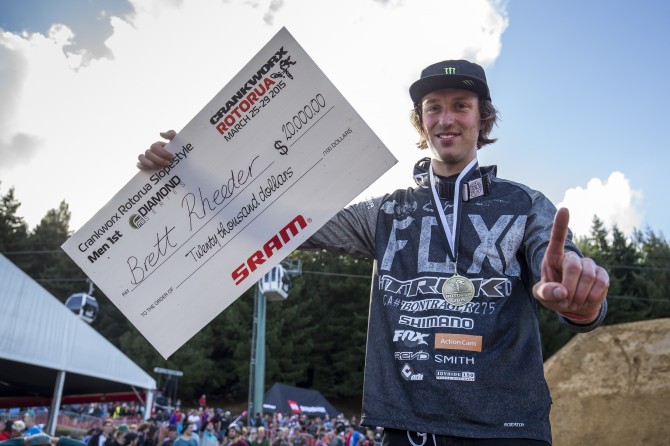 Brett Rheeder claims the top spot in Rotorua in impressive style and starts his quest towards slopestyle domination in 2015.
Brett Rheeder will be the first man capable of winning the new Triple Crown of Slopestyle and earning the $50,000 prize pot on the line for winning all three Crankworx events.
ROTORUA (New Zealand) — Clocking an unmatchable first run on the Crankworx Rotorua course with nine trickable features, which levelled many a rider, including the dominant force in Slopestyle, Brandon Semenuk, Rheeder turned his second run into a victory lap, bringing friend and fellow Canadian Logan Peat along for the ride.
"I feel amazing. I don't think anyone expected to land the runs, due to the conditions of today's course. But just getting down to the bottom and having a victory lap, it's pretty special right now," said Rheeder.
The event was the opening round of the Free-ride Mountain Bike (FMB) Diamond Series and the first competition in the new Crankworx Triple Crown of Slopestyle, a season-long challenge to see if any rider can win all three Slopestyle events on the Crankworx World Tour.
"I think it's going to be so insanely hard to keep winning these events, but I'll just do my best, and if it ends up happening at the end of the year, that's amazing," said Rheeder.
Heavy rain closed the course for the first half of the day, pushing competition back by two-and-a-half hours. While the course was kept dry under tarpaulins, it was nevertheless a slick competitor of its own, at one point levelling Carson Storch, Brandon Semenuk, Antoine Bizet and Paul Genovese, who bailed out on runs one after another.
Nicholi ROGATKIN executed a perfect second run packed with tricks to finish in second with a backflip double tail-whip.
"I was in disbelief, you know. I pulled the exact run that I wanted and to see the fans appreciate that, and for the judges to be stoked on that, there's really no better feeling," he said.
"The course was unreal, it was massive it was scary, but the feeling of riding it was amazing. It seemed like we spent more time in the air than on the ground and that's way too good.
Third place finisher Thomas Genon said the trick he was most happy with was the flip-360 on the last jumps and the opo whip on the step-up.
The Crankworx Rotorua Slopestyle brought in 6,000 fans for the final event of the five-day inaugural Crankworx Rotorua.
Pro Men's Results: 1. Brett RHEEDER / 2. Nicholi ROGATKIN / 3. Thomas GENON
Second round: CRANKWORX LES 2 ALPES / JULY 9–12
Featured in this Post
Austria
47,790,335
1,642,047
Comments