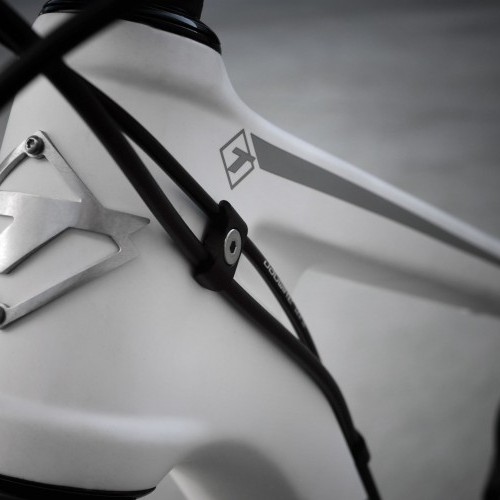 The New Turner Flux
Tue 30th Aug, 2016 @ 9:30 am
Looking good? What do you think to this new trail machine from Turner? The Flux is a new generation trail ripper. The lightweight carbon chassis and 120 mm of suspension creates a lively and flickable ride, but its modern geometry and 67.5 degree headtube angle make it equally well suited for tackling more aggressive terrain.
Much of the ride quality comes from the Flux's DW-link which is engineered to provide amazing bump absorption without pedal feedback. It inspires confidence when it's held wide-open, but doesn't sag and put you in the backseat when you want to stomp on the gas. The Flux weighs in close to XC race bikes, but because of it's design and suspension kinematics it can truly unleash on challenging descents and rip like a much bigger bike.
Engineered for Speed
The DW-link equipped Flux was designed for chassis rigidity, pedaling efficiency and responsive shock actuation to manage the full spectrum of hits along the trail. Because the linkage provides a variable axle path and is position-sensitive, the bike does not squat under load, delivering clean power transfer while climbing and accelerating. As the axle moves farther into its path, the DW-link works with the front suspension providing a balanced feel and lends a bottomless quality on chunky, big hit descents. It really is the best of both worlds, bringing together the finest elements of Turner and DW design in one bike.
It's All in the Details
Details matter and at Turner Bikes, we never compromise on performance.
The Flux features user-friendly and easy to service external cable routing. Cables steer clear of impact zones negating the need to run them internally, and makes them easy to access for occasional service or replacement. And because the routing is simple and clean without unnecessary bends, the Flux delivers the quick and crisp shifting you expect from a premium quality bike.
The DW-links and pivots are designed to deliver lasting performance. By combining the strongest materials and the smoothest, most durable bearings available, we are confident that the Flux will provide hours of fun for the ultimate singletrack experience.
Based on rider feedback, the Flux will be offered with both Shimano 2×11 and 1×11 builds. The frame is designed to work with a direct mount front derailleur and is also Di2 compatible for those looking for an electronic shifting option.
Internal dropper post routing enables clean function free of excess housing, and the detachment method on the spec'd post allows for easy service and removal when needing to pack the bike for travel.
The rear of the bike has practical design features aimed at aiding both performance and maintenance. The brake caliper is conveniently located on the seatstay to facilitate easy adjustments and pad replacements, helping ensure excellent brake function. The mount features replaceable nuts to eliminate the possibility of stripping threads out of the frame, and the dropout houses a lightweight and smooth-functioning quick release through axle.
The Flux is purpose built for use with 27.5 inch wheels and relies on 142×12 mm rear spacing. By taking this specific approach, we have eliminated the need to look to Boost spacing to help support multiple wheel sizes as is currently the fashion among some brands. The 142 mm standard is a fantastic complement to this chassis which is optimized to work perfectly with 27.5 inch wheels and DW-link kinematics. And as an added benefit, it allows you to continue using wheels that may already be in your quiver.
Construction
Turner's renowned construction utilizes carbon for its impact strength and durability. But carbon offers more than faceless utility. It also allows us to build seemingly impossible shapes that serve both function and form. Turner bikes are recognizable the world over for their enduring quality and timeless aesthetic. As carbon technology continues to progress, we remain focused on creating machines that both ride and look like bikes you want to ride today and for years to come.
Comments