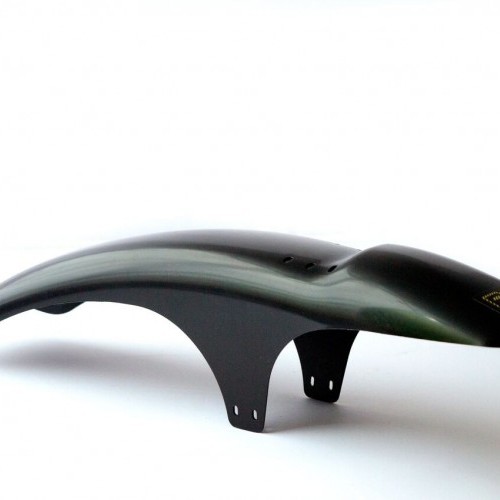 RockGuardZ Introduce All New Polypropylene Mud Guard
Thu 29th Sep, 2016 @ 12:30 pm
At RockGuardz we have been making MTB carbon fibre frame protection since 2009, we make nearly 400 different guards and that number is constantly increasing. We have also been making Carbon fibre Mudguardz and whilst we have in our opinion the most effective product and the best choice, we are limited by our production capability of a hand made product.
What we wanted to do was take our mudguard design and produce it with higher production capability, whilst still being entirely 'Made in Shropshire, U.K.'
In doing this we now produce two Mudguardz, in Shropshire, from a polypropylene injection mould. Sized small and medium the new Mudguardz are designed to fit any bike and fork and are easily fitted with zip ties supplied.
Whilst designing this new product we have improved our original design to achieve maximum tyre clearance, maximum rider mud and water protection in a flexible robust and inexpensive product.
We are super excited about our new product we think we have absolutely nailed the design and also offer a custom sticker pack along side it to provide the customer with a personalised product to match or contrast their current bike. The sticker set comes in the 7 colours – yellow, red, blue, green, pink, orange and white so can work with any bike on the market.
Whether you are racing, riding trails or having a blast in the woods with your pals the new PG350 is the perfect mud guard for UK conditions. Available in selected stores and on-line now:
Small PG350 @ £19.99 rrp
Medium PG450 @ £23.50 rrp
Combo Pack @ £39.99 rrp
Sticker sets available in individual colours @ £10.00 rrp
Contact
support@rockguardz.com
07976 425533
http://www.rockguardz.com
Featured in this Post
Comments