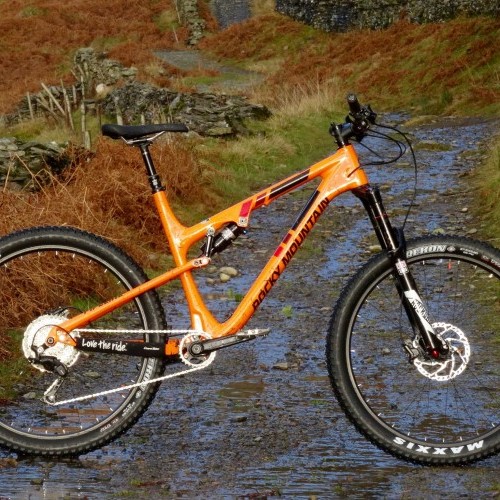 First Ride: Rocky Mountain Pipeline and Slayer
Sun 8th Jan, 2017 @ 12:30 am
Rocky Comes To Town
When Rocky Mountain roll into town, you know it's worth checking them out, which is exactly what we did when we heard Jason from Rocky Mountain UK was coming to our local bike shop with a van full of bikes. Having seen them first hand at Eurobike, I was keen to get more hands on with the 2017 range and get out on the trails for a spin. Lakes Cycles kindly obliged and invited me along as a free-loading journalist to ride a bike and drink some beers at their shop launch of the new machines.
The Pipeline
It became clear I wasn't going to get to know the Slayer very well on this occasion as they are still rarer than a dry day in December, and although the weather was obliging, a medium Slayer was not going to fit me. I was, however, in for a treat with a brand spanking new Pipeline hastily assembled for me and ready to ride (I'm a lucky boy, I know). Carbon upfront and an alloy rear, the 150/130mm travel bike is Rocky's plus sized trail taming beast, taking full advantages of the traction which bigger tyres can provide. With some pretty generous reach and low standover, it's thoroughly modern but not crazy, looking to produce a playful and agile bike capable of taking on the most technical trails the North Shore has to offer.
The XL I had was pretty much spot on for sizing on a trail bike, though they even offer a XXL for the abnormally tall like myself, but it was great to see a 170mm dropper, and a normal length seat tube. Elsewhere the spec is a mix of some great and reliable kit, including the ever reliable Yari fork and Monarch rear shock and Shimano drive and braking duties. Tyres are 2.8 Maxxis Rekons which I am less keen on for rocky terrain as they don't quite have the sidewall strength to argue with boulders.
On the trail, the Pipeline proved itself to be instantly engaging and likeable, and it's hard to have any reservations about plus sized tyres when bikes ride as comfortably as this. Climbing was solid, grippy and dependable with a 28t front ring to keep gearing super low, but also suggesting that it may be specced for descents which require very little pedalling, i.e. super-tech-gnar (yeah that's a term). As suggested in the initial feel of the bike, the playful nature comes through immediately and encourages a hop and pop style, rather than warp speed straight-lining. I would love to spend more time with more aggressive tyres and a play with the highly adjustable Ride 9 system of nine different geometry settings.
As an aggressive trail bike, the pipeline really hits the mark, not just on performance, but also styling and is a worthy addition to the incredible Rocky Mountain line-up.
The Slayer
So I didn't get to ride the Slayer, but I spent a disproportionately long time standing next to it with a beer, which is nearly as good as a test ride. Firstly, looks are important, and for me, this is one of the best-looking bikes of 2017, and definitely the best of the new 'Super-Enduro' (yep I'm using that category) bike out there. This new breed of 160mm and up travel bikes is gathering speed, quite literally into 2017 with big travel bikes which can be pedaled up to the top again and handle the roughest of descents possible. As 29er become the trail bikes of choice for 150mm, 650b is going bigger.
So it looks good, but is backed up with a full carbon frame, 170mm fork coupled with a 165mm rear end and some geometry numbers which wouldn't look out of place on a DH rig. The Ride 4 geometry allows for tunability and easy changes to set-up, but I reckon full slack is the only way to go on a bike like this. Sat there on a stand in a shop, it just looks fast, aggressive, and the sort of bike that will make you do bad, bad things.
As always the proof is in the riding, so I can't tell you much more than if it rides as well as it looks, then this will be one of the finest bikes of 2017. We look forward to getting some quality time aboard these bikes this year!
Thanks to Danny and Lakes Cycles for having me round to play, and if you're in the UK and fancy getting hold of one of these, or any one of the new Rocky Mountain range, then give them a shout as they're offering 10% off pre-orders now! Happy days!
Featured in this Post
Comments