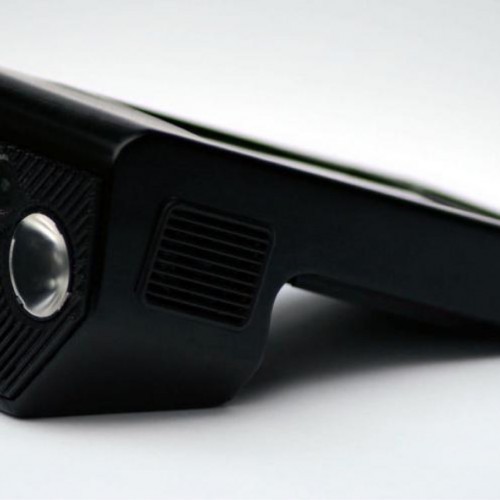 Vudu7 V – The Ultimate Cycling Computer?
Thu 12th Jan, 2017 @ 9:30 am
Does your bike computer do enough for you? Are you all sorted with your smartphone, actually, thanks very much? Like a wizardy magician, the V has a whole host of tricks up its big sleeve that might persuade you to leave the phone at home.
Vudu7, a British start up, is launching a crowd funding campaign on Indiegogo to fund the manufacturing of it's All in One cycling computer the V.
The V is the first cycling computer to fully integrate an android ride computer with lights, camera, siren and speakers into a single compact rugged device.
"We wanted a single device that could do everything well and by using a dedicated android computer at the heart of the V we can create smarter functions aiding the cyclists safety and allowing them to do more on their rides." explains Ian Dunn, Vudu7's CEO.
The V gives cyclists a full set of functions at their finger tips whenever they are needed. It does more than any other cycling computer to make their ride safer, more enjoyable and hassle free. With just one device to charge, fit and connect it de-clutters the bars and makes life easier and quicker to get going.
Safety is a prime concern for cyclists so the V is equipped with two 1200 lumen LEDs in wide and spot reflectors for un-paralleled visibility at night or during the day using the flashing modes. The lights are computer controlled for optimum brightness at speed and to maximise ride time. They can be operated manually using the thumb controller. The loud 110db siren gets attention in crowded situations. The wide angle 1080p HD video camera records every move, whether it's for action, or recording traffic incidents.
The V's GPS and barometer tracks rides and with Wi-Fi, Bluetooth LE, and ANT+ connectivity cyclists can connect their existing sensors to track heart rate, cadence and power to analyse their performance.
The V App provides many smart features including a Tamper Alarm, Bike Tracking, a Crash Alert, Multimedia Route Recording and a custom horn. Plug a SIM card into the V to use it as a separate phone for calls and data, leaving your smart phone in a pocket or bag safe from the elements and stream ride data to the cloud. Toggle between the V App and your favourite Android Apps to navigate and browse the internet to find local amenities.
There are two built in 3 watt stereo speakers to listen to route directions, calls or music. Put your own play lists on the V or stream your favourite music.
V is built in a rugged IP67 rated polycarbonate waterproof case. The 4 inch colour touch screen is great for maps and the V App is easy to operate with gloves. A secure alloy mount fits the V onto the handlebar and the electronic lock prevents it from being removed. Finally a large capacity 8000 mAh battery keeps the V going so you can do more.
It's even compact enough to be put into a pocket and can be used off your bike as a separate torch, speaker, computer, GPS or phone.
For more details visit: http://www.vudu7.com/
Comments