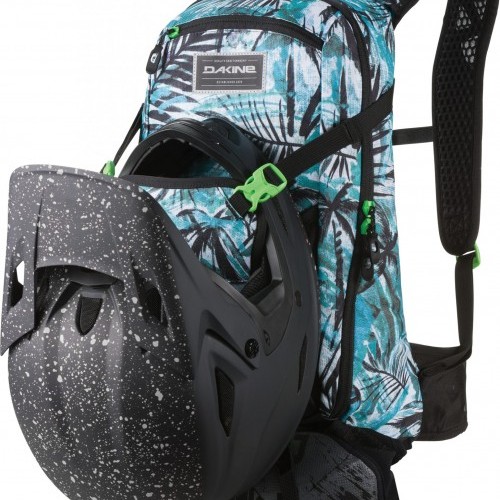 Dakine Expands Best Selling Packs & Bags Range For 2017
Fri 24th Feb, 2017 @ 12:30 am
Since launching its mountain bike collection in 1999, Dakine has crafted purpose-driven gear packed with progressive design, functional components and quick accessibility. Building on this heritage, Dakine is excited to expand on its best selling packs for the new season.
Evolving from the popular Drafter 12L pack, the new Drafter Series (RRP £85-105 / € 125 – 150) features three sizes – 10L, 14L and 18L – to fit any kind of ride and rider. Updated features include DK Impact Spine Protector compatibility and new 3L Hydrapak lumbar reservoir that creates more cargo space and keeps the weight low and balanced. These are additions to the technical features we offer throughout the whole bike pack range, such as Air Mesh suspended back panel, trailside toolkit pockets, helmet and pad carry compatibility and magnetic hydration hose clip.
Dakine also debuts the new Builder's Pack (RRP £150 / €210) offering almost 40% more space than the previous model. Re-designed and constructed of heavy duty 1000D Nylon fabric for abrasion and tear resistance, the new pack boasts 40 litres of carrying capacity for tools and supplies. An aluminium internal frame allows the pack to stand tall on its durable haul-bag base. Chainsaw carry compatible, the pack also includes a multitude of tarp-lined pockets for fuel and tool organization. The wrap-around #10 YKK zipper allows top access, zip wide open to carry 5-gallon construction buckets and side access while carrying it.
To accommodate larger new trucks, Dakine created the new Pick Up Pad DLX (RRP £95 / €130) fitting the deeper tailgates on the latest trucks. The new design also includes a large flap to access tailgate handles and also won't obscure built-in back up cameras. The anti-theft construction includes a heavy-duty grommet to add to a lock.
For those ready to travel longer distances to find the perfect ride, Dakine offers a range of travel bags that will accommodate your personal belongings, your gear and even your bike. The Descent Duffle (RRP £65 / €90) is a U-shaped opening bag with a section for all helmet styles, front pocket for trailhead tools or food, internal mesh pockets and end pocket for your shoes. The new Split EQ wheeled bag – available in two sizes, 75L and 100L – (RRP £115 – 125 / €150 – 165) provides maximum organization with hardly any weight or bulk. The Bike Bag (RRP £250 / €340) gives you peace of mind when preparing your most precious belonging for travel. It fits one Downhill, Trail, 29er or road bike and transports it safely thanks to the heavy duty padding and urethane wheels. It has internal padded bags for wheels, fork and rear triangle and multiple carry handles. Plus, it rolls up for storage, taking up no space when it's not being used.
The new packs and bags, along with Dakine's complete collection of bike equipment, will be available mid-February 2017 at specialty retailers and online at eu.dakine.com.
Featured in this Post
Comments